Peace Action Statement after Trump's Remarks at the White House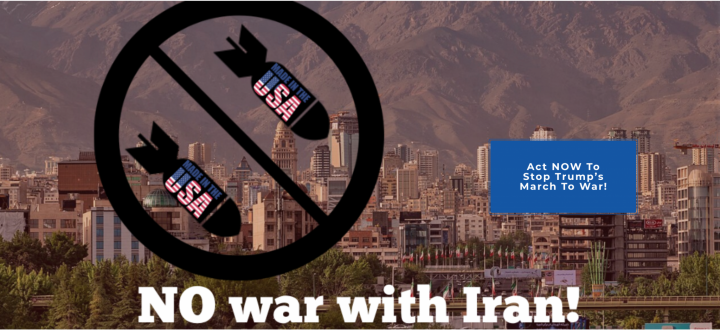 The following is a response to President Trump's remarks at the White House by Kevin Martin, President of Peace Action and Peace Action Education Fund:
President Trump once again blamed President Obama for the "foolish Iran nuclear deal." In reality, this crisis is completely Trump's fault, from violating the deal, which Iran was complying with and the other parties to the deal have continued to support, to the more recent assassination of Qassem Suleimani. So who is the fool? Who has taken us to the precipice of another calamitous war?
Trump's assertion that Iran "created hell in Yemen, Syria, Lebanon, Afghanistan and Iraq" with funds from the US is nonsense and he knows it, or should. The money from the nuclear agreement was Iran's money, unfrozen as part of the agreement. This assertion also shows no understanding of the problematic nature of US, Saudi and Israeli actions in those conflicts, and no connection to his alleged desire to extricate the US from the endless wars in the region.
Once again, Trump called on Germany, the UK, France, Russia and China to abandon the Iran nuclear deal, and he must know this will fall on deaf ears. Those other parties to the agreement have worked diligently to try to find solutions to the crisis Trump initiated. Now, with Iran understandably acting beyond the limits of the agreement, some fantastical new deal Trump has vaguely advocated recently seems a non-starter. Other countries with a better understanding of diplomacy will need to step in to provide the badly needed leadership Trump and his regime are so manifestly incapable of.
Trump's request for NATO countries to "become much more involved in the Middle East process" was notable, expected, and very vague. Sending more troops to the region? Can't imagine those governments or their people will stand for that. Diplomatic engagement? Maybe, but of course Trump didn't specify, as he has no strategy.
Trump ended with his by now ritualistic but insincere calls for peace and prosperity for the Iranian people. I can't imagine the Iranian government takes this seriously at this point, if it ever did. What they, and all of us, will be watching for is any further military escalation by the US, and of course Trump did not tip his hand on that front. Regional and perhaps world peace hangs in the balance, and peace-loving people everywhere need to demand an end to this dangerous madness