Interview with Sarah Plant, who just translated "Un Violador en tu Camino" A Rapist in Your Path
This post is also available in: German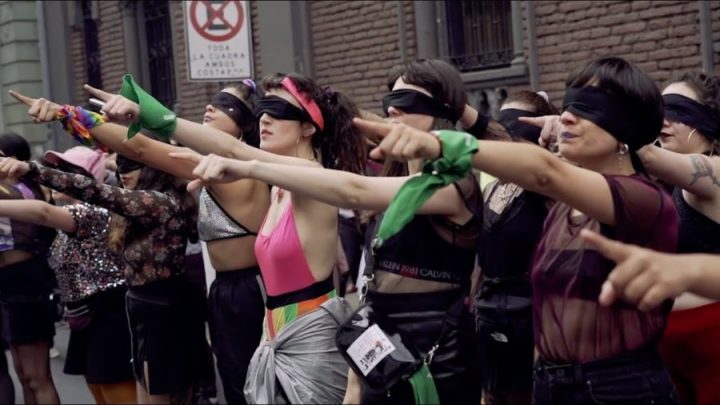 In this interview we speak with Sarah Plant who made the English version of "Un Violador en tu Camino", the original Spanish-language chant was written and performed by the Chilean feminist collective, Las Tesis, in Nov. 2019 and is based on the writings of anthropologist Rita Segato.
First let's start by telling us about yourself, how did you become an activist and worked in music and film industry?
I've always planted one foot in the world of music and the other in movements for social change. After joining mass protests against the war in Vietnam in high school, I've worked with groups opposing U.S. economic and military intervention in Central America and beyond. In the 1970s, I joined the Liberation News Service collective and learned to write/edit news articles, run a printing press—and subsist on $40 a week.
As Music Editor of Sing Out! magazine, I fell in love with Latin American rhythms while transcribing music from recordings and notating songs for publication. I met musicians on Nicaragua's indigenous and Afro-Caribbean coast  while researching songs. I started arranging multi-cultural tunes for my classical trio, and played flutes with Cuban, Nicaraguan, Andean and Brazilian groups. Before I'd heard of a "World Music" marketing category, our then-eclectic groups performed at Bernardo Palombo's Taller Latinoamericano (Latin American Workshop), where diverse communities, 40 years later, continue to learn each others' languages and share culture on common ground.
At 40, I scored my first short film for a woman animator from Calcutta, and recorded flute parts and arranged music for composer Mader on Ang Lee's Eat Drink Man Woman. I've since scored documentaries, features, and exhibits for the Museum of Natural History's Biodiversity Hall.
You have translated, into English, the Chilean women's flashmob chant, "El Violador en Tu Camino." This is a little unusual for an American to take something from somewhere else in the world and adapted to the U.S.. What motivated you?
An Ecuadoran activist friend called and asked me to do an English translation and musical arrangement he'd hoped to circulate before the 1/18 Women's Marches. Below is my translation of not only the Chorus but all Verses in English—these can specifically be "sung" to Las Tesis' powerful rhythms. Some local Women's March chapters and others plan to perform it.
In an era of U.S.-government-sponsored bullying, I have reservations about ramping up anger or making generalizations that fuel polarization. But the chant resonates worldwide, ultimately holding responsible the state and the President. Chilean women are captive targets of rape and brutality by some prison guards and police. One of every three women in Latin America has experienced violence, and eight women are murdered every day in Mexico.
I'd rather not "take credit" that's not due: local groups are creating their own chant versions, and I've just learned that a translation has been done for Las Tesis to lead at the Washington, D.C. march. This is folk art at its best, each community adapting its own version, including one performed at the Harvey Weinstein trial in NY.
Here are Lyrics with Dance Moves and Rehearsal Audio for the complete chant, singable to Las Tesis's rhythms. Music Notation is available by emailing sarahplantmusic@gmail.com.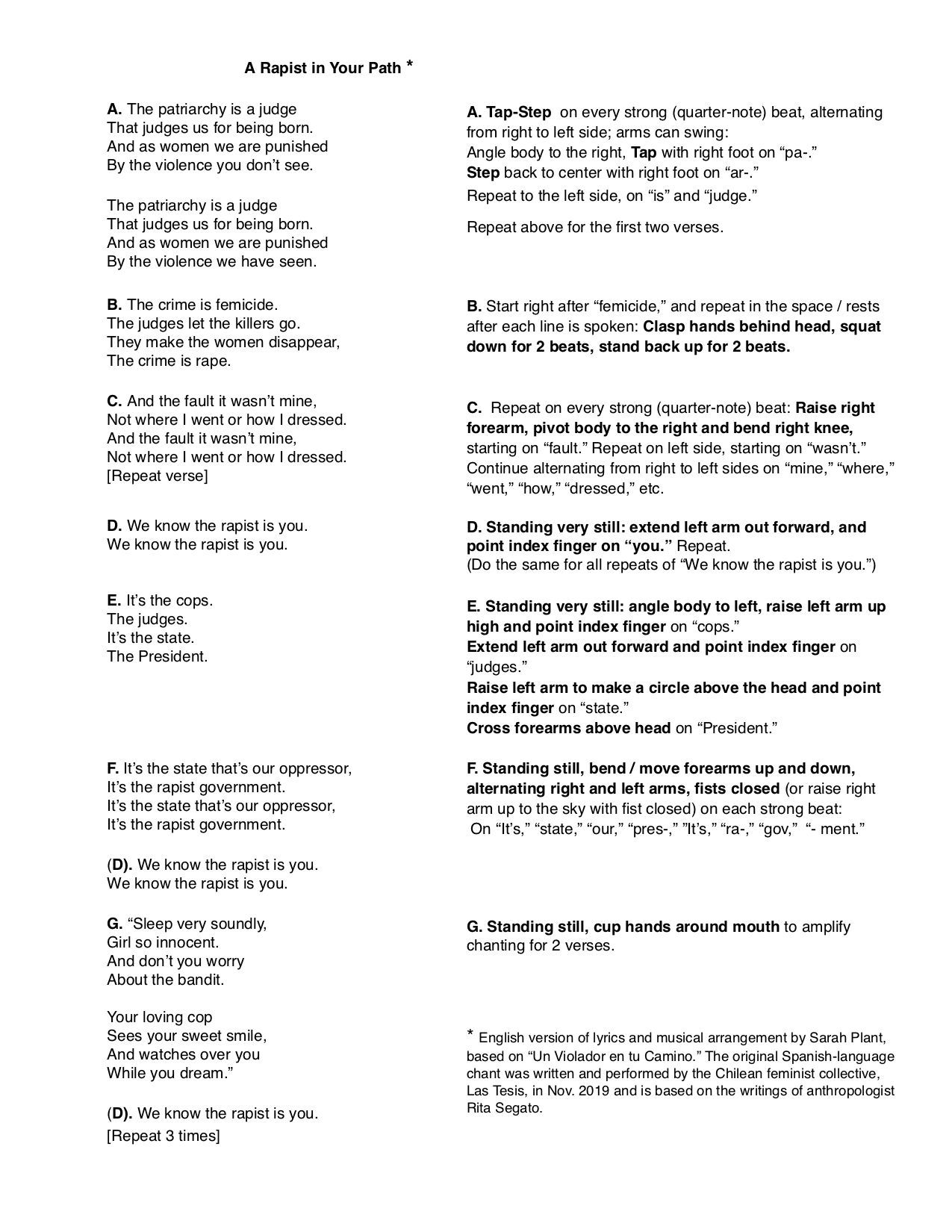 Rehearsal Audio:
Youtube Video of original Spanish version to learn simple dance moves.
https://www.youtube.com/watch?v=TWmaBDpNeiM