[Chile] Breakfast with foreign press at Campamento Dignidad (Dignity Campsite)
This post is also available in: Spanish, Italian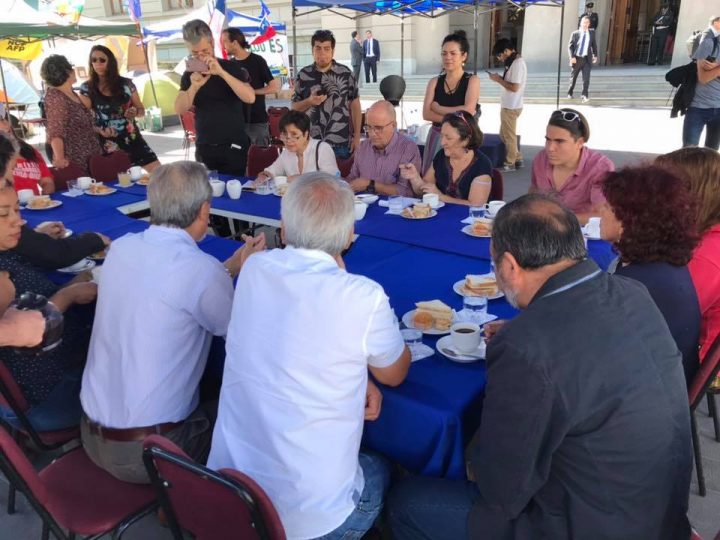 Installed in a public space, right in the centre of Santiago, right between the two emblematic buildings of the Legislative and Judicial powers, is the Dignity Camp that challenges these same powers making visible the social demands of all the different movements and organizations that are coordinated in the Social Unity Table.
Today it is a week since the beginning of the campsite and the organization seems to be growing: there are toilets, kitchen, dining rooms, awnings that protect from the excessive heat of these days, platforms, microphones, chairs and floors for attendees to sit and participate in the debates, many posters, exhibitions, musical and artistic expressions that are taking place, hour after hour, day after day, to set the tone that allows this social protest to make hear its three fundamental demands, which we summarize during the breakfast that this morning we shared with the international press:
a) The need for Chile to establish a new institutional framework through a Constituent Assembly, without traps, without "small print", without cupular conditions, but a sovereign assembly capable of establishing its own itinerary, with gender parity among its participants, with the inclusion of indigenous peoples, in order to draft a new Constitution.
b) To respond to the most heartfelt social demands such as the right to free and good quality education, the right to free health care in the best conditions, the right to housing, to pensions without further AFPs, to put an end to "sacrifice zones", to the privatization of water and the environmental deterioration of territories, etc.
c) To be able, as a country, to respond to the human rights that have been violated during the days of social protests that began on October 18, and to sanction the acts of detention, torture, rape, eye damage, injuries and deaths without impunity, as is usually the case.
"We are not asking for anything more or anything less," said No+AFP leader Luis Mesina, "that which Chile had until 1973: excellent public health, free and quality public education, pensions that guaranteed rights, housing like the DFL2 that established a minimum of 70 mts2, etc… etc. We had a country of rights, that is what we want to recover. Not less.
"Indeed," added Mario Aguilar, President of the Teachers Union, "all social rights have become a business since they were privatized. We insist on making visible these three demands: a sovereign Constituent Assembly not conditioned by the political leaderships, the immediate reparation of the Human Rights trampled on in these days of protests and the recovery of each one of our rights confiscated by a neoliberal State, before which this rebellion rises. And he added: "From this camp the public space is still active, we are mobilized and questioning an arrogant and deaf elite, incapable of giving answers to the popular clamor. Camp Dignity has taken over public space without permission; it constitutes an act of non-violent civil disobedience.
Other leaders present this morning pointed out that in some of the country's communes, camping is also multiplying. That the camp is set up and rises regardless of what the powers resolve. That it will persist until the organizations and movements deem it convenient and wherever it seems to them. It would not be uncommon for them to celebrate the festivities right there in the square. In fact, we notice that they have already installed a Christmas tree that instead of being decorated with spheres of mirrored colors, has little signs alluding to the social demands: Decent housing, Fair pensions, Free education, etc… etc…
The programme of activities carried out at the Dignity Camp is becoming more intense and complete every day, with deliberations, discussions, various presentations, a sort of lively agora in which one can take the pulse of the tremendous vitality of the social movement in its most organized aspect.
Translation Pressenza London
Images by Riccardo Marinai