I Welcomed the World March for Peace to My New Home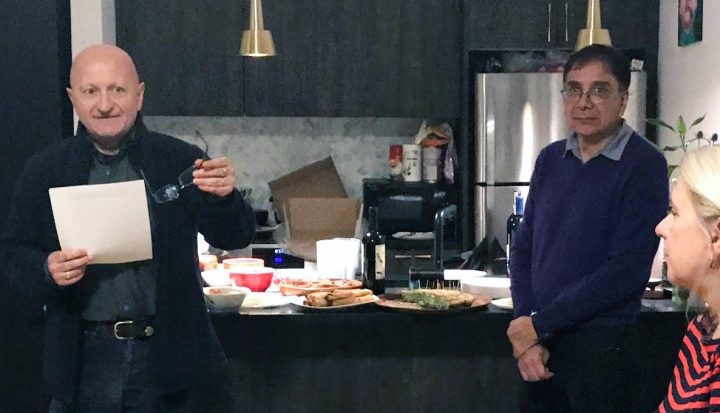 By Jhon Sánchez
I always confused the expression House-Warming Party with Warming House Party. Spanish gets in my way, mostly when I have to write invitations to my Hispanic friends. In doing so, I was struggling to find the right translation of house-warming, so I asked my niece who answered, " Our family never had one of those." If my mother had organized a 'house-warming party' for our new homes, we probably would have one at least once a year since we had to move every time the landlord raise the rent.
I explored different choices: "Reunión para calentar la casa" but it sounded like a meeting based around a debt owed to the gas company. I was tempted to call it "Bienvenida a la Nueva Casa," but I settled for the term "Inaguaración." Even though it sounded too presidential, it gave the opportunity to explain that my 'House-Warming Party' was also the kick-off in NYC of the World March for Peace and Non-Violence.
In addition to my friends, I had Sandro Ciani who traveled from Germany to talk about the Second World March. The first one was ten years ago and like last time, the marchers are focusing on for three major points: Ratification of the treaty to ban nuclear weapons, new politics that address climate change, and the necessary reshaping of the United Nations.
During my party, I had cheese, grapes, wine and a cake decorated with images of the marchers' routes around the world. My piece of the cake was a part of Bolivia, Peru and Brazil. As I nibbled it, I wished that we're not going to face another atomic bomb, that Bolsanaro would not burn the Amazon to the ground and that we can all have cheese, wine and, why not, a cake like this one. I'm not sure if my wish is a prayer or political statement, but it was a house-warming party for peace.
If you want to welcome the march to your home, please let us know. You can also wish for peace from that corner of the world you called home.
Ps: Thanks to all of my friends who shared with me the Cake of the World March for Peace. Especial thanks to Sandro Ciani, an organizer with the World Without Wars and Violence and Butterfly Bakery that donated the famous cake.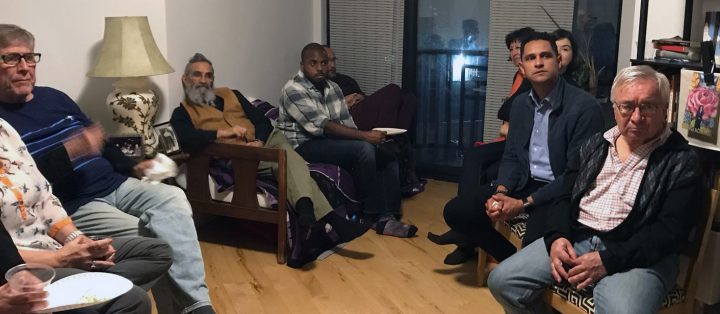 For more information about the World March for Peace and Non-Violence please click here.
---
Jhon Sánchez: A native of Colombia, Mr. Sánchez arrived in the United States seeking political asylum. Currently, a New York attorney, he's a JD/MFA graduate. His most recent short stories are Pleasurable Death available on The Meadow, The I-V Therapy Coffee Shop of the 21st Century available on Bewildering Stories and "'My Love, Ana,'—Tommy" available on https://www.fictionontheweb.co.uk/ . On July 1st, The Write Launch released his novelette The DeDramafi, which will be also reprinted by Storylandia in 2021. He was awarded the Horned Dorset Colony for 2018 and the Byrdcliffe Artist Residence Program for 2019.