Ominous Men: A Multicultural Ghost Story from the Bronx
This post is also available in: Spanish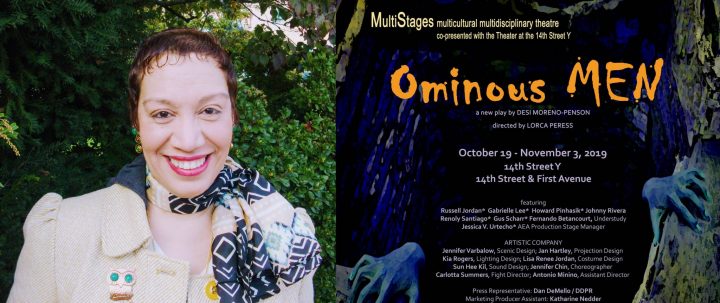 By Jhon Sánchez
Desi Moreno-Penson wrote a haunting play that takes place during the blackout of July 13 of 1977. The Nuyorican characters interrelate with a Jewish ghost, an ex-Black Panther alcoholic, and a malevolent Native American trickster spirit. This is also a Bronx story, so be ready to ask questions about racism and poverty, bite your nails in fear, and have a good laugh. We have the privilege of talking with Desi Moreno-Penson. Thank you for accepting our invitation for an interview.
JS: When you wrote Ominous Men, did you plan to write a horror story?
DMP: OMINOUS MEN was meant to be a Gothic horror story from the start. It is the third installment in a cycle of plays I have been writing and developing called Nuyorican Gothic: dark, stylized, fantastical plays set in The Bronx, feature Gothic themes, heightened, poetic language and "Nuyorican" characters (Puerto Ricans born and raised in New York City). The first play of the cycle, DEVIL LAND (2007 semifinalist Princess Grace Award, SPF-Summer Play Festival, Midwest premiere @Urban Theater Company, Chicago, IL), is an adult fairy tale of post-colonial angst, child abduction and Taino mysticism set in the boiler room of a Bronx apartment building. With the second play, COMIDA DE PUTA (F%&king Lousy Food) (The Kilroys List, Finalist 2014 O'Neill National Playwrights Conference), I sought inspiration from ancient Greek tragedy (Euripedes' Hippolytus) in order to tell a tale of unrequited lust, gentrification, and urban witchery in a run-down Bronx bodega. The third play, OMINOUS MEN, tells the story of three men, one African-American and two Latinos who meet up on the night of July 13, 1977, in the sub-basement of the derelict Concourse Plaza Hotel in The Bronx. They have come together for a night of drinking, male camaraderie, and a game of Dominos. The eerie sound of falling pebbles on the steps, the ghostly sobs of a woman long dead, the angry apparition of a Jewish Holocaust survivor, and the sudden appearance of a sinister stranger is among the highlights of their supernatural night of the soul. Then of course, there's the blackout!
JS: Your play reminds me of 'La Guaca,' which means the place where a treasure is buried. Did you incorporate elements of traditional Caribbean narratives of 'La Guaca' to write your play?
DMP: Yes! The story of a buried treasure, "la guaca," meaning "the stash," is part morality play and part novella. Who truly deserves the spoils? As far as the men in my play are concerned, none of them do, but it won't stop them from going after it all the same. However, for these men who are on the periphery of society, the search for a secret treasure becomes their distorted version of "The American Dream." Because of the racially charged, socio-political circumstances surrounding them, this is what they're left with: scavengers digging in the dark for hidden bounty. Will they find it? And if they do, will it be what they expected? I am intrigued by how the universal greed and mendacity of men glides smoothly into the realm of horror and urban legends. This definitely inspired me while I was writing OMINOUS MEN. Although, when I write a play, I believe in having multiple sources of inspiration. Since I have an MFA in Dramaturgy (Brooklyn College), I like to approach each new play from a dramaturgical standpoint. In other words, I do a lot of research! It's not unusual for me to spend a year, sometimes more, just doing research for a play before I actually sit down and start writing it. As a writer, what I might discover and how my initial ideas for the play will change and evolve is exciting. With OMINOUS MEN, I was stirred by ancient Gothic tropes of amoral men desperately trying to beat the Devil by playing games of chance (most of these tales being Celtic in origin). I was also inspired by a wonderfully dark and wicked Conor McPherson play, THE SEAFARER, and a short story by Edgar Allan Poe titled, "The Gold Bug."
JS: One common trait among your characters is they are all tortured by their past mistakes. Do you want your audience to think about reconciliation and forgiveness? Is forgiveness possible?
DMP: I feel that the play is a tragedy in the classic sense with the spine of a Gothic horror tale. As a Latina playwright, I made sure that there's some magical realism thrown into the mix, too. However, with a play like this, anything to do with God and the intertwined themes of forgiveness and redemption are going to be HUGE elements of the story. There is no escaping it. These "ominous" men are desperate for redemption and frantic to "restore" themselves spiritually. These are not "godly" men; or as one character says in the play, they are not "the god-talkers." They are not heroes, and they know it. They are very much aware of their avarice and dark impulses. The play explores what they choose to do about it. It's always about choice. Forgiveness is possible, but not without the clear-eyed attempts of understanding and absolution. It's what makes them such attractive targets for Mundoo, the Native American trickster spirit who appears right before their Dominos game. At the same time, these men are capable of self-awareness. They can be charming, humorous, entertaining, and hopeful for the future. In other words, they're like all of us. My hope is that in spite of their obvious shortcomings, an audience will want to root for them.
JS: Ominous Men, the title, also foreshadows women's tragedies in the story as well. Can you comment on that?
DMP: I have noticed that in this era of #MeToo activism, there's mostly been talk of wealthy and powerful white men and their horrific abuses against the women in their lives. However, I rarely see much discussion about the effects of domestic abuse, sexual assault, and violence that is perpetrated against women in the POC communities. In the Latinx community especially, the toxic, old-fashioned tenets of machismo and misogyny remain alive and well. The men in my play have done their women horrible wrongs. Every time a woman's sobs are heard in the play, the men on stage seem on the verge of crumbling in agony. The effect is palpable; a profound consequence of their actions. The sad irony is that they truly love their women deeply. Nevertheless, their anger, pride, and psychological trauma due to the circumstances in their lives prevents them from overcoming their terrible behaviors. In OMINOUS MEN, the haunting, spectral presence of The Woman represents the women that they have loved, but harmed. She speaks no words, because the men have denied her a voice. It is difficult to see her face, because the men are ashamed to look upon her beauty. It is easier for them to destroy her rather than meet her honestly, face-to-face.
JS: I have a memory of several artful scenes that I never want to forget. They are like paintings, with light, movement, and character. As a spectator, what are your two favorite scenes?
DMP: Oh, this is a tough one for me to answer because I dearly love every single moment in the play! I also cannot answer this question without bringing up and talking a little about my brilliant director, Lorca Peress, who was so instrumental in making this production such a gorgeous reality. The play won the 2017 MultiStages New Works Contest (my second win), sponsored by MultiStages Theater Company. The great thing about winning this contest is that it afforded me the opportunity to have my play go through a rigorous and intense development process culminating in a professional, world premiere production in New York City. I mean, that is the dream for any playwright, yes? Lorca Peress is the MultiStages artistic director and producer and she did an INCREDIBLE job putting together an amazing team of talented women designers. It was her idea to have this modern-day Gothic horror tale of toxic masculinity interpreted through a group of wonderful women artists and designers. I am in awe of these women. And I totally agree with you about how there are scenes in the production that are visually so stunning and striking, they seem almost like paintings. I'm joyously reminded of the paintings of Hieronymus Bosch, a Dutch painter celebrated for his symbolic, narrative renditions of the interplay between heaven and hell through biblical-themed landscapes upon which play a cast of fantastical and often macabre humans, animals, and make-believe creatures.
JS: What's next for you?
DMP: I was actually planning on taking a break after OMINOUS MEN. I have about three full-length plays that I really need to get back to work on. So, I suspect I will be spending a good deal of time in writerly isolation, doing my research, and all kinds of playwriting "stuff." However, a short play of mine, RECONCILE, BITCH will be featured as part of DARK PLANET: Not Your Mother's Valentine's Day, an evening of short, dark comedies that will run for three weeks at Theater at the 14th Street Y in February 2020, https://www.broadwayworld.com/article/DARK-PLANET-Not-Your-Mothers-Valentines-Day-Comes-to-the-14th-Street-Y-Theatre-20190810. Produced by Planet Connections Theater Festivity, this event will be running in rep with THE IMPERFECT LOVE SONG OF DELILAH AND VENEZIO, a new play written and directed by Jose Rivera.
Well, everybody, don't miss it, and Desi, congratulations.
MULTISTAGES AND THE THEATER AT THE 14TH STREET Y
TO PRESENT THE WORLD PREMIERE PRODUCTION OF
"OMINOUS MEN"
WRITTEN BY DESI MORENO-PENSON
DIRECTED BY LORCA PERESS
IN A LIMITED ENGAGEMENT RUN OCTOBER 19th – NOVEMBER 3, 2019
AT THE THEATER AT THE 14TH STREET Y
---
Jhon Sánchez: A native of Colombia, Mr. Sánchez arrived in the United States seeking political asylum. Currently, a New York attorney, he's a JD/MFA graduate. His most recent short stories are Pleasurable Death available on The Meadow, The I-V Therapy Coffee Shop of the 21st Century available on Bewildering Stories and "'My Love, Ana,'—Tommy" available on https://www.fictionontheweb.co.uk/ . On July 1st, The Write Launch released his novelette The DeDramafi, which will be also reprinted by Storylandia in 2021. He was awarded the Horned Dorset Colony for 2018 and the Byrdcliffe Artist Residence Program for 2019.
Desi Moreno-Penson's plays have been developed/produced at Ensemble Studio Theater (EST), INTAR, MultiStages,Perishable Theater (Providence, RI), Henry Street Settlement, SPF-Summer Play Festival, terraNOVA Collective, The Downtown Urban Theater Festival (DUTF) @the Cherry Lane, Urban Theater Company (Chicago), Teatro Coribantes (San Juan, PR), and others. Her play, BEIGE; Winner of the 2016 National Latino Playwriting Award sponsored by the Arizona Theater Company; received Honorable Mention on The Kilroys List 2017; Finalist for 2018 Bay Area Playwrights Festival,2016 Eugene O'Neill National Playwrights Conference, and 2017 New Works Festival @Kitchen Dog Theater (Dallas, TX); Semifinalist for 2016 Princess Grace Award; selected for the inaugural list of 50 Playwrights Project's Top 8 Best Unproduced Latinx Plays 2017, and nominated for the 2017 MentorProject @the Cherry Lane. Another play, COMIDA DE PUTA (F%&king Lousy Food); Winner of the 2013 MultiStages New Works Contest, Finalist for the 2014 O'Neill NPC, received Honorable Mention on The Kilroys List 2015, and its world premiere at the West End Theater (NYC), produced by MultiStages, and directed by MultiStages producing artistic director, Lorca Peress. Her plays, GHOST LIGHT, DEVIL LAND, LAZARUS DISPOSED, and 3 TO A SESSION: A MONSTER'S TALE are published by Broadway Play Publishing; a ten-minute play, SPIRIT SEX: A PARANORMAL ROMANCE, was selected for the short plays anthology, "Best Ten-Minute Plays of 2010," and a scene from COMIDA DE PUTA is included in an anthology featuring plays written by Latinx playwrights, "Scenes for Latinx Actors: Voices of the New American Theater," both published by Smith and Kraus. Her short play, RECONCILE, BITCH, will be featured as part of "DARK PLANET: Not Your Mother's Valentine's Day," an evening of short, dark comedies produced by Planet Connections Theater Festivity at the 14th Street Y Theater in February 2020. MFA in Dramaturgy and Theater Criticism from Brooklyn College; Member, Dramatists Guild, SAG-AFTRA, and the Going To The River Writers Unit (GTTR) @the Lark New Play Development Center in NYC. Desi lives in The Bronx with her wonderful husband Anthony, and their cat, Choo-Choo. Special thanks to Lorca Peress for her continued, generous support.