Peace Pole Dedication Ceremony Marks UN International Day of Peace at DLSMHSI
This post is also available in: Spanish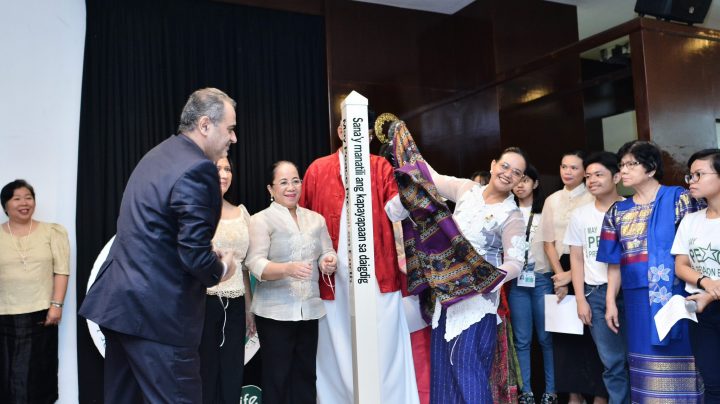 "May peace prevail on earth!" On the occasion of the UN International Day of Peace and to celebrate the 13th International Lasallian Days for Peace, peace advocates from different faiths and organizations, students and educators gathered to hold a Peace Pole Dedication Ceremony at the De La Salle University Medical Health Sciences Institute (DLSMHSI), in Dasmarinas Cavite, Philippines.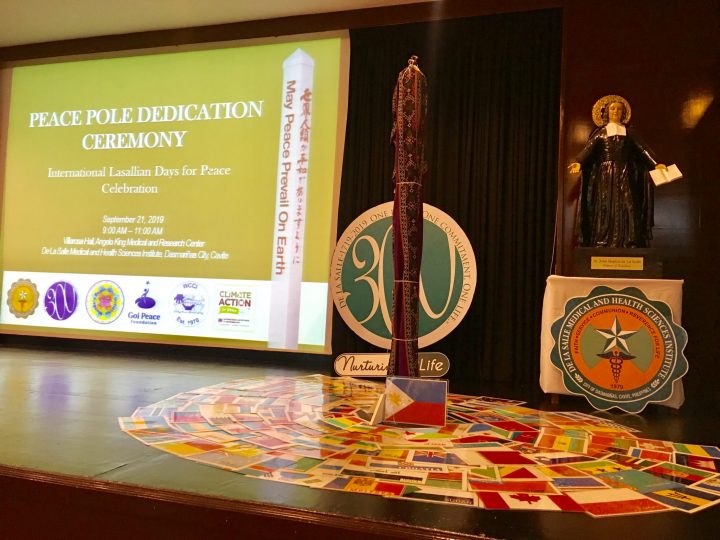 A Peace Pole is an internationally-recognized symbol of the hopes and dreams of the entire human family, standing vigil in silent prayer for peace on earth. Each Peace Pole bears the message May Peace Prevail on Earth in different languages on each of its four or six sides. Today, there are over 200,000 Peace Poles planted in every country in the world dedicated as monuments to peace. In the Philippines, we have peace poles planted in the far North to the deep South.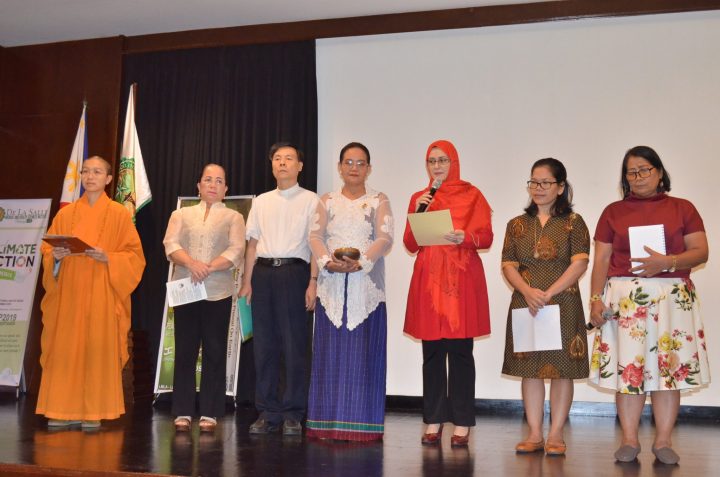 The Peace Pole Dedication Ceremony started with interfaith peace prayers, heralded by Hon. Emerita Garon, WCCI International Trustee, ringing a Tibetan bell to usher in the ceremony. Reverend Fr. Dominic Lee read a Christian prayer in Mandarin while Venerable Miao Jing Shih of the Fo Guang Shan Mabuhay Temple intoned the Buddhist Mantra for Peace. The Prayer for Sincere Effort and Commitment to Interreligious dialogue was led by Sr. Maria Malau, NDS of the CBCP Episcopal Commission on Interreligious Dialogue in Bahasa Indonesia, while Ma. Ofelia Cantor of the Bishops Ecumenical Forum/Philippine Ecumenical Peace Platform prayed for the resumption and success of peace talks between the Philippine government and the National Democratic Front of the Philippines in the Ibanag dialect.
Maria Cecilia Tirona, Vice-Chancellor, Lasallian Mission, Linkage and Advancement, warmly welcomed everyone to the event and Br. Micheal Broughton FSC, the Director for Lasallian Formation and Accompaniment shared his inspiring ideas about the LaSallian Passage on Peace.
Some highlights of Br. Micheal Boughton's speech:
"What kind of world are we preparing our children for? Today, as we speak today, there are conflicts all over the world…No one believes in war, but our governments are so enthusiastic to fight for rights, to fight for pride, to fight for economic development and advantage… People who start the war, never suffer the war. It's the rest of the people who suffer.
There are two elephants in the world today. China is one elephant, the nation is the biggest elephant in Asia. America is the other one and when the two elephants fight, the grass gets trampled and we are peaceful grass that wants to grow and are not being allowed to grow because the elephants have something against each other.
Peace begins with us. Peace always begins in the hearts of the human beings and that's why in education and in all religions, it is important to talk sense, to talk harmony, to talk peace when other people are talking about other things. Competition and war should not be in our vocabulary but it is the reality of the world we are living in now. Some people give up but we should not give up. Because we have faith, our faith in something bigger, higher and greater than the realities we face and this faith should permeate our education.
What kind of world are we preparing our young people for– a world of conflict, a world of dissension? A world where no one else matters except me and my country? If we want to prepare our children for a better world, then we must start working very hard now. If our lives are not in peace, our world will not be in peace. So we need to help as many people to recognize that peace begins with us and we all have a responsibility big or small. "
He shared what he learned in Gawad Kalinga. Dream big, start small, act now. We all believe in world peace. And it's a big dream and its far from reality but we must not stop to hope or wish for it. We start small, in our families, in our schools, in our institutions…with our fellow believers and even non-believers. Being good is better than having a religion. Religion should help us become good but some people are abusing religion to do bad things. We dream big but we start small, we do what we can do. When do we act, we act now. It's urgent. Peace requires action now not later, not next year, not in the next generation as there may not be a next generation to talk about if we don't act now.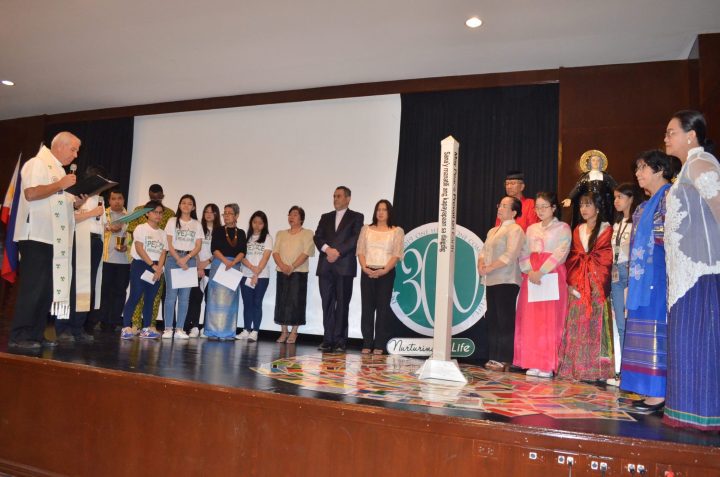 The Peace Poles were then unveiled and blessed, accompanied by a heartfelt prayer for peace intended for all the countries and dependent territories in all the continents of the world by the different peace advocates and students.
Peace Messages were also given by the Hon. Mohammad Jafarimalak, the Cultural Counselor from the Embassy of Iran in Manila who graced the event together with his family and Genevieve B Kupang, Ph.D., who chairs the Special Interest Groups in the World Council for Curriculum and Instruction.
Hon Jafarimalak shared the concepts of peace and reconciliation in the Muslim faith. Genevieve Kupang shared the work being done in the grassroots communities where peace poles have been planted and the commitment of the World Council for Curriculum and Instruction to peace advocacy in education.
In her message, she says, "Peacemaking is an imperative at this day and age because of the escalating violence, divisions, and conflicts that are happening not only to humanity but to Mother Earth as well. Go to our indigenous ancestral domains in the south and many indigenous people are being displaced unnecessarily, many trees are down, there are rivers that are already considered dead and we cry for that. Thus the UN theme for this year is "Climate Action for Change." She shared the plight of indigenous in Mindanao who are seeking refuge in Manila having been displaced by the military due to trumped-up charges of aiding terrorists so that the big mining companies can extract minerals from their ancestral domains. Schools have been closed and communities uprooted from their ancestral lands. She reflected about her role as an educator in face of the UN Theme and the Deped vision of No child be left behind and reaffirmed her vow to work for justice and especially to help the students displaced by the conflict.
"Today, as we offered our thoughts and prayers that peace may prevail on earth, we are in reality, one with the millions of peace advocates who believe that "Peace is Possible;" we are in solidarity with transformative leaders, believers of faith traditions, influencers, children, youth, educators, community development workers, health professionals, mothers and fathers who are commemorating today's United Nations International Day of Peace!
I/We represent the World Council for Curriculum and Instruction (WCCI), "a transnational educational organization committed to advancing the achievement of a just and peaceful world community. It is a non-governmental organization (NGO) of the United Nations in consultative status with the Economic and Social Council (ECOSOC)."
The World Council for Curriculum and Instruction, particularly the Special Interest Group on Peace Education resolved to partner and network with local and international curriculum designers, policymakers, NGOs, agencies, and organizations in spreading, continuous sharing, generating resources, sustaining initiatives like this peace pole planting or dedication, and sustaining programs on peace education, human rights, and global citizenship."
In his closing remarks, Lorenzo Alvin T. Capio, Ph.D., Director of Lasallian Formation and Social Action, recounted his experience upon visiting Marawi City which was completely devastated by the war between government forces and terrorist groups in Mindanao. When he saw the houses, the Catholic Church and the Mosques, a profound silence overwhelmed him and the question "What have we done and what can we do?" arose. That experience made him realize that more than ever, we need a great network of praying and acting communities in the Philippines and in the whole wide world but there is real hope because there are many organizations and people who are advocates for peace. He reiterated that La Salle will continue to support peace activities and thanked everyone for coming to the event.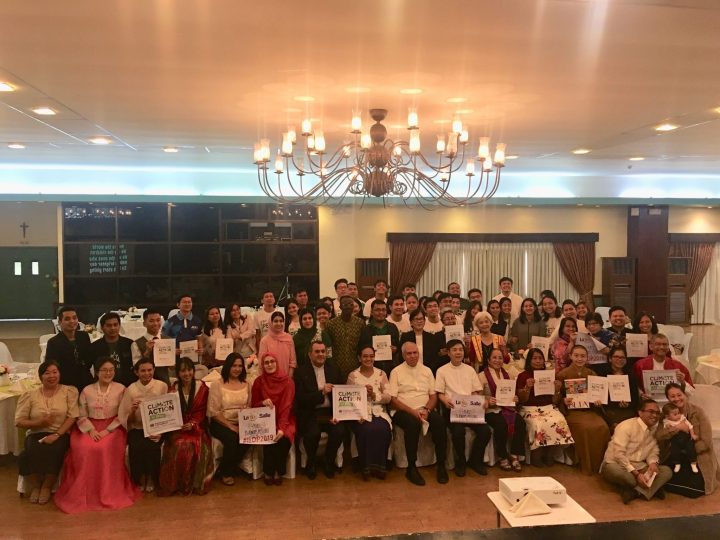 Footnote: Observed worldwide on September 21, the UNIDP is devoted to strengthening the ideals of peace, both within and among all nations and peoples. This year's theme is "Climate Action for Peace" and it draws attention to the importance of combatting climate change as a way to protect and promote peace throughout the world. Climate change causes clear threats to international peace and security. Natural disasters displace three times as many people as conflicts, forcing millions to leave their homes and seek safety elsewhere. The salinization of water and crops is endangering food security, and the impact on public health is escalating. The growing tensions over resources and mass movements of people are affecting every country on every continent.
The Universal Message for World Peace, May Peace Prevail On Earth, was authored in 1955 by the late Masahisa Goi of Japan. In a moment of great inspiration, Masahisa Goi awakened to the need to spread this message in the hearts of the global community for the attainment of inner and outer peace.
Masahisa Goi encouraged creative ways in order to carry the message to public view. In 1976, the idea of placing the Peace Message and Prayer on poles began to gain popularity. This was the first impulse which led to the beginnings of the Peace Pole Project. The first Peace Poles outside of Japan began to appear in towns and cities around the world in the early 1980s. To date, there are over 200,000 Peace Poles planted worldwide.