Health and Wellbeing Project in Caucaia Park [Brazil] to overcome pain and suffering
This post is also available in: Spanish, French, Portuguese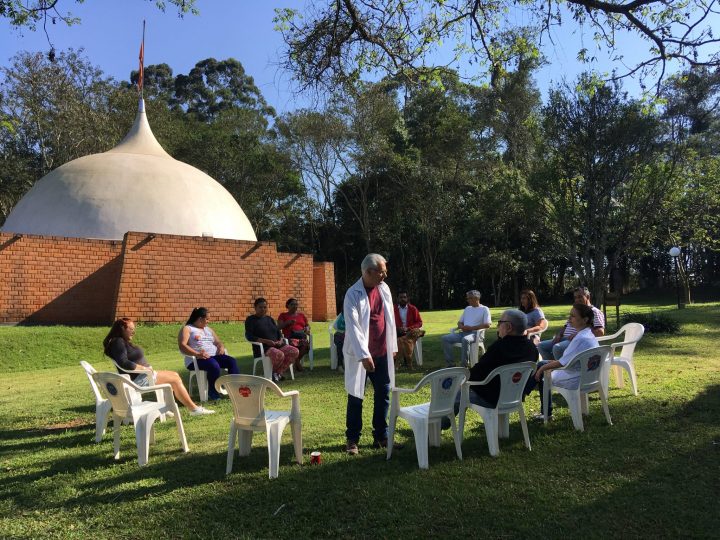 The initiative offers free acupuncture and reiki services to residents of the Cotia region.
This September, the Health and Wellness Project completes a year and a half offering acupuncture and reiki care to the residents of Caucaia de la Alta Cotia. It began with the initiative of a group of volunteers who participate in the activities of the Caucaia Park and wish to open it to an unprecedented activity in these enclosures: to take care not only of the mind, but also of the body.
Consultations are held on the first Saturday of each month, free of charge. They are done on a first come, first served basis, starting at 9 a.m. The day begins with a round of conversation on the subject of pain and suffering, the relationship between the two and how to move forward in coherence and self-knowledge. Thus, people can reflect together and are invited to take an active and reflective stance on their condition, what they can and need to transform.
Caucaia Park is a space for study and reflection on Peace and Nonviolence. Currently, there are approximately 50 such spaces in the world that function as places of retreat. There people can take a break from daily life to come into contact with a deeper dimension of the human mind, whether through meditations, ceremonies or practices.
"Inspired by the work of Silo, whose central theme is overcoming pain and suffering, we began a project to promote well-being. On the one hand, we want to help heal physical pain through therapies, and on the other, to approach what causes mental suffering and work on it with tools of self-knowledge, reflection, ceremonies of well-being and contact with internal force," says Adriana Pucci, one of the organizers of this project.
As attested by Doña María Nilza de Souza (who has been attending the outpatient clinic since its inception). "These acupuncture consultations freed me from the pain of a herniated disc, the heat of menopause, insomnia and shoulder pain. I always tell those who aren't doing it that they're going to get their health back," he concludes.
Maria Elaine de Castro also attended the project from the beginning and says she came in with various health problems in her knees, legs, labyrinthitis and emotional problems. "Today I can say that thanks to the assistance in the Park I became another person and I consider those who are part of this project my new family.
"I found the doors of the park open and went to see what kind of work they were doing. I met professionals in the area of acupuncture, reiki and auricolotipado doing those services for free. I did the first sessions and saw that the project needed volunteers to make a greater disclosure. I have always liked attending these events and helping, so today I participate voluntarily and I feel very grateful," says Mario Siqueira, who accompanied by Elaine and Maria Nilza, in addition to being on the site, collaborates so that the project takes place every month, helping in the dissemination, organization and reception of participants.
For more information: http://www.parquecaucaia.org.br
The photos are from Caucaia Park: