Together Against Trump – Stop the state visit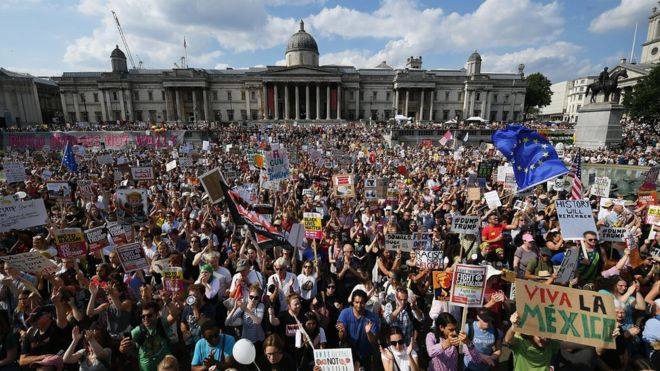 June 4th 2019 from 11am to 5pm
Trafalgar Square, London
Organized by Together Against Trump, Global Justice Now, National Union of Students, Campaign for Nuclear Disarmament, Stop the War Coalition, Palestine Solidarity Campaign UK, Momentum, Stand Up To Trump, Campaign against Climate Change, Stand Up To Racism, The People's Assembly Against Austerity, Stop Trump, Owen Jones, Another Europe Is Possible, Labour Against Racism And Fascism,
Donald Trump is coming to Britain for a state visit. Let's show him what we think of his divisive, hateful policies!
We will be assembling in Trafalgar Square from 11 am on Tuesday 4 June to declare a Trump free zone and then marching to wherever he is. Please keep checking here for updates.
We will be taking to the streets opposing Trump's racism, themed areas will feature throughout the protest with climate justice, migrants' rights, anti-racism, Women's rights, LGBT rights, anti-war and trade union rights and many more.
Theresa May is backing Trump's toxic politics. It is wrong to give him a state visit. This is a chance to take a stand against right wing ideas on both sides of the Atlantic.
Together Against Trump is organised jointly by the Stop Trump Coalition and Stand Up To Trump. It brings together a host of campaign groups and trade unions. Please share and invite.
For more info: www.togetheragainsttrump.org.uk
Coaches from around the country (more being added regularly): http://togetheragainsttrump.org.uk/getting-there/
Coalition partners:
Stand up to trump: http://standuptotrump.uk/ Stop Trump: https://www.stoptrump.org.uk