No War on Venezuela! March on Wall Street
This post is also available in: Spanish, Greek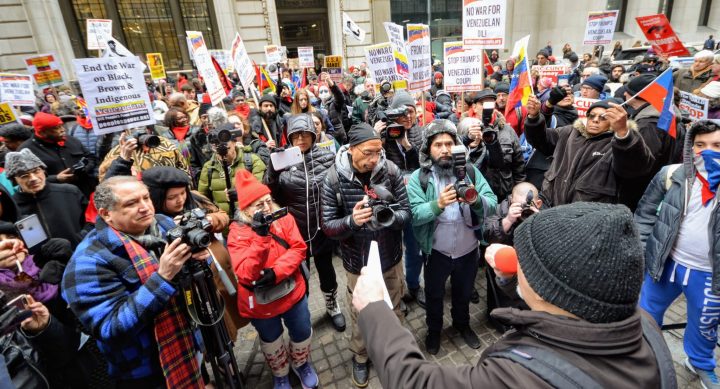 #23Feb actions have been called across the country and across the globe. Full list here: nowaronvenezuela.org/23feb
We cannot be silent in the face of the latest U.S. aggression against the Venezuelan people. Nicolás Maduro is the president of the Bolivarian Republic of Venezuela, chosen twice by the people as part of an internationally observed electoral process. Since the 1998 election of Hugo Chávez, the United States has been relentless in its pursuit of regime change in Venezuela. With Donald Trump in the White House, these efforts have escalated to threats of all-out military violence, the plundering of billions of dollars in wealth from the Venezuelan people and pushing a multitude of outrageous lies in the global media.
For hundreds of years, the U.S. has waged war against the people of the world through coups, invasions and economic warfare. Juan Guaidó is a U.S. puppet. He is not a representative of the Venezuelan masses. The idea that a person can swear themselves in as president at a rally in the interest of "defending democracy" is laughable. The right wing in Venezuela claim the Bolivarian elections are rigged because they refuse to participate in them. Instead they engage in voter intimidation using violence reminiscent of Jim Crow terrorism against African-Americans in the Deep U.S. South.
U.S.-led sanctions and currency manipulation are responsible for the suffering in Venezuela. Marco Rubio and right-wing media guide the Venezuelan opposition from Miami. The U.S. cannot stand for any country on the planet to enjoy its natural wealth or the fruits of its labor independent of Wall Street and the Pentagon. Venezuela has the largest proven oil reserves in the world and is rich in gold and other mineral wealth. Iraq war architect John Bolton said that regime change in Venezuela would be a tremendous opportunity to gain more profits for Wall Street. We believe him.
Since the Bolivarian Revolution in 1998, massive strides have been taken to uplift the working class, Afro-Venezuelans and Indigenous populations in Venezuela. The working poor have made tremendous gains because the government implemented policies and passed laws to fight racism, sexism, homophobia and economic inequality. Despite sanctions and sabotage, Venezuela has maintained a transparent and democratic system through many elections. Venezuela provides aid to struggling people worldwide through subsidized fuel and by leading the way with progressive labor laws. Their gains are part of the global struggle waged by workers and the oppressed against the wealthiest and most powerful capitalists on the planet.
Therefore, we demand:
The U.S. immediately cease all hostile actions against the Bolivarian Republic of Venezuela — lift all sanctions, stop backing a coup, cease efforts to destroy the Venezuelan economy and respect the right of the Venezuelan people to self-determination. All countries involved in the plunder of Venezuelan wealth immediately return what they have stolen to the democratically elected government of Venezuela and its people.Wall Street must immediately pay reparations to the Venezuelan people for their suffering under genocidal sanctions and currency manipulation.
Endorsing Organizations:
International Action Center ? Alberto Lovera Bolivarian Circle New York ? Alliance for Global Justice ? ANTICONQUISTA ? BAYAN USA ? Black Alliance for Peace ? December 12th Movement ? Fight for Im/migrants and Refugees Everywhere (FIRE) ? Freedom Road Socialist Organization (FRSO) ? Haïti Liberté ? IFCO/Pastors for Peace ? La Peña del Bronx ? Mobilization Against War and Occupation – MAWO (Canada) ? MOVE Organization ? People's Organization for Progress (POP) ? Popular Resistance ? The ProLibertad Freedom Campaign ? Samidoun Palestinian Prisoner Solidarity Network ? United National Antiwar Coalition (UNAC) ? USW Local 8751 Boston School Bus Drivers Union ? U.S. Peace Council ? Veterans For Peace
All-African People's Revolutionary Party (GC) • American Party of Labor • ANSWER • Anti-Racist Action-L.A. • Anti-War Committee • Baltimore Peace Action • BOROTBA • Black Men's Movement • Black Workers for Justice • Boston May Day Coalition • Brainerd Area Coalition for Peace (BACP) • Calgary Anti-Racist Action • Canadian Peace Council • Canadian Voice of Women for Peace • Casa de Las Américas NY • Central America Solidarity Coalition of Racine and Kenosha • Central Jersey Coalition Against Endless War • Charlotte Revolutionary Collective • Chicago ALBA Solidarity • Chicago Committee Against Militarism • Coalición Fortaleza Latina Pennsylvania • Coalition for Justice • Collettivo La Classe (Italy) • Committees of Correspondence for Democracy and Socialism • Communist Party of the DPR • Communiste Reconstruction Canada (Quebec) • Cuba and the Bolivarian Alliance Issues Committee of Women's International League for Peace and Freedom (WILPF) • Dare to Dream • Ecumenical Peace Institute • Fire This Time Movement for Social Justice – Venezuela Solidarity Campaign (Canada) • Frente Antiimperialista Internacionalista (Madrid) • Fronte Popolare (Italy) • Galway Alliance Against War • Greater Boston Chapter of the Green-Rainbow Party of Massachusetts • Hilton Head for Peace • Houston Friends of Venezuela • International Committee for Peace, Justice and Dignity • International Association Against Torture • International Support Haiti Network • La Città Futura (Italian communist newspaper) • Labor Community Alliance of South Florida • Labor Fightback Network • Labor Today/Labor United for Class Struggle • Legacy of Equality, Leadership, and Organizing (LELO) • Malu Arts Project, Inc. • Maryland-Cuba Friendship Coalition • Millennials Are Killing Capitalism • Ministry of Peace (UK) • Minnesota Peace Action Coalition • Monterey Peace and Justice Center • Movimiento Comunitario Alfa y Omega • National Jericho Movement • New Abolitionist Movement • New Jersey Peace Council • New York Boricua Resistance • New York-New Jersey July 26 Coalition • Nicaragua Center for Community Action • Nuevo Perú • No War Roma – Lista No NATO (Italy) • North American Climate, Conservation and Environment • NYC Shut It Down • Ohana Ho`opakele • Pakistan USA Freedom Forum • Palestine Prisoners Society • Peace Action of San Mateo County • Peace Action of Staten Island • Peoples Power Assemblies NYC • CPhilly-Camden Boricua Committee • Poor People's Economic Human Rights Campaign • Popular Front (France) • Potere al Popolo (Italy) • Portland Central America Solidarity Committee (PCASC) • POWIR • Public Awareness Education Programs – Sciences and Humanities • Puerto Rican Independence Party • Punks for Progress • Racine Coalition for Peace and Justice • Refuge Ministries of Tampa Bay International • Right 2 Survive • SI Solidarity Iran • Socialist Labour Party (UK) • Socialist Action • Socialist Party of Bangladesh • Socialist Unity Centre of India (Communist) • St. Paul Yoga Center • St. Pete for Peace • Swedish Professors & Doctors for Human Rights (SWEDHR)• Tempi Post Moderni (Italy) • Tlaxcala Network • TLtC The Least of These Church – Justice & Peace Committee • Union County (NJ) Peace Council • U.S. Friends of the Soviet People • U.S. Women and Cuba Collaboration • Unione Sindacale di Base (Italy) • Tufts Labor Coalition • United for Justice – Iran • URSAL – União das Republicas Socialistas da América Latina • Vancouver Communities in Solidarity with Cuba – VCSC (Canada) • Venezuela Ireland Network • Veterans For Peace – Chapter 71 • Veterans For Peace – Chapter 021 (Northern New Jersey) • Victoria Friends of Cuba • Virginia Defenders for Freedom, Justice, & Equality • Women In Time Change History • Women Against Military Madness • Workers World Party • Yes for Cuba Solidarity New York • Youth Fighting US Empire