Irish senate passes bill banning goods from Israeli settlements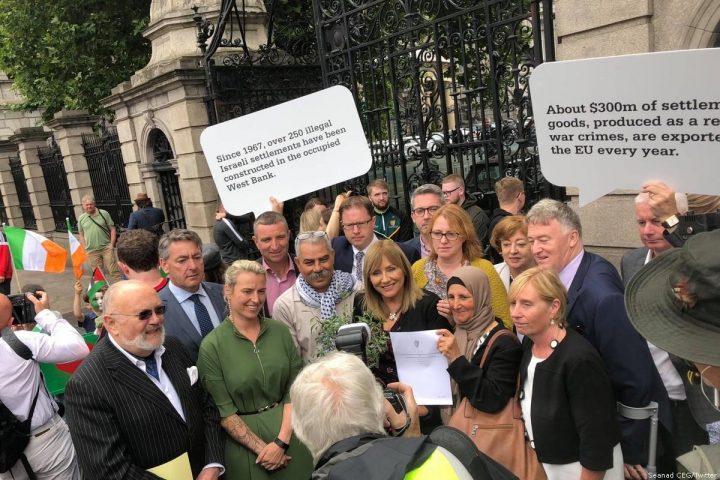 Ireland has become the first country to push through a bill that will criminalise the import of goods from Israeli settlements and impose a five year jail sentence or a €283,000 fine on anyone found guilty of profiting from illegal settlement industries.
The bill passed yesterday will ban the import or sale of goods or services from settlements regarded as illegal under international law. The legislation passed in the Seanad, a branch of the country's legislature, makes Ireland the first EU member state to criminalise the purchase of goods produced on Israeli settlements.
Irish sources reported that the bill was supported without a vote. This was described by independent Senator Frances Black, who championed the legislation, as "historic".
The successful passing of the Control of Economic Activity (Occupied Territories) Bill 2018 was met with sustained applause and a standing ovation by opposition Senators. The bill makes it an offence "for a person to import or attempt to import settlement goods" or to assist anyone in doing so.
The measure now needs the endorsement of the lower house of the parliament, known as the Dáil Éireann, before the Irish president can sign it into law. However, it is likely to face stiff resistance. The Government is said to be reluctant to push the legislation further. Fianna Fáil, a centre-right liberal-conservative party, has indicated it will re-introduce the bill early in the New Year if necessary.
According to the Irish Times, Palestinian Ambassador Ahmed Abdelrazek worked on the drafting of the bill, which was sponsored by several organisations, including Trócaire, Christian Aid and the Irish Congress of Trade Unions (ICTU)