I expect you are all familiar with the maps showing the radical shrinking of Palestinian land over 70 years due to the expansion of colonial Israeli settlement. Startling and appalling, yes, but to me they bring back strong memories of other maps, in a precisely analogous situation, which goes to the heart of why Israel is an apartheid state.
The original apartheid state of South Africa created "homelands", known colloquially as "bantustans", and proposed that, as the apotheosis of apartheid, these "homelands" would become independent states and house the majority black population of the country in fenced-off areas which had been too arid, rocky or commercial mineral free to attract significant white settlement over three centuries of theft. South Africa actually did recognise some of these as Independent states, while the rest were supposed to be on a course to recognition.
The maps really do bring out the startling similarity between these two attempts to formalise the dispossession of the original people. Thankfully, even though the "Homelands solution" had its supporters including Thatcher, it never achieved support beyond what was then an extreme right wing view, and none of the "independent states" ever achieved international recognition.
I worked in the FCO as the South Africa (Political) desk officer from 1984-6, and seeing off right wing Tory lobbying to adopt the Homelands policy was a major problem. It is simply symptomatic of the extraordinary right wing shift in western politics over the intervening three decades, that a "Bantustan" solution for Palestine, laughably called a "two state solution", is now the accepted wisdom of the political and media class.
The proposal is precisely analogous to South Africa not only because of the displacement of the original population into separated enclosures, but because it leaves the bulk of the land in the hands of a colonial population, whose identity and exclusivity is specifically enshrined in law by ethnicity. Israel's adoption this year of a new nation state law putting the state on an officially racist basis only confirmed the reality encapsulated in a raft of hundreds of other laws and regulations. The harsh discriminatory regime faced by non-Jews in Israel has been exhaustively documented, and it is not my purpose to repeat it here. I recommend this lecture by Ben White:
Many of the practices Ben describes have strong echoes of the apartheid regime, as do the disregard for Black/Palestinian life, the regular use of disproportionate lethal force against protestors, the mass arrests and detentions, the impunity for both law enforcers and "master race" civilians who attack blacks/Palestinians. These features are highly analogous.
But what I want to address here is the striking similarity between the arguments used by supporters of apartheid, with which I dealt every day at the FCO, and the arguments used today by supporters of Israel. They came by post thirty years ago not internet, and we did not use the word meme, but the key arguments are exactly the same.
We are outnumbered, we will be murdered in our beds.
Supporters of apartheid argued constantly that, as there were more black than white people in South Africa, they would be powerless in a single, democratic South Africa and would be dispossessed and murdered. Bloodcurdling quotes from black nationalists, some real, some invented, would be recycled continually as evidence that a peaceful united South Africa was not possible. A unitary democratic state, it was frequently asserted, would inevitably be followed by a massacre of the white population.
I think it is extremely important to state that the white South Africans arguing this, and their overseas supporters, genuinely believed it at the time. In 1984-6, they really did think majority rule would mean massacre.
I hear precisely the same argument from Israelis and their supporters today. A single state encompassing Israel and Palestine is not possible because they would be outnumbered. Exactly as in South Africa then, these assertions are often accompanied by an obsession with racial demographics and birth rates. And exactly as in South Africa then, the Israelis today really have been taught actually to believe this – that they will all be massacred unless the original population is corralled and viciously controlled.
In fact, of course, no such thing occurred in South Africa. The capacity of a subject people for forgiveness once released is generally surprising. It turns out that it is vicious racial overlordship, as opposed to subjection, which sooner develops psychopathy in a nation. Indeed, remarkably the South African government is only now taking the first tentative steps towards long overdue land reform.
The Land Was Empty Before We Colonised It
White supremacists had put an enormous amount of effort into arguing that the part of Africa most free of disease and amenable to human population, was remarkably free of humans before the arrival of the colonists. The amount of historical distortion involved in this was mind-boggling, and it has been comprehensively debunked since.
It is however remarkable how exactly the same arguments are repeated by Israelis and their supporters who make a variety of ahistoric claims: that the Naqba never happened, that the Palestinians always lived herded together in the Gaza strip, that there is no such thing as a Palestinian identity, and that illegal West Bank settlements are built upon previously unoccupied land.
The Only Democracy in the Region
This claim was made repeatedly by both South Africans and Israelis. It depended on the notion that black South Africans were not South African citizens, but could exercise their democratic rights within the "Homelands", precisely as Israel argues that the millions of displaced Palestinians are not Israeli citizens but can exercise their democratic rights within the Palestinian occupied territories they were herded to. And again, this argument was rejected with derision by the Western media and political class in the South African case, but to query it in the Israeli case is well outside the Overton window.
The Original Population Are Better Off
A rehash of the Imperial argument that governance by the master race brings economic benefits to the colonised, it was continually asserted that Black South Africans enjoyed better working conditions than any other Africans. Similarly Israel claims that by permitting its caged Palestinian labour force to commute into Israeli factories from their camps, it is helping the Palestinian people.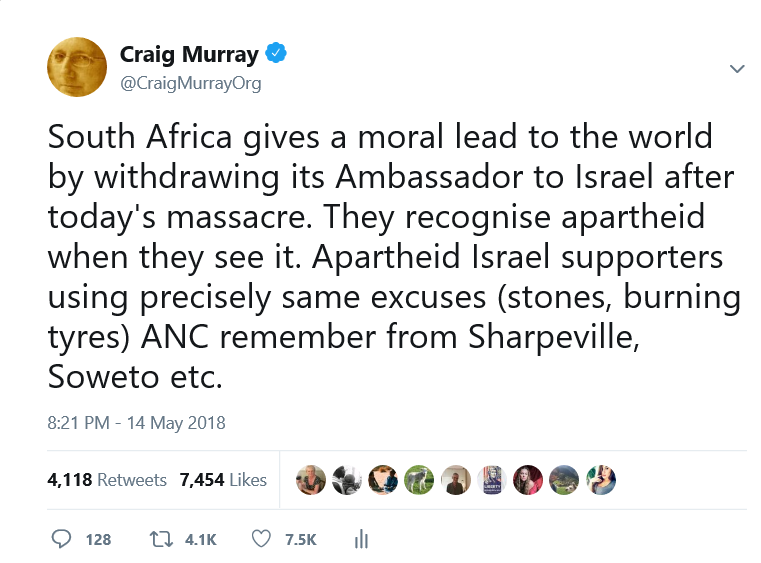 If you scroll down the replies to this tweet, made at the time of the Gaza demonstration massacre, you will find numerous examples of all of the above arguments being put forward by supporters of Israel. I really had not expected to find myself still fighting apartheid in 2018, let alone in a situation where it is viewed by the Establishment as the acceptable solution.
I do not accept the arguments of any proponent of a "two state solution", any more than I accepted the arguments of the supporters of apartheid South Africa. It is an essential work to convince people that, despite the massive backing of the media and politicians for it, the "two state" solution represents nothing but the ultimate sanctification of apartheid Israel.
The disgraceful shift of Saudi Arabia to close alliance with Israel and the USA to pursue an obsessive fight against the interests of Shia Muslims everywhere, has hopefully lost some traction after it has become impossible to deny that Mohammed Bin Salman is the psychopath his actions, especially in Yemen but also against peaceful democratic dissidents, had long revealed him to be. The Salman/Kushner plan for an ultra-fragmented Palestinian "state" with its capital in an obscure outer suburb of Jerusalem may have been dealt a mortal blow in the diplomatic world.
The only potential resolution of the situation in Palestine must involve justice and dignity for all. That solution requires the abolition of apartheid Israel and its replacement by a unitary, democratic state blind to race and religion. That is no more impossible in Palestine than it was in South Africa. The fears of those who believe it is not possible, are just as implausible as the fears of apartheid supporters 30 years ago.