Lesbians and Gays Support the Migrants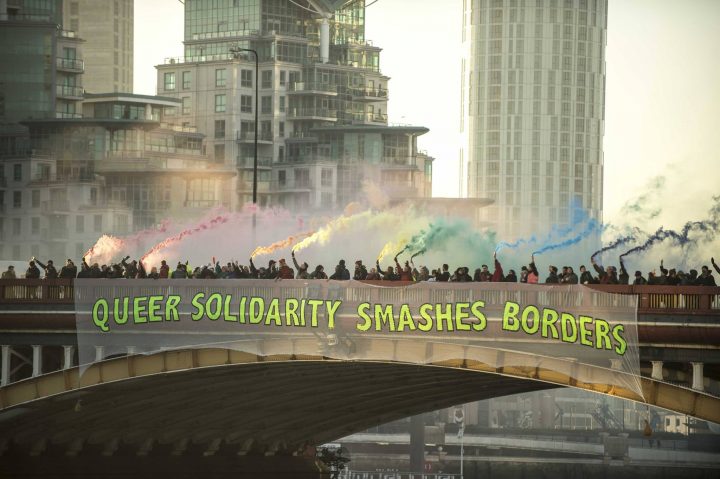 Inspired by Lesbians and Gays Support the Miners in the 1980s, Lesbians and Gays Support the Migrants (LGSMigrants) is a queer group that stands in solidarity with other communities facing state violence and media attacks.
In the current political climate, migrants bear the brunt of far-right violence, face demonisation in the media and are criminalised by the state. LGSMigrants use the strength of the queer community and an understanding of our history of struggle to fight back in support of those at the sharpest end of government oppression today.
Not long ago, LGBT+ people were the "illegals" and queer pubs and bars were being targeted in police raids and subject to state violence. Now, it is homes and workplaces of migrants that are targeted. Our queerness is weaponised by the state and media. Hard-won rights for LGBT+ people are presented as part of "British" or "European" values and migrants, particularly Muslim migrants, are constructed as a threat to these values. We see through this attempt to pit oppressed and exploited groups against each other. Through fundraising and creative direct action, we stand in solidarity with all migrants. We fight back against homonationalism. We build on a proud history of queer solidarity to say: no one is illegal.
Join us if:
You are queer/LGBTQIA+
You want to open the UK's borders
You want to take action.
We meet weekly in London, and have active groups in Bristol and Brighton. Message the page for more details and if you want to get involved.