Taking direct aim at Tory government's failures, Labour Party leader closes conference with vow to "kick-start a green jobs revolution" and challenge the powerful
Closing out the Labour Party's annual conference on Wednesday, Party Leader Jeremy Corbyn vowed to end "greed-is-good" capitalism and "kick-start a green jobs revolution" as part of his "radical plan to rebuild and transform" the United Kingdom.
"Ten years ago this month, the whole edifice of greed-is-good deregulated financial capitalism, lauded for a generation as the only way to run a modern economy, came crashing to earth with devastating consequences," Corbyn said in his speech. "But instead of making essential changes to a broken economic system, the political and corporate establishment strained every sinew to bail out and prop up the system that led to the crash in the first place."
"The price of that has not just been stagnation, wages falling for the longest period in recorded history, and almost a decade of deeply damaging cuts to public services. It's also fueled the growth of racism and xenophobia and has led to a crisis of democracy at home and abroad," he noted, emphasizing that people in his country recognize "the old way of running things isn't working any more" and there's a need for "radical solutions."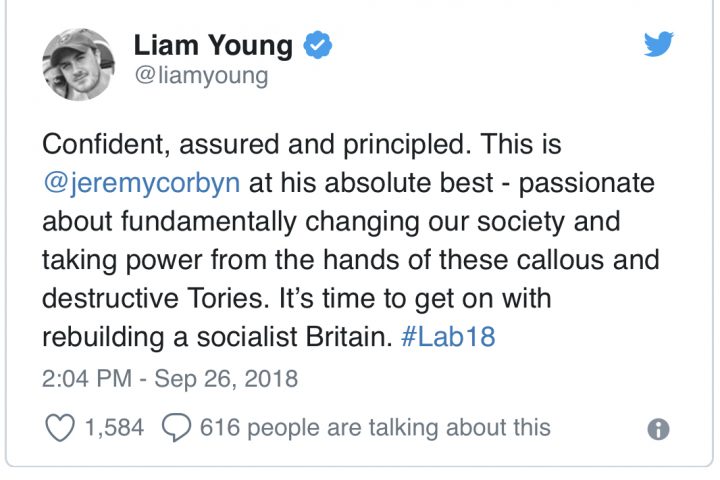 One such solution Corbyn highlighted is his party's proposed green jobs revolution, which he said "will help tackle climate change, provide sustainable energy for the future, and create skilled jobs in every nation and region of the U.K."
Referencing a bold new energy plan outlinedTuesday by Shadow Business Secretary Rebecca Long-Bailey, Corbyn pointed out, "Our program of investment and transformation to achieve a 60 percent reduction in emissions by 2030 will create over 400,000 skilled jobs." The ultimate goal is to cut emissions to zero by the middle of the century.
"There is no bigger threat facing humanity than climate change," Corbyn declared, calling out U.S. President Donald Trump for ditching the Paris agreement—which is now backed by every nation on the planet except the United States.
"When President Trump takes the U.S. out of the Paris accords, tries to scrap the Iran nuclear deal, moves the U.S . Embassy to Jerusalem, and pursues aggressive nationalism and trade wars—he is turning his back on international cooperation and even international law," he said. "We need a British government that can not only keep the country safe, but can also speak out for democratic values and human rights."
Corbyn's speech also touched on "two years of botched negotiations" regarding Brexit; Labour's pledge to make 30 hours a week of free childcare available children ages two through four; the Tory government's supportfor Saudi-led coalition's war with Yemen; the Myanmar military's "horrific ethnic cleansing" that has caused hundreds of thousands of Rohingya people to seek refuge in neighboring Bangladesh; and "the ongoing denial of justice and rights to the Palestinianpeople."