"Light and time": a mental journey into the depths of the Cosmos
This post is also available in: Spanish, French, Greek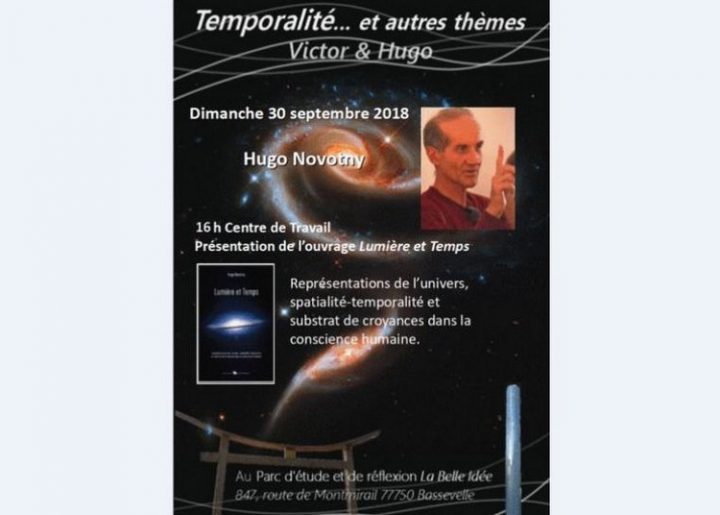 [This Presentation will also take place on Sep 29/30 week end at Park of Study and Reflection La Belle Idee, near Paris]
In Buenos Aires, the presentation of the book "Luz y tiempo. Representaciones del universo, espacio-temporalidad y sustrato de creencias en la conciencia humana"  (Light and time, Representations of the universe, space-temporality and basis for beliefs in human consciousness) by Hugo Novotny, the work, edited by Hipatya, will be presented by its author in Parque de Estudio y Reflexión La Reja (Alfonsina Storni 1568, La Reja, Moreno, Province of Buenos Aires) on Saturday 11 August at 4 p.m., while on Sunday 12 August the presentation will take place at 6 p.m. at the Salta de Paternal de El Mensaje de Silo (Trelles 2342, City of Buenos Aires).
"If our representation of the universe changes and our beliefs change, does the way we think, live and relate to one other, also change?" asks the author, suggesting a journey from the moment when the Earth was thought to be flat and at the centre of the Universe. Today we know that, as the Italian monk and astronomer Giordano Bruno anticipated at the cost of his life, our Sun is one more star amongst hundreds of billions in the Milky Way and the Earth revolves around the Sun.
Hugo Novotny, researcher of the Carcarañá Park of Study and Reflection and of the Universalist Humanist Pedagogical Current, also stresses that today we know, thanks to Cosmology, that there is a force that drives the accelerated expansion of the universe. "And is there an intention that drives evolution, ours and that of everything that exists? What consequences could such discoveries have in our lives, personal, social, spiritual?
Without a doubt, science is advancing at a rapid pace, but, is our vision of the world, our spirituality and our behaviour progressing at the same rate?
In Light and Time, Hugo Novotny confronts us with these essential questions and poses his own hypotheses in response, leading us to deepen our reflection on the world in which we live and on ourselves. In his own words: "Even though we refer in this work to the Universe, its origin and evolution, the subject is not astronomy, nor the most recent discoveries in physics or cosmology. Our object of study is the look that makes possible the representations of the universe, with the interest of detecting changes that could be taking place in these moments in this look and in the human consciousness in general.
Through Light and time, in short, the author invites us to travel, to fly towards the depths of the universe and, at the same time, towards the depths of the mind. In the opinion of Claudie Baudoin, prologuist of this work, also published in French: "This three-dimensional journey to the Light, elevates us and takes us away from our basic beliefs. One becomes more humble and at the same time greater, for having surpassed all horizons, for having managed to hear the music of the spheres, for having perceived, for a brief instant, their unprecedented nuances.