Anti-fascists won't let Germany return to normal after weak verdict in neo-Nazi trial
This post is also available in: Greek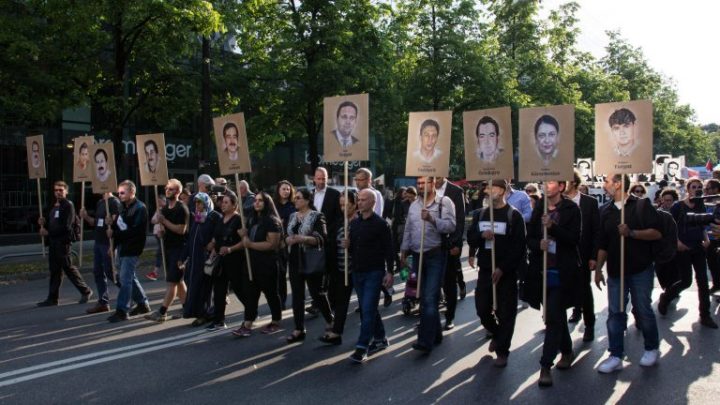 By Hilary Moore and Laura Frey July 13, 2018
Thousands of people took to the streets in Munich and many other cities across Germany on Wednesday to protest the long-awaited verdict in a neo-Nazi terror case. Although the five defendants — affiliated with the terrorist organization National Socialist Underground, or NSU — were convicted for their parts in a 2000-2007 killing spree targeting migrant communities, many believe the verdict to be too narrow, overlooking a much wider terror network.
The verdict found main defendant Beate Zschäpe guilty of complicity in 10 murder cases, 43 attempted murder cases and 15 especially brutal armed robberies. She was given a life sentence, which translates to 15 years in prison. Another defendant was sentenced to 10 years for assisting in nine of the murders, while three other defendants received between two and three years for supporting the terrorist organization.
"What is the message of this verdict?" asked Alexander Hoffmann, an accessory lawyer representing one of the victim's family. "That neo-Nazis are able to go outside, murder people, and that you only get two years in prison for supporting them. That is an invitation!" Underscoring this point were the dozen neo-Nazis in the courtroom, who applauded the verdict.
Meanwhile, outside the courtroom, people were outraged. In Munich, 5,000 people marched in the streets, carrying signs with portraits of the slain. Activists also changed 200 street names to the names of those killed by the racist series of NSU-murders: Enver Șimșek, Abdurrahim Özüdoğru, Süleyman Taşköprü, Habil Kılıç, Mehmet Turgut, Ismail Yașar, Theodoros Boulgarides, Mehmet Kubaṣık, Halit Yozgat.
These actions, however, are only part of the latest efforts to shine a light on the injustice in the trial and preceding investigations. Over the last five years, anti-fascist and anti-racist activists have spread awareness of the trial and its implications — attending, documenting and translating all 438 days of court proceedings. They have also fought to bring indictments of institutional racism and state collusion, but have been blocked many times along the way. In one major instance, the Domestic Intelligence Agency, Germany's version of the FBI, prevented the release of its NSU records — choosing to protect its informants rather than fully investigate the case. As a result, activists organized a tribunal process, or people's court, to show evidence that was not being considered and to give voice to the victims' families. Going forward, they are united by a simple message: "Kein Schlussstrich," or "No Closure," which means — as they explained in a press conference on Wednesday — that they will continue to investigate the murders and work against the conditions that created the NSU.
For anti-racist and anti-fascist organizers in the United States, this is a familiar concern. In cases like the 1964 Mississippi Freedom Summer murders, the 1979 Greensboro Massacre in North Carolina, and last year's deadly attack in Charlottesville — where the judicial system has obstructed prosecutions from including state collusion — activists have had to assert strategic pressure and ongoing organizing to ensure political gains are made from these tragedies. Now, German activists face similar strategic questions to the ones that U.S. activists have negotiated for much of the past half century.
This is particularly interesting given that white supremacy has always built power across borders. And U.S. racist history has, at times, lent an inspiring hand to Germany's formations, from Hitler's fascination with Jim Crow laws to the Ku Klux Klan chapters currently active in Germany.
As a result, this case is an opportunity to strengthen and inspire resistance strategies and learn from one another. Given this political moment where increasing numbers of hate groups are emboldened by right-wing governments, the NSU trial is an important example of the limitations of the state in prosecuting systems of white supremacy and what tactical moves are available to movements on the left.
Read the full article in Waging Nonviolence