Study on Municipalism in Spain for RLS-NYC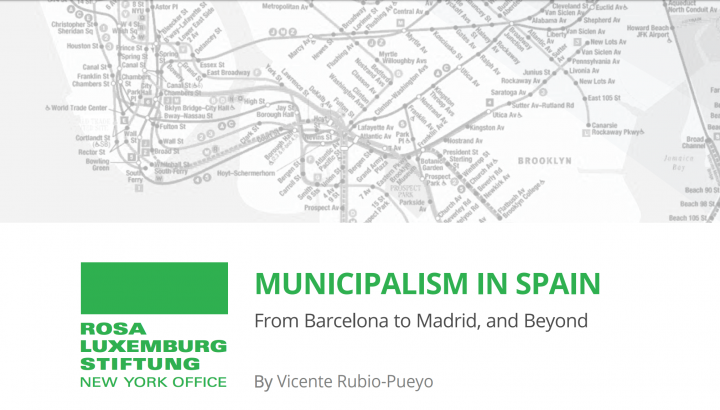 A few months ago, I had the honor of being commissioned by Rosa Luxemburg Stiftung-NYC Office for writing a study on Municipalism in Spain for their publication series.
It was released yesterday and it can be downloaded here in English and Spanish:
http://www.rosalux-nyc.org/municipalism-in-spain/
This study tries to provide an overview of the Municipalist Confluences trajectory, from their start as citizen platforms, their organizational processes and principles, the ellaboration of their program and to their arrival to power in Barcelona, Madrid, Valencia, Zaragoza, Cádiz, A Coruña and other important cities in Spain. At the same time, the study attempts to explain the rise of Municipalism both in relation to Spain's immediate history and from a more long-term historical perspective.
Beyond that, the final (and political) aim of the study is to highlight Municipalism's relevance as a political strategy, by stressing its importance in opening what I think are some fruitful horizons for struggle: the concept of the common, its redefinition of democracy, democratic institutions and citizenry, and the centrality of democratic participation. In other words, I was trying to sketch what I think are some elements of "the shape of a Left to come", as the text says.
My deepest thanks to Ethan Earle, Kazembe Balagun, Maresi Starzmann, Mariana Fernández, Albert Scharenberg and all the RLS-NYC staff for their help and care in discussing, editing, translating the text and for this opportunity to work with them.