Call for an international ban on the weaponization of artificial intelligence
This post is also available in: Spanish, French, Italian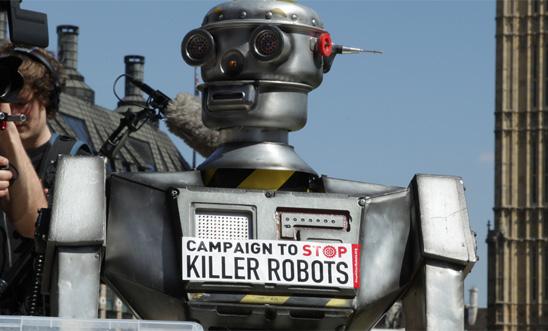 This week, members of the Artificial Intelligence research community exhorted the Prime Minister of Canada, Justin Trudeau, to join the international call to ban lethal autonomous weapons that remove meaningful human control in the deployment of lethal force.
An open letter authored by five Canadian experts in artificial intelligence research urges the Prime Minister to urgently address the challenge of lethal autonomous weapons (often called "killer robots") and to take a leading position against Autonomous Weapon Systems on the international stage at the upcoming UN meetings in Geneva.
The authors of the letter are:
Ian Kerr, Canada Research Chair in Ethics, Law and Technology, University of Ottawa,
Yoshua Bengio, Canada Research Chair in Statistical Learning Algorithms, Université de Montréal,
Geoffrey Hinton , Engineering Fellow, Google and Chief Scientific Advisor, The Vector Institute,
Rich Sutton, AITF Chair in Reinforcement Learning and Artificial Intelligence, University of Alberta,
Doina Precup, Canada Research Chair in Machine Learning, McGill University.
November 2, 2017
The Right Honourable Justin Trudeau, P.C., M.P.
Prime Minister of Canada
Langevin Block, 80 Wellington Street
Ottawa, Ontario
K1A 0A2
Dear Prime Minister Trudeau:
RE: AN INTERNATIONAL BAN ON THE WEAPONIZATION OF AI
As members of the Canadian AI research community, we wish to thank you for your interest in the broad field of artificial intelligence and the remarkable investment that Canada is making in AI research and innovation.
As you know, AI research—the attempt to build machines that can perform intelligent tasks—has made spectacular advances during the last decade. The evolution of classical AI, bolstered by rapid advances in machine learning, has revived the ambitions of the AI community to build machines that can carry out complex operations with or without human oversight or intervention. Proliferating applications already underpin a growing variety of products for consumers, for the improvement of infrastructure, transportation, education, health, the arts, the military, medicine, and for businesses. AI is of transformative significance. The transformations—actual and potential—demand our understanding and, increasingly, our heightened moral attention.
It is for these reasons that Canada's AI research community is calling on you and your government to make Canada the 20th country in the world to take a firm global stand against weaponizing AI. Lethal autonomous weapons systems that remove  meaningful human control from determining the legitimacy of targets and deploying lethal force sit on the wrong side of a clear moral line. To this end, we ask Canada to announce its support for the call to ban lethal autonomous weapons systems at the upcoming United Nations Conference on the Convention on Certain Conventional Weapons (CCW). Canada should also commit to working with other states to conclude a new international agreement that achieves this objective. By doing so, our government can reclaim its position of moral leadership on the world stage as demonstrated previously by the Ottawa Treaty—the international ban on landmines initiated in 1996 by our then Minister of Foreign Affairs, Lloyd Axworthy, who was originally appointed to the federal Cabinet by your father.
We warmly welcome the decision of CCW to establish a Group of Governmental Experts (GGE) on Autonomous Weapon Systems. Many members of our research community are eager to lend their expertise to the Government of Canada in this regard. As many of the world's top AI and robotics corporations—including Canadian companies—have recently urged, autonomous weapon systems threaten to become the third revolution in warfare. If developed, they will permit armed conflict to be fought at a scale greater than ever, and at timescales faster than humans can comprehend. The deadly consequence of this is that machines—not people—will determine who lives and dies. Canada's AI community does not condone such uses of AI. We want to study, create and promote its beneficial uses.
The strong leadership that Canada continues to demonstrate through its focus on technology and innovation will ensure our reputation as an international leader in the technological development of AI only if it also includes considerations of the broader legal, ethical and social implications. We therefore urge you to take a strong and leading position against Autonomous Weapon Systems on the international stage at the upcoming November 2017 CCW meetings at the United Nations.
Sincerely,
Ian Kerr
Canada Research Chair in Ethics, Law and Technology, University of Ottawa
Yoshua Bengio
Canada Research Chair in Statistical Learning Algorithms, Université de Montréal
Geoffrey Hinton
Engineering Fellow, Google and Chief Scientific Advisor, The Vector Institute
Rich Sutton
AITF Chair in Reinforcement Learning and Artificial Intelligence, University of Alberta
Doina Precup
Canada Research Chair in Machine Learning, McGill University
cc: Hon. Navdeep Bains, Minister of Innovation, Science and Economic Development
Hon. Chrystia Freeland, Minister of Foreign Affairs
Hon. Harjit S. Sajjan, Minister of National Defence
Hon. Kirsty Duncan, Minister of Science
Dr. Mona Nemer, Chief Science Advisor