London arms fair guest list confirmed: Includes a roll call of despots, dictatorships and human rights abusers
This post is also available in: Spanish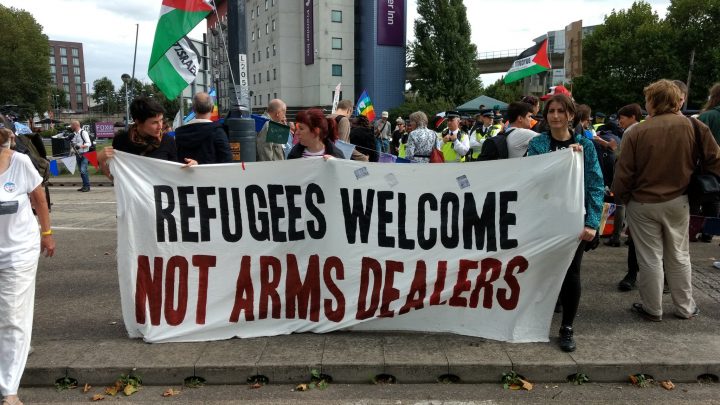 The UK government has published its official guest list for Defence & Security Equipment International 2017 (DSEI), one of the biggest arms fairs in the world, which is scheduled to take place at the Excel Centre in East London next week.
The publication follows a parliamentary question by Caroline Lucas MP. Those government and military delegations have been invited by the Defence & Security Organisation, which is part of the Department for International Trade.
56 countries have been invited, these include a range of regimes with appalling human rights records: such as Algeria, Bahrain, Egypt, Kuwait, Oman, Pakistan, Philippines, Qatar, Saudi Arabia, Turkey, United Arab Emirates and Vietnam. Other attendees will be attending with pavilions to do business from, such as Israel, while others will be invited by the event organisers, Clarion Events.
Government statistics show that over the last 10 years, almost 60% of UK arms exports have gone to the Middle East.
Andrew Smith of Campaign Against Arms Trade said: "This list includes a roll call of despots, dictatorships and human rights abusers. They will be greeted by civil servants and Government Ministers who are there for one reason only: to promote weapons. It's impossible to promote human rights and democracy while arming and supporting authoritarian regimes and tyrants."
Caroline Lucas MP, co-leader of the Green Party, who asked the parliamentary question said: "DSEI is a dark stain on our country's already tarnished reputation. It's time that this festival of violence was shut down for good – and for the UK to engage in peacebuilding rather than trying to cement itself as the world's weapons dealer."
The setup of DSEI has been met with daily protests, with blockades taking place every day this week to stop the military equipment from getting in to the exhibition site. A mass protest will take place on Saturday outside the Excel Centre.