Charlottesville Covers Confederate Statues with Black Fabric as Residents Demand Their Removal
This post is also available in: Spanish, Italian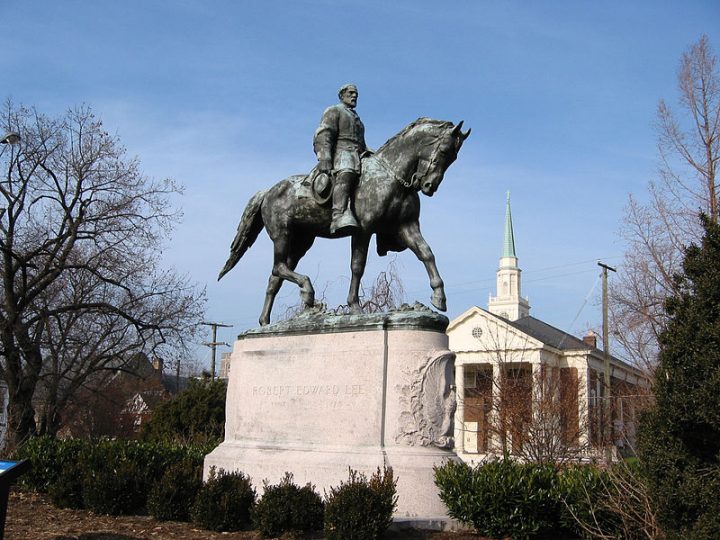 In Charlottesville, Virginia, residents cheered and celebrated as workers covered two Confederate statues — one of General Robert E. Lee, and another of General Stonewall Jackson — with black fabric on Wednesday in order to mourn the death of Heather Heyer, who was killed by a neo-Nazi during a white supremacist rally in Charlottesville on August 12.
Bq. Ann Marie Smith: "I feel like it's progress. I'm concerned that it will be an invitation for people who disagree with shrouding the statue to come back here, and I have concerns about that. The real resolution that I would like to see is the statue coming down, and I think, I feel really impatient about that at this point. But I also feel hopeful that all of this has tipped off something in our country, a shift of consciousness, and that is kind of the hope that I'm holding on to."
The city councilors voted unanimously in favor of covering the statues earlier this week, after a highly contentious town hall meeting on Monday. Hundreds of residents ultimately shut down the meeting by protesting and demanding the resignation of city mayor Michael Signer. Charlottesville is holding another town hall tonight with the Justice Department.
After the massive nationwide protests against white supremacy over the weekend far-right and white nationalist groups have canceled 67 upcoming rallies, saying the protests will instead be held online.
Meanwhile, Pennsylvania State University has become the fourth university – after Texas A&M University, Louisiana State University and University of Florida – to refuse a speaking request by white nationalist Richard Spencer since the deadly white supremacist rally in Charlottesville, Virginia on August 12.