London: Hundreds protest against immigration raids
This post is also available in: Spanish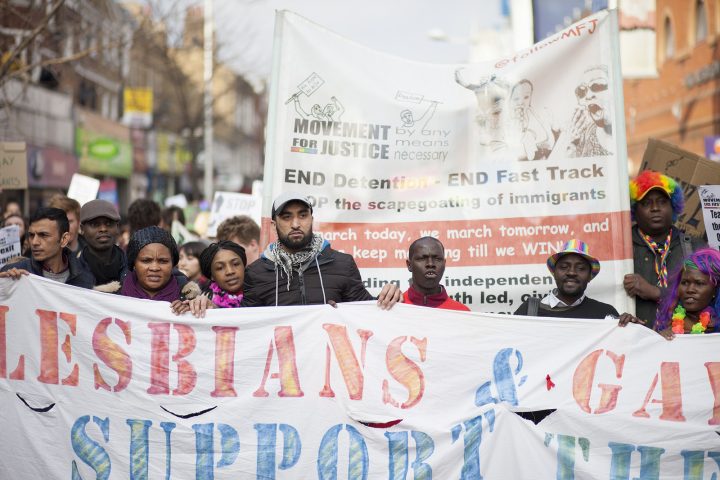 On Saturday more than 500 people marched through Peckham, London with LGBT+ and migrant communities to protest immigration raids and mass deportations. The march was led by Peckham-based asylum seekers and featured speeches from South London migrant groups and local shop owners along the route.
Last year's Peckham Pride saw 300 people come together to celebrate community resistance to immigration raids of shops in Peckham. Peckham Pride is organised by Lesbians and Gays Support the Migrants, Movement for Justice by Any Means Necessary and Sisters Uncut (South East London).
February is LGBT+ history month and marks 50 years since the decriminalisation of homosexuality in the UK. The UK government is under heavy criticism for its inhumane treatment of LGBT+ asylum seekers and for deporting LGBT+ people to countries where their life is in danger – most recently deporting an LGBT+ asylum seeker to Nigeria in late January.
Every year around 2000 people, among them Peckham residents, are loaded like cargo onto secretive night-time 'charter flights' in one of the most controversial operations of the detention and deportation regime.
The Home Office are carrying out more than 6000 raids of local businesses a year, mostly without warrants.
Sam Bjorn from Lesbians and Gays Support the Migrants said: "Peckham Pride brings LGBT+ and migrant communities together to show that we refuse to be divided and we refuse to let prejudice turn us against each other. Fifty years after the decriminalisation of homosexuality, we are still seeing the government treat whole communities as illegal. And as LGBT+ people we feel we have a special responsibility to stand in solidarity with the migrants now facing the brunt of government repression."
Antonia Bright from the Movement for Justice by Any Means Necessary said: "Peckham is a place where people have stood up and stopped immigration raids, preventing border agency thugs from snatching colleagues, neighbours, friends. We are facing the biggest ever anti-immigrant attack in the form of Brexit, which must be stopped. We're marching through Peckham to build the mass movement needed to defend our community and collectively resist racist attacks."
Rosanna from Sisters Uncut (South East London) said: "Many migrant women fleeing domestic violence have no access to public services or risk facing detention or deportation in trying to access help. Most of the support services destroyed by austerity were specialist services for African, Caribbean and Asian communities, and LGBT+ people. In the post-Brexit climate, not only do survivors stand to lose the already restricted access they have to professional support services, but now migrant sisters, LGBT+ people and sisters of colour are more likely to face violence from individuals and the state. This is a result of the racist, xenophobic and islamophobic discourse that has taken a stranglehold over our country and has raised the prevalence of state violence against migrants and people of colour."