Appeals Court Upholds Injunction on Trump Travel and Refugee Ban
This post is also available in: Italian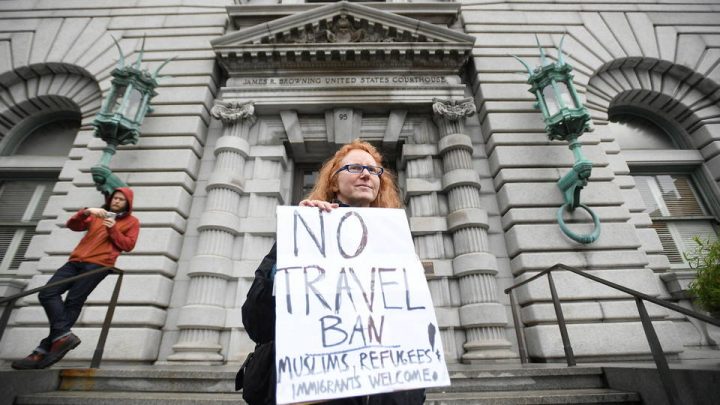 A federal appeals court in San Francisco has unanimously upheld a suspension of President Trump's executive order barring all refugees from entering the U.S. and restricting travel from seven Muslim-majority countries. Thursday's decision is a stinging blow to the Trump administration and appears headed for an appeal to the Supreme Court. President Trump responded to the ruling on Twitter, tweeting in all caps, "SEE YOU IN COURT, THE SECURITY OF OUR NATION IS AT STAKE!"
In Washington state, Bob Ferguson, the attorney general who successfully challenged Trump's Muslim ban, hailed the ruling.
Attorney General Bob Ferguson: "This is a complete victory for the state of Washington. The Ninth Circuit Court of Appeals, in a unanimous decision, effectively granted everything we sought. We are a nation of laws. And as I have said, as we have said, from day one, that those laws apply to everybody in our country, and that includes the president of the United States."
In their unanimous decision, a three-judge panel on the Ninth Circuit Court of Appeals ruled courts have the authority to review constitutional challenges to executive actions. The judges also said the government failed to show evidence that anyone from the seven nations cited by Trump's travel ban had committed terrorism in the U.S. If the case ends up before the Supreme Court, a potential 4-4 tie would leave the appeals court's ruling in place.