Interview with Tina Gibson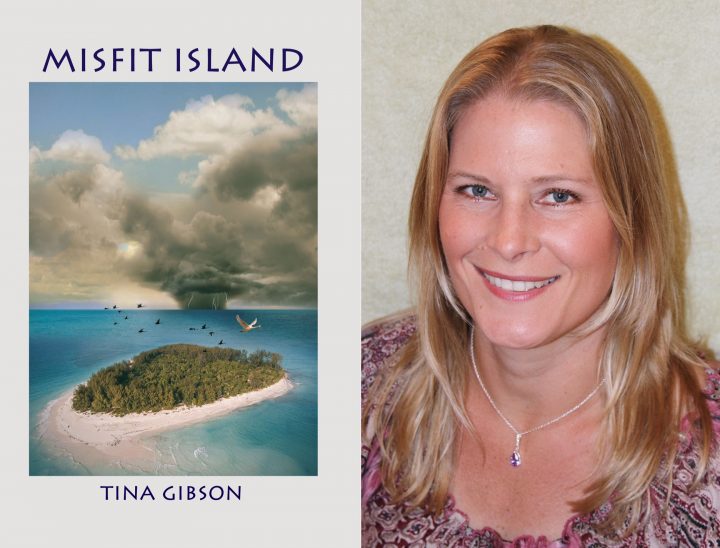 By Jhon Sanchez
I had the pleasure to meet Tina Gibson last year when she edited one of my short stories, The Kiss, published in Sand Hill Review. Since then, we became friends and last December I had the opportunity to read Misfit Island, her latest publication. As I was reading the book, I felt particularly identified with a group of animals called the misfit animals and with Signa, a swam, the main character, who arrives to the Island. Tina answers my questions from California where she lives.
1) Tina, what inspired you to write Misfit Island?
I have always wanted to write a book about the struggles young women go through—the stresses, pressures, and expectations that we face growing up in modern-day society. I created Signa the swan as a strong female character who goes through a coming-of-age journey. She had the opportunity to be the hero, but doesn't take it. I never intended for her to be the hero. She's the Almost Hero. Signa was thrust into a situation where, among unfamiliar faces and surroundings, she had to prove herself and her worth. Because she was different, she wasn't immediately liked. Although some animals judged her by the way she looked, acted and communicated, some animals took a chance on her. A few were kind enough to look past her swanlike appearance and took the time getting to know her. Essentially, she was forced to grow up in a society where she was judged by some and, after a few seasons, learned that using her gut instincts was key to her survival.
2) How long have you been writing young adult books? What makes a young adult book?
This is my first full-length young adult book. I had no specific age in mind when I wrote Misfit Island. I think adding the illustrations helped thrust my book into the young adult category, but what makes (or qualifies) a book in the young adult category is when a book has the power to interrupt your day. You've got all this fun stuff happening around you and all you want to do is lock yourself inside your room and read. If you, the author, can capture a young person's undivided attention with your words, then you are a young adult writer.
3) Please explain to our readers the techniques you used to write this long poem. What were the challenges that you faced writing the book? How did you start writing the book?
I used a technique called Metering. I wanted to make the format and layout easy for readers to follow. Each paragraph follows an abab tempo. Each line sticks to a specific syllable count: line a = 12 syllables and line b = 10 syllables. Near the end, I tightened up the meter and syllable count to accentuate the action. Writing a story in rhyming prose was challenging. I used pure rhymes, B-rhymes and slant rhymes. I had an outline, but I used improv rhyming to write the story from beginning to end. Misfit Island was never intended to be a full-length book. It started out as a one-page statement poem, dedicated to a specific person in my life at the time. I wasn't even done publishing my first book when I started writing Misfit. Inspiration struck so I decided to roll with it. As I continued writing a few pages, I realized that I had a much-bigger Animal on my hands! For me the hardest part about the whole process wasn't coming up with the story. That was the easy part. The part that proved to be most challenging was being self-disciplined. From January 2013 through the end of 2014, I gave it my all. With a full-time job, a social life, lots of hobbies, and my commitment to practicing martial arts taking up a lot of my time and energy, I dedicated many sleepless nights to working on my manuscript. The constant writing and re-writing, editing and metering was grueling and I didn't sleep much.
4) Your poem talks of big topics of power and ambition, control and submission, dissidence and civil disobedience. Do you think young adults can relate to those topics the same way adults can? Why is it important for a young adult to read this book?
I think young adults can relate to the ideals and situations in this book. After all, when they grow up and make it through life, they will be thrust into situations where they must follow their gut and speak up… and speak out. Yes, Misfit Island is a mature read with mythical, spiritual, and socio-political themes, but I wrote Misfit in a modern, fun way so it can be read out loud. I think young adults will relate to the rhyming as they would a modern Rap song. Misfit Island was written as an Epic and inspired in the traditions of; Animal Farm, Hansel & Gretel, The Most Dangerous Game, Lord of the Flies, Greek Mythology, Spirituality, and the Bible. I believe that a book like Misfit Island could open new creative doors and help make poetry popular among our youth again, whether it starts at home or in the classroom.
5) Of course, while reading the book I thought of Animal Farm by George Orwell. Is George Orwell an important influence in your writing? Who else has influenced your writing? Why?
I have always enjoyed the book Animal Farm by George Orwell. I used his anti-tyranny ideals as the main outline for Misfit Island. Both Animal Farm and Hansel & Gretel were the core, inspiring factors of Misfit Island. I am not inspired by any certain authors per say, but by anyone who writes without fear—despite popular opinion, political or socio-economic tone, or how shocking or taboo the subject is. I can think of one book that was written by a fearless author: Warriors Don't Cry by Melba Pattillo-Beals. She was one of the 'Little Rock Nine' who integrated Central High School in 1957. She is a brave writer in the sense that she went out on a limb and wrote about her experiences growing up during a time of heightened racial tension in America. I did a book report on Warriors Don't Cry my sophomore year in High School. It was one of the most difficult books I ever read. I cried like a baby because of what she went through. Melba's story is inspiring and should be required reading in High School.
6) This book is a long poem… an epic poem. Do you think if the book had been written in prose the major moments in the book would have been different? How about the ending? Or the prose and poetry form? Would traditional prose interfere with plot development of the story?
Honestly, I probably never would have finished Misfit Island if I tried to write it in prose. For some reason, I was feeling the rhyming part. I found it fun, so rolled with it. I wouldn't change a thing. I knew it would be challenging and that's why I chose to publish it as a long poem. At that time in my life I needed to be challenged.
7) Since I opened the book, I felt that the book is a book to read out loud. I had fun reading it with one of my friends in her house. How do you like reading it out loud?
I enjoy reading my book out loud. It has helped me become a better reader and a more-confident public speaker. While I was in the process of writing Misfit Island, I read my story out loud at a bookstore that hosted open mic nights. The reception from the audience was always positive and well-received with laughter and applause. A few people told me that they could see Misfit Island as an animated movie.
8) Do you feel part of the Misfit herd? If so, how did your personal experience help shape the book?
In my shyer, younger teenage years, I felt like I was a "rare bird," in the sense that my interests were not the norm. In high school, my life was going to martial arts classes, watching Horror movies, reading True Crime novels and Biographies. Signa the swan was based loosely on my life growing up and the lessons I've learned. I also wanted to poke a little bit of fun at myself… which I had fun doing.
9) In general, tell us why you started writing?
I hate to use the classic cliché of "I was going through a breakup," but that's what happened. On top of that, I was thirty and bored, so I decided to try something different—writing poems. I got the idea for my first poem Nicolai in Technicolor in the waiting room of an auto body shop. An image came to me as clear as day: a young boy sitting on the floor, looking at himself in the mirror as he played 'dress-up General' in his room. That was when the opening lines of my poem formed: ["Did you picture yourself rising from the ashes, a proud political figure ready to lead the masses. Some have described you as dashing and quite handsome, they think you are on your way to superstardom. Let me set the stage in Technicolor, just for you. A high-definition portrayal of a boy without a clue…"]. From that moment, I was hooked and continued writing more poems and stories, which can be found in my first book One Page at a Time, which I self-published in 2012. At that time, poetry was new to me, but I got connected with the right people, attended local writing groups, and read my poems at open mic. It really is who you know in this world! I am thankful to my family, friends and literary allies who have helped me along the way.
– – – – – – – – – – – – – – – – – – – – – – – – – – – – – – – – – – – – – – – – – – – – – – – – – – – – – – – – – – – –
Bio: To the shock of her High School English teachers, Tina always rebelled against the required books and chose to read the dark works of Edgar Allan Poe, Helter Skelter and The Complete History of Jack the Ripper. Other books such as Warriors Don't Cry, My Sergei and The Education of Little Tree have left a permanent stain of dried tears that will forever remain encrusted in the pages of her youth.
Tina lives in the San Francisco Bay Area where she currently works in banking and served as Fiction Editor for the Sand Hill Review. You can find her work on Fault Zone, Fastpencil, and Quaci Press. Some of her guilty pleasures include: antiquing, paranormal investigating, vintage vinyl shopping, and singing 80's karaoke songs with her friends.
Author Website: MastersStreetPress.wordpress.com
Misfit Island is available on Tina's Amazon Seller page
Jhon Sanchez: A native of Colombia, Mr. Sanchez immigrated to the United States seventeen years ago seeking political asylum. He received a law degree from Indiana University and an MFA in English and creative writing from Long Island University.