Food Not Bombs is an all-volunteer global movement that shares free vegan and vegetarian meals as a protest to  war and poverty. Each chapter collects surplus food that would otherwise go to waste from grocery stores, bakeries and markets, as well as donations from local farmers, then prepares community meals which are served for free to anyone who is hungry.
In Florida, seven volunteers of the group Food Not Bombs were arrested Saturday while feeding people in Tampa's Lykes Gaslight Park for sharing food without a permit—a costly procedure required by the city of Tampa. Some were arrested still wearing the plastic gloves they were using to dish out food.
In an email sent to press Saturday night, the group said it "has no plans to stop sharing food with the homeless and hungry and will continue to defy unjust laws that criminalize compassion and mutual aid."
"We intend to expose the city's cruelty in the face of thousands in our community who are struggling with issues of food insecurity, mental and medical health issues, poverty, and homelessness," a spokesperson for the group said in an email. "If the city will not address these problems, the least they can do is not get in the way and stop others from addressing these needs. Compassion should never be criminalized.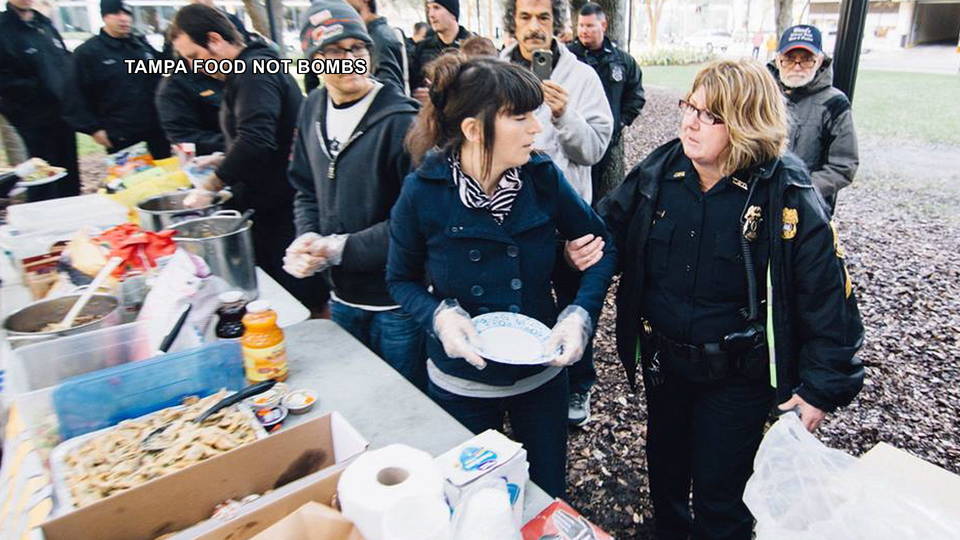 Image: Democracy Now!
Sources:
https://en.wikipedia.org/wiki/Food_Not_Bombs