Corbyn condemns 'fake anti-elitism' of Trump and Farage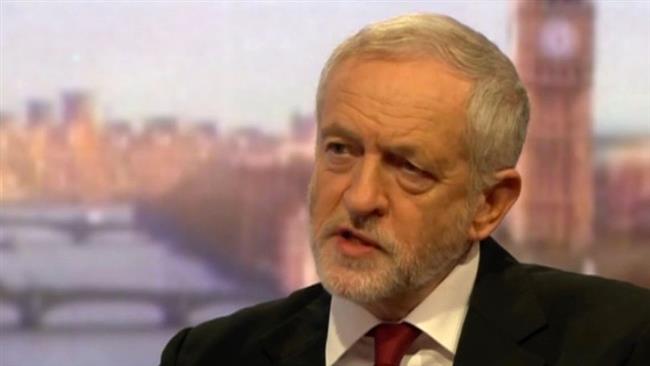 Labour Party leader Jeremy Corbyn has censured US President-elect Donald Trump and Nigel Farage, the interim leader of the UK Independence Party (UKIP), for adopting "fake anti-elitism."
In a speech to Labour's policy forum on Saturday, Corbyn denounced Trump and Farage as "rich white men" who were engaged in "farcical" tactics to win over angry voters on both sides of the Atlantic.
He said the Labour Party would not make "false promises" on curbing immigration, as Trump and Farage did during their campaigns.
Farage, a former member of the Conservative Party, played a leading role in the referendum held on June 23, when nearly 52 percent of Britons voted to leave the EU, after 43 years of membership, a decision that sent shockwaves throughout the world.
"Politicians and political parties have a choice in this age of understandable cynicism," Corbyn said.
"Do we play on people's fears and anxieties? Or do we take what might be the more difficult approach – to restore hope?" he asked.
"We can see the choice being taken by politicians on the hard right – to whip up division against migrants, Muslims, Mexicans, women… people with disabilities," he stated.
"The fake anti-elitism of rich, white men – like Nigel Farage and Donald Trump – is farcical at one level, but in reality it's no joke at all," he noted.
Corbyn also criticized policies of the ruling Conservative Party and its Prime Minister Theresa May.
"The Tories under Theresa May are taking Britain backwards and failing to meet people's needs and aspirations," he stated.
"Under my leadership, Labour is setting a real alternative for Britain. Labour will be ready whenever the general election is called," he claimed.
Last week, Farage met the US president-elect at his New York residence Trump Tower, spending two hours discussing "global politics, and the status of Brexit."
Trump's campaign had been hit with many controversies since its inception in early 2015. But he still managed to stun the world by defeating the heavily-favored Democratic candidate, Hillary Clinton, in the November 8 election.