German ban on refugees arriving by air challenged in court
This post is also available in: German, Greek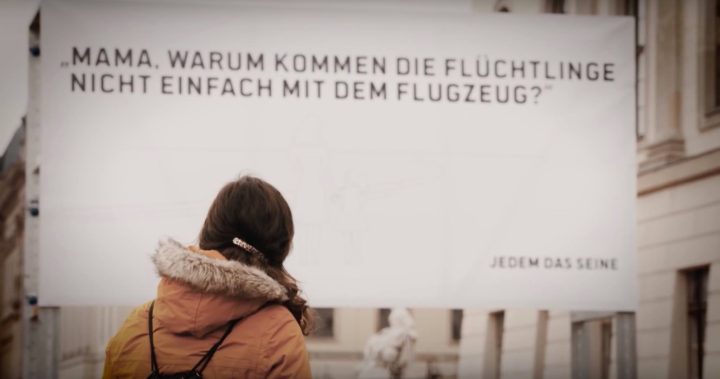 On Wednesday the 19th of october, the Center for Political Beauty launched a legal case against the german government because of a law that prohibits airlines from transporting refugees. So this artists' collective put their street activism on hold and went to court.
Airlines are not allowed to transport people without a valid visa. This is regulated under a german law (§ 63 Abs. 3 AufenthG) which hinders people from realising their right to asylum because they are not able to reach the authorities where they could apply for it. It is therefore also the reason why so many people are forced to look for dangerous and expensive land and sea routes and, subsequently, the many deaths.
"Mama, why are refugees not coming by plane?" was the root question of the action last June by the Center for Political Beauty that is now bringing the case to court. During that activity the plan was to fly 23 Syrian refugees by charter plane from Turkey to Germany but the flight was prevented due to the intervention of the Interior Ministry.
"The German federal government has failed to see the humanitarian cause of the event", said lawyer Markus Goldbach who is in charge of the case, "because they imagine that they are in a conflict solely with the Center for Political Beauty who they accuse of a general attack on the government and its valid regulations. Even from the point of view of administrative law, this is extremely problematic."
The law has been tested until now only once in court, without reaching a decision in the case. At that time an airline brought the case and even the judge expressed doubts about the legitimacy of the law; it was decided that the airline had not itself violated the law and therefore had no right to complain.
This changed with this action which turned the matter from an abstract violation of human rights into a real and assailable violation of the rights of the 23 passengers involved.