'No More Hiroshimas. No More Nagasakis. Never Again'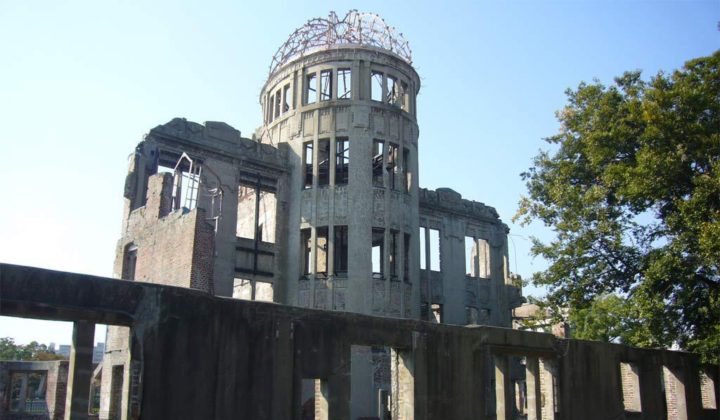 With global tensions rising and progress on nuclear disarmament hard to find, "the world needs the Hibakusha spirit more than ever," United Nations Secretary-General Ban Ki-moon on 6 August 2016 said, citing the determination and perseverance of those survivors of the 1945 Hiroshima and Nagasaki atomic bomb attacks as an example for championing peace and a seeking a better future for all.
In a message delivered to the Peace Memorial Ceremony in Hiroshima, Japan, by Kim Won-soo, UN High Representative for Disarmament Affairs, the Secretary-General commended the solemn gathering to remember the victims of the atomic bombing of Hiroshima, the first use of nuclear weapons in war.
Recalling his 2010 visit to Hiroshima taking part in the Ceremony, Ban said he had been moved and inspired by the determination of the survivors to ensure that such a tragedy would never happen again. That visit, noted the Secretary-General, reinforced his resolve to advance the efforts of the UN to work for a world free of nuclear weapons.
"In Hiroshima, I saw a memorial to tragedy, but also a city of resilience and hope. The people of Hiroshima are striving to be defined not by the city that was destroyed, but by the world they are seeking to build. That spirit is exemplified in the Hibakusha," the UN chief stressed in his message.
Indeed, the Hibakusha have turned their tragedy into a rallying cry for humanity, he continued, noting that they have shared their stories so the horror experienced by Hiroshima will never be forgotten.
You can count on me to continue spreading your message: No more Hiroshimas. No more Nagasakis. Never again
"They have become true champions of peace and a better world," he said, underscoring that this is the very spirit that is needed now, in a world where tensions are rising and progress on nuclear disarmament is hard to find.
"At this sober memorial, I ask all States to heed the message of the Hibakusha and overcome their differences to galvanize global will for disarmament. This is essential to peaceful cooperation," said Ban, explaining that those States with nuclear weapons have a special responsibility to prevent another Hiroshima.
They must honour their commitments and lead the way to dialogue, he said and called on all States to find common ground through inclusive dialogue.
He went on to stress that the bombing of Hiroshima shows that nuclear weapons do not discriminate between gender, age, religion, ideology or nationality.
"Let us keep striving together for a safer and more secure future and a better world for all. You can count on me to continue spreading your message: No more Hiroshimas. No more Nagasakis. Never again," he concluded. (Source: UN).
Read also:
NATO: Increasing the Role of Nuclear Weapons
Britain Renews Commitment to Nuclear Weapons
Nuclear Weapons and Nuclearism: Abolish or Be Abolished
The Urgent Need for Complete Abolition of Nuclear Weapons
Governments to Start Talks on New Law on Nuclear Weapons in 2016
Half of World's Population Lives in Countries that Either Have Nuclear Weapons or Are Members of Nuclear Alliances
Pro-nuclear Politicians Never Studied What It Means to Have Nuclear Weapons
Don't Get Excited: Nuclear Disarmament Is Not on the Horizon
'Persisting Risk of Nuclear Weapons; Dangerous Return to Cold War Mentalities'
Nuclear Weapons Abolition – "NATO" Is Not an Excuse
Nuclear Weapons Abolition – 'US Attempts to Bully Allies into Inaction'
Tell Your Bank Not to Invest in Nuclear Weapons!
Initiative on Humanitarian Impact of Nuclear Weapons Takes Centre Stage at UN General Assembly
'The Damage Caused by Past Nuclear Testing Cannot Be Reversed'
Nuclear — Despite Price Dip, Uranium Demand, Production Continue to Rise
UN Officials Call for Renewed Global Commitment to Ending Nuclear Tests
Do You Have the Courage to Ban Nuclear Weapons?
Why Is the Total Elimination of Nuclear Weapons So Urgent?
Hiroshima: The Myth of "Military Necessity"
Inhumane, Illegal, Immoral and Cruel: a Survivor Account of the Hiroshima Bombing
'Humans Search for Life on Other Planets While Modernizing Weapons That Can Destroy All Life on Planet Earth'
Banks, Pension Funds, Insurance Companies in 30 Countries 'Invest' Your Money in Nuclear Arms
'Humanity Could Not Survive a Nuclear War Using Even a Fraction of Existing Arsenals'
Another Lost Chance to Save Middle East from Mass Destruction
Watch The Sky–It May Rain Atomic Bombs
Nuclear Terrorism – Killing 100,000 People Not Very Difficult
Humanitarian Consequences of Nuclear Weapons — Are You Ready to Hit the Gas?
Ecocide, a Catastrophic Consequence of Nuclear Weapons
"Breaking the Nuclear Chain" Campaign
Pressure to Push the Nuclear Genie Back in the Bottle
Germany Resolved to Pave the Way to Nuclear Disarmament
India, Pakistan Engaged in World's Most Active Nuclear Arms Race
World Nuclear Forces: 'Fewer But Newer' Weapons
Desert "Star Wars", Respect Dignity of Life
Nuclear Dangers, The World Is "One Minute Closer to Midnight" U.S. Spending on Atomic Bombs Doubles UN Budget
Of Dr. Strangelove and the Risk of Using Atomic Bombs World Campain Against False 'Nuclear Deterrence Doctrine'
The Story of Child Yami and the Atomic Bomb
Obama and How to Save a Quarter of a Trillion Dollars
You Choose: $105 Billion a Year for Health Care or Nuclear Weapons?
Read on nuclear Middle East:
Non-Proliferation Treaty: Nuclear Weapons and Tension Areas
No Way to Free Middle East from Nuclear Weapons – UN Warns of 'Dangerous Return to Cold War'
Arabs Set to Create Their Own NATO, Urge a Nuclear-free Middle East
The Middle East Oil/Nuclear Puzzle