Ecuador's Correa: it's neoliberalism, not socialism that has failed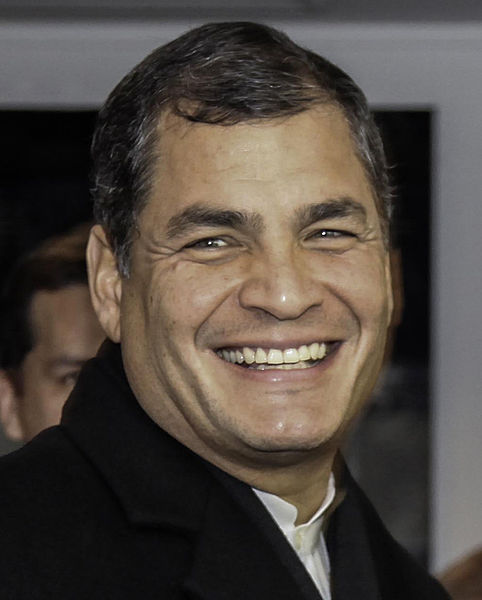 Leftist leader says growth "that favors the poor, growth with social justice, growth with equity," worthy of pursuit
byAndrea Germanos, staff writer for Common Dreams
Ecuadoran president Rafael Correa on Sunday denounced "fantasies of trickle-down theories" and said that it's neoliberalism, not socialism that has failed his region.
Latin America has largely pursued "socialism of the 21st century," TeleSUR reports the leftist leader as saying in an interview. Despite current external factors affecting his country's economy—like the fall in the price of oil and trade partners' economic slowdown—that model has helped the country weather the impacts far better compared to the situation in 1999 when the country was under conservative rule and "external shocks […] made the economy crash."
"Neoliberalism is what failed, not socialism of the 21st century; on the contrary, socialism of the 21st century is what has us firmly on our feet, withstanding all of these difficulties," he said.
Correa also said, "Inequality in a poor country means misery," and added that only the pursuit of the kind of growth "that favors the poor, growth with social justice, growth with equity," was important.
Other research has backed up Correa's claims.
A 2013 paper (pdf) from the Center for Economic and Policy Research (CEPR) found that financial reforms carried out by Correa's administration, such as the government's taking control of the central bank and increased taxation of the financial sector, helped the country make economic progress.
"Ecuador has gone against the conventional wisdom and shown that there are alternatives," CEPR co-director Mark Weisbrot and lead author of the paper said at the time. "By pursuing policies that have prioritized economic development, employment, and poverty reduction over financial and foreign interests, Ecuador has surmounted some of the problems that had previously held it back, and that have hampered progress in other countries."
CEPR's Alexander Main and Dan Beeton wrote last year that the region's leftist leaders' willingness "to take risks in order to break free of the neoliberal diktat should be an inspiration for Europe's new anti-austerity left today."