The sad state of India's journo-murder status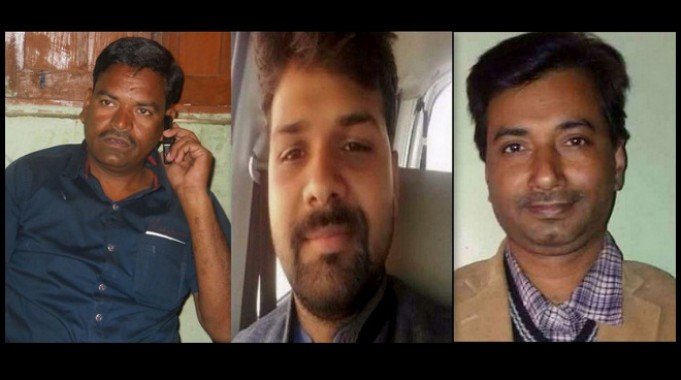 Guwahati, Assam: As the first half of the year 2016 passes on, India emerges as one of the worst places for working journalists, similar to conflict-ridden nations like Mexico, Yemen, Afghanistan and Iraq. The largest democracy of the globe witnessed the murder of four journalists in the first six months of this year, whereas the populous country lost five journalists to assailants in all of 2015. As nobody has been convicted in all nine journo-murder cases, the Indian media fraternity rose to the occasion asking for special protection laws and a national action plan to safeguard media persons.
The first incident of journalist murder this year took place in Uttar Pradesh, where a young scribe named Tarun Mishra was shot dead on 13 February 2016 at Gosaiganj locality in Sultanpur district. Mishra (32) used to work for a Hindi daily named Jan Sandesh Times and he was targeted for highlighting the illegal soil mining activities in his district. Three motorcycle riding miscreants shot at him near to his residential locality in Ambedkar Nagar and he succumbed to his severe injuries in hospital.
The second casualty was reported from Jharkhand, where a television news channel reporter was killed by local goons. Two unidentified people targeted Indradev Yadav (also known as Akhilesh Pratap Singh) at Dewaria locality of Chatra district. Yadav (35), who used to work for Taaza News, faced the bullets in front of the village Panchayat office and died on his way to hospital.
The third case of journalist murder came to light from Bihar. Unidentified gunmen shot at Rajdeo Ranjan at Siwan railway station locality. Employed and working for a national Hindi newspaper (Hindustan), Ranjan (45) died in hospital. A senior journalist with a brave image, Ranjan earned enmity from local political goons for his reporting against bad elements.
Both incidents created instant waves of protest in Ranchi as well as in Patna which then spread to other parts of the country. Various local, national and international media (rights) bodies including the members of prestigious press clubs based in New Delhi, Mumbai, Kolkata etc demonstrated in angers against these vicious attacks on scribes and demanded distinctive punishment to each and every single perpetrator of the crimes.
Shashi Shekhar, the chief editor of Hindustan narrated in his column that 'journalism today is amongst the most dangerous professions in the world', but even though people get attracted to it, as the society needs truth and journalism is the most powerful medium to bring out that truth.
"We have made sacrifices and we will continue to do so, as long as it is necessary…The first target of this struggle will be to bring the killers of Rajdeo Ranjan to book. Here I would like to thank friends in the media for their united stand on the issue….Believe me, we are nothing without your patronage. And we once again reaffirm our resolve to continue to be your voice," added the column.
Even the information aqnd broadcasting minister Arun Jaitley came out with a statement condemning the killings and twitted, "I strongly condemn murder of journalists Rajdeo Ranjan in Siwan and Akhilesh Pratap Singh in Chatra district. Independent investigation may be instituted and guilty be punished."
Lately another tragic incident came to light from Punjab, where a brave lady scribe named Anshita Bawa (22) died under a mysterious situation. Anshita on 22 April drove her vehicle to meet one friend, but she did not reach the location, rather her body was found floating in a canal at Bool locality of Sudhar areas.
Initially it was understood as an accident or a suicide case, but the post-mortem result narrated a different story. The autopsy report revealed that Anshita was subjected to severe injuries before her death. She suffered nearly nine injuries with a fatal one on her head. Under pressure from her family members, the local police registered an FIR terming it a case of murder. India's robust media fraternity lost five journalists namely Jagendra Singh (UP), Sandeep Kothari (Madhya Pradesh), Raghavendra Dube (Maharashtra), Hemant Yadav (UP) and Mithilesh Pandey (Bihar) to assailants last year. Shockingly, no one has been convicted in any of these cases to date.
The New York based Committee to Protect Journalists (CPJ) and the Paris based Reporters Sans/Without Borders (RSF) strongly condemned the killings and called for an authentic investigation into the incidents. They also expressed concerns that India is slipping down in the media freedom parameters turning the largest democracy into the worst place for working journalists.
Condemning the killings, the Vienna based International Press Institute (IPI) commented that it shows the failure of the province governments to provide basic protection to journalists to carry out their work. The forum also called on the Indian authorities to conduct a full, swift and transparent investigation into the deaths to ensure justice to the victim families with an aim to end a growing culture of impunity for crimes against journalists.
According to the RSF, India continues to languish in the bottom third of the 2016 World Press Freedom Index. Though the Indian media is dynamic and much more capable of playing the role of democracy's watchdog, the number of journalists killed and the impunity for crimes of violence against the media fraternity is escalating.
Published annually by the RSF since 2002, the global press freedom index measures the level of freedom available to journalists in 180 countries using the following criteria – pluralism, media independence, media environment and self-censorship, legislative environment, transparency, infrastructure, and abuses.
"Wherever they work, Indian journalists are exposed to growing violence. As well as frequent verbal and physical violence, attacks by armed groups are on the rise in several States and the local authorities have had little success in reining it in," said a recent RSF statement. The media rights body also added that it had repeatedly urged the Union government in New Delhi to launch a national action plan for the safety of journalists and for the prevention of dangers and threats to them, however RSF's requests had so far gone unheeded. Lately the Press Council of India chairman justice (retired) Chandramouli Kumar Prasad came forward to strongly condemn the killing of scribes and urged the Centre to enact a special law for protection of journalists and speedy trial of cases of attacks and assaults on media persons.
"Nearly 96 per cent of the cases of killing of journalists have not been taken to any logical conclusion and are either languishing in the courts or in some cases, investigations reached dead-ends in the last two decades, as reported by a Committee of the PCI," said the press council chairman.
Across the globe, over 25 journalists lost their lives to assailants
(from 1 January 2016 to date), and India emerges as one of the deadliest countries. According to the CPJ, India finds itself with troubled countries like Mexico, Yemen, Afghanistan, Iraq etc losing over three journalists each in the last four months. After Syria (2) and Turkey (2), Philippines, Guinea, El Salvador and Pakistan. Earlier, northeast India based scribes also joined in the protest against the killing of journalists in central Indian provinces. The representatives of various journalist organizations assembled in front of Guwahati Press Club on 16 May and demonstrated their anger. Covering their mouths with black clothes, the demonstrators also demanded stringent action against the culprits. The Guwahati demonstrators also supported the move for special protection laws for the benefit of working journalists across the country and called upon the Narendra Modi led Union government in New Delhi to formulate a national action plan to safeguard media persons, those who pursue critical journalism in the interest of society, nation and the human race.
Facing the heat of protests, the Jharkhand police arrested two persons suspecting their involvement in the killing of Yadav. According to the police the arrests were made on the basis of CCTV records, mobile phone call details and other relevant evidence. Lately, the Bihar police also arrested five persons suspecting their role in the murder of Ranjan. Few others were detained by both the Jharkhand and Bihar police for further interrogation. However, adding worries to the Bihar government, Ranjan's father Radha Chaudhary and wife Asha Devi demanded a Central Bureau of Investigation (CBI) probe to unearth the killers and they publicly declared that they had little faith in the local police.
Many Bihar based journalists also asked for a CBI probe into Ranjan's murder, which compelled the State chief minister Nitish Kumar to recommend such CBI investigation to look into the matter.
The author is a Guwahati (northeast India) based journalist