Hong Kong bookseller disappearances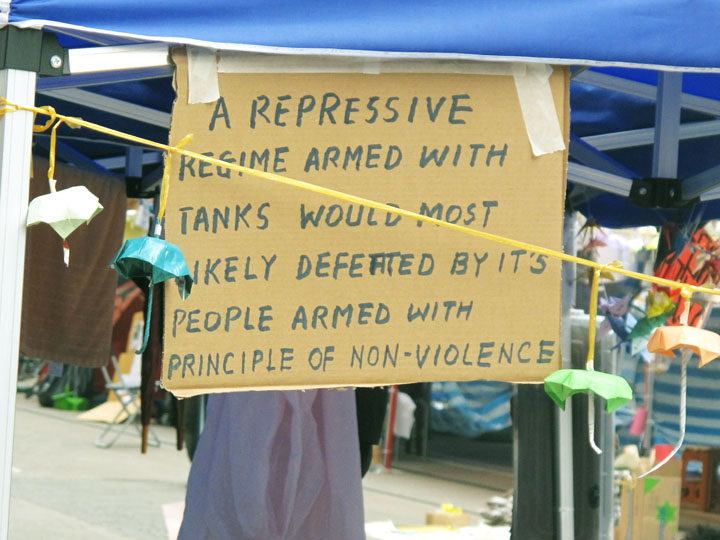 There are many people in Hong Kong who give short shift to opinions that are not in total support of the booksellers who became popularly notorious as heroes of those opposing Beijing's strong rule over this territory. One writer who is also a lawyer conversant with Chinese law says China acted in accordance with the law in Hong Kong – in the highest profile case, of bookseller Lam Wing-kee.
The South China Morning Post (SCMP) published an article by Dong Likun, a professor at Shenzhen University Law School, July 5, 2016. In the article the writer says Chinese law gives authorities the right to investigate, detain and interrogate such as Lam over the likes of book smuggling, and critics who protest against his treatment are ignoring the rule of law they claim to be upholding.
In fact given this reality or view, Lam Wing-kee's acts indeed violated mainland laws and upset the harmony of Chinese society. Yet, in collaboration with local politicians, Lam Wing-kee, has been holding press conferences, making statements and writing articles criticising mainland China, as if the mainland authorities had done something exceptionally hurtful to him. He even proposed or accepted himself to lead the annual July 1 protest march but backed off at the last minute fearing for his safety.
The questions are put in the article: Did Lam break the law while on the mainland? Did mainland authorities have the right to detain and investigate him? Was his detention some kind of cross-border law enforcement violating the "one country, two systems" principle? And did it challenge the interests of Hong Kong people in general? Dong Likun insists that only by clarifying the laws and facts in the case can the truth be found and that the answers to all these questions lie in the laws themselves.
He says – to quote the SCMP – whether a person has broken the law or committed a crime depends on the law of the country where the act was committed. According to the details provided at the press conference by Lam, he had smuggled books to the mainland, books which were published in Hong Kong but were illegal on the mainland, and which harmed the public interest. He did this by himself or by re-routing the books to mainland residents via his girlfriend. His acts violated mainland laws and harmed the harmony of Chinese society.
Such acts were carried out on the mainland. Thus, authorities there launched criminal investigations into his illegal acts according to Chinese law. This is the right of every sovereign country. Why was it wrong for mainland authorities to exercise their powers according to local law?
Another question refers to Lam's detention taking it as a cross-border law enforcement violation of the "one country, two systems" principle? His answer to that question is that it lies in the laws themselves, more concretely, bookseller Lam Wing-kee's case has nothing to do with 'one country, two systems'.
Sticking to the main issue and not getting that clouded by oft quoted "one country, two systems" principle, fact remains that the mainland judiciary has indisputable jurisdiction over Lam's case. "In accordance with the Criminal Procedure Law and the Criminal Law, a criminal case should be heard by a court located in the place of the criminal act, meaning the location where the act took place and suffered the consequences of the act. Both Lam's trafficking of illegal publications into the mainland and his delivery of such publications to other people while on the mainland undermined the stability of mainland society. The place of the criminal act and the place of the act's consequences were both the mainland. Therefore, the mainland judiciary has indisputable jurisdiction over Lam's criminal acts."
Dong Likun reports on section 5 of Hong Kong's Criminal Jurisdiction Ordinance which states that "there is an obtaining of property in Hong Kong if the property is either dispatched from or received in Hong Kong; and there is a communication in Hong Kong of any information, instruction, request, demand or other matter if it is sent by any means from Hong Kong to elsewhere, or from elsewhere to Hong Kong". The writer-lawyer insists then that, even according to Hong Kong laws, it should be the mainland judiciary that exercises criminal jurisdiction in accordance with mainland laws over Lam's criminal acts of delivering illegal publications to the mainland, which was damaging the social order and the national security of China.
(Note: certain books doted on the deeds of more youthful  high echelon persons and were not given to serious research, more like 'dirty secrets revealed' fictions – so what is taking place might indicate that non-serious sensationalist publishing that impacts respected leaders on the Chinese mainland are just beyond the toleration limits of the authoritarian regime.)
As to the mistreatment of Lam, Dong Likun also insists that he has not been subject to any act of inhumanity; he has been treated very well in fact. Since he is a criminal suspect, it is right and proper that he has been subjected to investigation, detention and interrogation.
"As for the complaint that his family members had not been notified of his detention and that he was not allowed to hire lawyers, this was not because of his status as a Hong Kong resident. Rather, it could be because officers were complying with certain regulations in the legal procedures, or because the mainland and Hong Kong have yet to establish comprehensive arrangements for judiciary cooperation on criminal cases," Dong Likun adds.
While the mainland has long been eager to set up a comprehensive system on cross-border cooperation in criminal cases, whereby fugitives could be handed from one jurisdiction to the other, so far no such agreements have been reached due to opposition from political forces in Hong Kong. Simply, many factions wholesale just do not trust the mainland. Thus, people who have committed crimes on the mainland and those who have committed crimes in Hong Kong that harmed the country, and mainland organisations, are able to go into hiding in Hong Kong, and thus evade mainland jails. There is a thin line or even none between socially criminal acts as in robberies and politically criminal acts, meaning treasonable acts as seen by the mainland that established this distrust.
"Some people in Hong Kong know the law well but have deliberately been manipulating, twisting and covering up facts so as to speak ill of the mainland, damage the "one country, two systems" principle, and advocating independence for Hong Kong, Dong Likun states. He sees these opponents to Beijing just seeking to reap personal gains in politics leading to the current chaos in Hong Kong that is a result of such people claiming to uphold democracy and the rule of law, while destroying the same through their actions. "It is important that people recognise this,: he ends.