China's workers organize simultaneous protests in multiple cities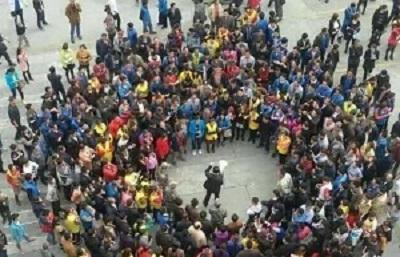 07.2016
Supporting the Workers' Movement in China
China's workers organize simultaneous protests in multiple cities
The Walmart Workers' Network, an online group with an estimated 10,000 members across China, has gained considerable publicity over the last month as its campaign against more flexible working hours gains momentum. There werestrikes by staff in three Walmart stores in two different cities over the weekend and more protests cannot be ruled out.
But Walmart workers are not alone in organizing simultaneous protests in different cities. Enabled by cheap smart phones and numerous social media platforms, workers in other large corporations are also coordinating actions to put greater pressure on their employers to accept their demands.
See original at; http://www.clb.org.hk/content/china%E2%80%99s-workers-organize-simultaneous-protests-multiple-cities

Neutrogena sales staff in nationwide protest
Hundreds of Neutrogena promotion staff coordinated a simultaneous multi-city protest on 27 June. Workers representing sales locations from across China gathered in Guangzhou, Shanghai and Beijing for demonstrations at the company's offices.
For years, Neutrogena sales staff had worked as agency employees, working on short term two year contracts, but still as nominal employees of Neutrogena. But as their latest contract period came to a close, Neutrogena notified workers that their jobs would be officially outsourced to a third party sales promotion company that offered even shorter contract periods and downgraded job titles.
Workers quickly organized demonstrations via mobile social media platforms like WeChat just days before their contracts were due to expire. The company put out emergency want ads for new sales staff but workers continue to demand a continuation of their previous contract conditions and recognition of their years of service at Neutrogena.
Neutrogena is a fully owned subsidiary of the American multinational Johnson & Johnson.
China Unicom workers fight outsourcing efforts
In a similar dispute to the Neutrogena workers, long-term agency workers at China Unicom in Dazhou, Sichuan protested at the company office after their contracts were terminated as part of the telecom giant's move to reduce its reliance on agency employment.
When China Unicom announced plans to outsource staff in Dazhou, the workers requested negotiations with management. China Unicom reportedly terminated their contracts. Many employees at China Unicom had worked there for more than ten years and demanded to sign permanent contracts directly with the company.
Unicom workers across China have organized and publicized their campaigns on Sina Weibo, and thehashtag "China Unicom Workers' Rights Defence League," used by workers from Henan, Shandong, Liaoning and other provinces, has been viewed more than three million times.
Unicom has relied heavily on agency labour in the past but new government rules designed to cap the number of agency workers in any one enterprise to ten percent has prompted the use of outsourcing instead.