British Parliament votes to renew Trident nuclear weapons system (surprise, surprise!)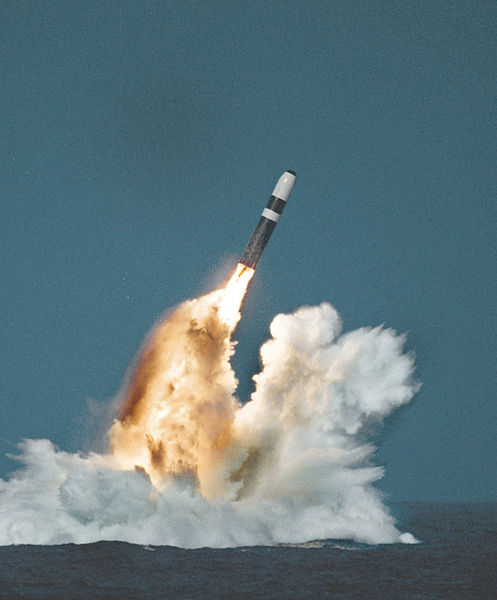 Over half of Labour MPs but not Jeremy Corbyn backed the motion. The proposal for renewal at a calculated cost of over £100 bn was passed by 472 in favour to 117 against. In actual fact there was little doubt about the result beforehand and to many in the Labour Party it was clear that the vote was a way to exacerbate the divisions within their party as the decisions regarding commissioning the studies towards renewal had already been taken.
According to Common Dreams:
'Newly installed U.K. Prime Minister Theresa May is prepared to authorize a nuclear strike that could kill hundreds of thousands of innocent people.
So she said before Parliament on Monday, as the body debated whether to renew Trident, Britain's aging nuclear weapons system.
According to the Independent, May was challenged on her support for the program by the SNP's George Kerevan, who asked: "Are you prepared to authorize a nuclear strike that could kill hundreds of thousands of men, women and children?"
May replied with one word: "Yes."
Is our PM prepared to launch a nuclear strike that could kill 100,000 people?
Theresa May: "Yes" https://t.co/MrqmXdARfU
— Sky News (@SkyNews) July 18, 2016
Later, when it was his turn to speak, Labour party leader Jeremy Corbyn countered that he "would not take a decision that kills millions of innocent people," saying: "I do not believe the threat of mass murder is a legitimate way to go about international relations."
Corbyn's stance puts him at odds with the official stance of his party, a fact that was not lost during the debate, which comes amid intense Labour infighting.
Meanwhile, the Telegraph reported on another tense exchange in the chamber, this one between May and Green MP Caroline Lucas:
Caroline Lucas, the Green MP:
"If keeping and renewing our nuclear weapons is so vital to our national security and our safety, then does she accept the logic of that position must be that every other single country must seek to acquire nuclear weapons?
"Does she really think the world would be a safer place if it did? Our nuclear weapons are driving proliferation, not the opposite."
Theresa May, the Prime Minister
"No, I don't accept that at all and I have say to the honorable lady that sadly she and some members of the Labour Party seem to be the first to defend the country's enemies and the last to actually accept the capabilities that we need."
Lucas hit back on Twitter:
Outrageous for PM to say I defend the UK's enemies. It's because I care about OUR safety that I oppose #Trident: https://t.co/3EU4OyJP6D
— Caroline Lucas (@CarolineLucas) July 18, 2016
According to the Campaign for Nuclear Disarmament (CND), which favors scrapping Trident and was holding a #StopTrident rally outside the House of Commons on Monday evening, the weapons system serves "no legitimate purpose" and is hugely wasteful.
.@Amelia_Womack from Green Party says cost of Trident could fund schools and hospitals at #StopTrident rally. pic.twitter.com/l58cGd8SWo
— CND (@CNDuk) July 18, 2016
Of the Trident vote, CND's general secretary Kate Hudson said: "This is a once in a generation opportunity to break with this massively expensive yet redundant old technology and instead spend Britain's valuable resources on meeting the security challenges we face today, like terrorism and climate change."
Meanwhile, wrote Andrew Smith of the Campaign Against Arms Trade on Monday, "even if we put the financial implications to one side, the potential impact of the weapons is far too deadly to contemplate. One Trident submarine has the power to kill 5.4 million people, and it would do so indiscriminately. The impact could be on an even greater scale than Hiroshima."
Opposition to Trident is widespread in Scotland, where the issue was among several fueling 2014's independence campaign. Anti-Trident protests were held in more than 30 Scottish cities, towns, and villages on Saturday, according to The Herald.
On Monday, SNP's Westminster leader Angus Robertson described Trident as an "immoral, obscene, and redundant weapons system" and said renewing the program would speed up Scottish independence.
"The people of Scotland have shown repeatedly, clearly and consistently that we are opposed to the renewal of nuclear weapons," he said.