The Uranium Film Festival Award Winners 2016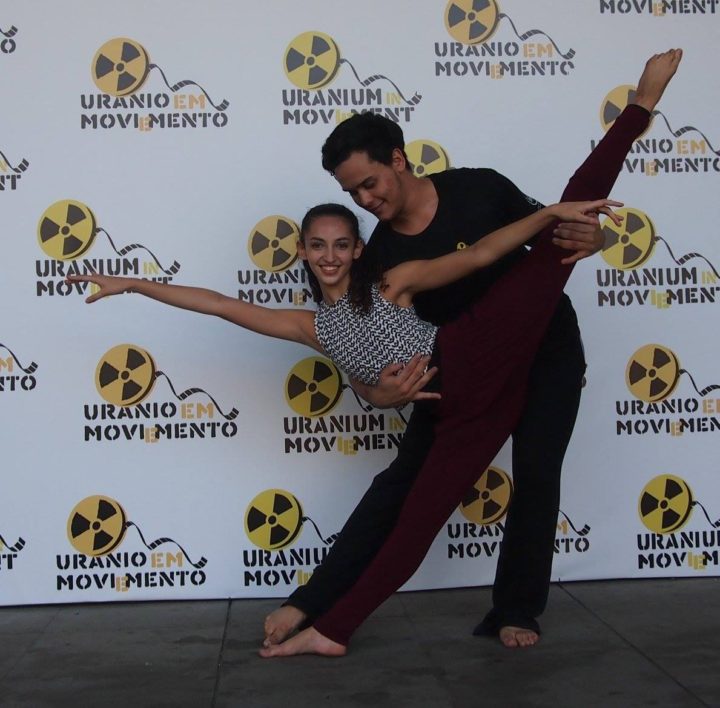 Rio de Janeiro's 6th International Uranium Film Festival awarded  films from 8 countries: Australia, Brazil, Denmark, Germany, Italy, Spain, Switzerland and the Netherlands. Six films received the Yellow Einstein Award and 4 films the festival's Special Recognition.
In total the festival screened in the cinematheque of Rio de Janeiro's Modern Art Museum (MAM) 49 films from all over the world about atomic power, uranium, nuclear security and radioactive risks. 13 filmmakers and producers were present in Rio. The best and most important films were awarded by the festival's international jury.
"Since the beginning of time radiation is part of human mankind. There is natural radiation coming from space and from the rocks under our feet. And because of the discovering and use of the powerful element uranium we have in addition the "man-made" radiation coming from the contamination of our planet – for example – through mining and by more than 2000 atomic bombs that were blown up in the atmosphere just by the five A-Bomb states USA, Russia, France, United Kingdom and China", says festival director Norbert G. Suchanek.
Radioactivity is invisible, has no smell no taste.  "It's a huge challenge to film something that you cannot see, but something that still can hurt or even kill you," says Suchanek.  "That's why the making of nuclear films is sometimes a risky business. And the Uranium Film Festival has the duty to honor and to award these filmmakers and their work."
The Uranium Film Festival trophy is a piece of art produced by Brazilian waste-material-artist Getúlio Damado, who lives and works in the famous artist quarter Santa Teresa in Rio de Janeiro where the first International Uranium Film Festival was held in May 2011. Getúlio creates the Uranium Film Festival Award from waste material, that he finds in the streets of Santa Teresa. He uses also old watches to remember the first atomic bomb dropped over Hiroshima. Watches in Hiroshima stopped exactly at 8:15 in the morning when the A-bomb exploded on August 6th, 1945. "For the last six years our Award had the nickname Yellow Oscar. But this year in April the Academy of Motion Picture Arts and Sciences in Hollywood prohibited us from using the name Oscar. So we had to find a new name. From now on the Uranium Film Festival Award is called the Yellow Einstein", explains festival director Norbert G. Suchanek
YELLOW EINSTEIN AWARD
BEST DOCUDRAMA
THE MAN WHO SAVED THE WORLD – Denmark, 2014,  Director Peter Anthony, Producer Jakob Staberg, Statement Film, Co-production: WG Film, Doc-Fiction with Kevin Costner, Robert De Niro, Matt Damon, Stanislav Petrov, Sergey Shnyryov, u.a., Docudrama, 105 min. www.themanwhosavedtheworldmovie.com (link is external) 1983. The Cold War is seconds from exploding. The world holds its breath as the superpowers USA and Russia are arming themselves against each other with thousands of nuclear missiles. On the 26th of September, Russian radars intercept five nuclear missiles on their way to Russia. Stanislav Petrov is commander-in-chief. The decision that would start World War III rests on his shoulders. Should Russia fire nuclear missiles at the United States in defence? 'The Man Who Saved the World' is an epic Cold War thriller that sends shivers down your spine, while also being a gripping story about the man who actually saved the world, and his struggle to get his life back on track before it is too late.   "I often get the chance to play a hero. But Stanislav is a true real-life hero." Kevin Costner
BEST DOCUMENTARY SERIES
URANIUM – TWISTING THE DRAGON'S TAIL – Australia, 2015, Director Wain Fimeri, Producer Sonya Pemberton and Genepool Productions for SBS Australia, PBS America & ZDF/Arte. Documentary in 3 parts, 51 min each.  www.genepoolproductions.com (link is external)
The untold story of the most wondrous and terrifying rock on Earth. Legends say there's a world beneath this one where a dragon lies sleeping. They say be careful how you wake the dragon. The year 2015 marks the seventieth anniversary of the most profound change in the history of human enterprise on Earth: the unleashing of the elemental force within uranium, the explosion of an atomic bomb, the unleashing of the dragon. Come on an epic journey with physicist and YouTube phenomenon Dr Derek Muller to discover the untold story of the most wondrous and terrifying rock on Earth. Love it or loathe it, whatever your views on uranium, this series will challenge them.
BEST DOCUMENTARY FEATURE
FUKUSHIMA: A NUCLEAR STORY – Italy, 2015, Director Matteo Gagliard, Production Christine Reinhold, Teatro Primo Studio – Film Beyond. Documentary, 84 min, http://www.nuclearstory.com/ (link is external)
A powerful documentary – shot from March 11th, 2011 through March 2015 – that sheds some light on what really happened at the Fukushima nuclear power plant after the 2011 earthquake and the tsunami that followed. An exclusive journey of four years inside the triple tragedy which hit Japan on March 11, 2011, following Italian Sky News reporter Pio d'Emilia who has lived in Japan for more than thirty years.
BEST BRAZILIAN SHORT FICTION
DEVIL'S WORK  – Brazil/USA, 2015, Director Miguel Silveira, Producer J.Charles Banks, Scott Riehs, Hugo Kenzo, Dp John Wakayama Carey, Missy Hernandez. Fiction, 19 min,  https://vimeo.com/110934948  (link is external)
A troubled 14-years-old boy grows increasingly isolated as he obsesses over the circumstances surrounding his father death his descent puts him on a dismal and potentially violent course that will lead to major truths and even greater questions.
BEST ANIMATED FILM
LUCENS  – Switzerland, 2015, Director Marcel Barelli, Producer Nicolas Burlet, Nadasdy film, Coproduced by RSI Radiotelevisione svizzera. Animation, 7 min. http://lucensfilm.blogspot.com.br (link is external) – Trailer: https://vimeo.com/134106134 (link is external)
The story of the first nuclear power plant 100 per cent in Switzerland … but also the last.
BEST SHORT FICTION
GRAFFITI – Spain, 2015, Director Lluis Quilez, Producer Lluis Quilez, Ester Velasco, Cristian Guijarro. Fiction, 30 min, www.graffitishortfilm.com (link is external)
An apocalyptic world. A devastated city. One last survivor. Edgar has learned to survive on his own avoiding contaminated areas by the "incident" that destroyed life as we knew it. But Edgar's routine is suddenly disrupted by the discovery of a wall with a graffiti by his bed. Just one word reveals the presence of another survivor: "Anna."
SPECIAL RECOGNITION
The film-installation elaborates on the cleaning of the landscape, people who clean the landscape and the landscape itself. Landscape conceived as a space, both natural and cultivated, dynamic and cultural, an environment in which we "stay", move, develop and exist, where social- and power relations play an important role. Landscape as a reflection, as a form of exchange and identification. How do we relate to this traumatized landscape? The evacuees are not only confronted with loss of their native soil, there is also the problem of no return because of nuclear radiation. These effects are much more severe, if not unsolvable. Both areas, hit by the tsunami and the devastated Daiichi power plant, has to be cleaned. The interviews deal with the persons who clean these areas, voluntary or paid, his motivation and his traumatic relationship with the affected and ruined landscape. The Japanese cultivated landscape has a centuries-old tradition and a special relationship with its residents. Old Japanese gardens are slowly overgrown by new nature. Meanwhile residents will be given permission to return to the 'clean' landscape.
BEHIND THE URALS – THE NIGHTMARE BEFORE CHERNOBYL – Italy, 2015, Director Alessandro Tesei, Photography Pierpaolo Mittica, Production Mondo in Cammino Productions. Documentary, 64 min. http://www.alessandrotesei.com (link is external)
More than 60 years have passed since the Nuclear Power Plant of Mayak, in the pre Siberian Russia, behind the Urals, began his work of massive contamination in the area. Three catastrophic accidents have taken place from 1949 to 1967, without anyone's knowledge.The unsuspecting inhabitants have been studied for decades and used as laboratory animals, in order to obtain data about radioactive irradiation.
Broken Arrow. Nuclear Accident in Palomares (Operación Flecha Rota. Accidente Nuclear en Palomares) – Spain, 2007, Director Jose Herrera Plaza, Production Antonio Sánchez Picón. Documentary, 96 min. http://palomaresmemoria.blogspot.es/tags/operacion-flecha-rota/ (link is external)
Cold War. In January 1966 two American airplanes collided over Palomares (Almería-Spain) and as a consequence, four H-bombs fell to hearth. Two of them explode their conventional charge and due to the strong wind radioactive material is scattered over the region. An intensive search is started to find the fourth bomb…  Director's statement: "2016 marks the 50th anniversary of the nuclear accident in Palomares (Almeria, Spain). For half a century, 1500 human beings have lived misled surrounded by several kgs of plutonium scattered by wind and rain in the Mediterranean and around. This is the story of a lie born during the Cold War, the Franco dictatorship and the genesis of the nuclear industry in Spain. A still alive, open story, in demand for a final solution. "
RANGA YOGESHWAR IN FUKUSHIMA. JAPAN'S FIGHT AGAINST RADIOACTIVITY – Germany, 2014, Directors: Reinhart  Brüning, Ranga Yogeshwar, Thomas Hallet, Wolfgang Lemme, Production WDR, Documentary,  43 min. http://www.reportage.wdr.de/Fukushima  (link is external)
In this documentary a WDR-television crew and science journalist Ranga Yogeshwar gains access to the area of the atomic plant Fukushima Daiichi and got the opportunity to take samples of radiation and to shoot a film for a couple of hours in this polluted area. Science journalist Ranga Yogeshwar has gained extensive access to Japan's battered Fukushima power plant. He speaks to DW about exploring radiation-contaminated zones, and how the cleanup has progressed so far.
FILMMAKERS PRESENT IN RIO
Alessandro Tesei, José Herrera Plaza, Marcus Schwenzel, Miguel Silveira, Missy Hernandez, Peter Anthony, Petrus Pires, Rainer Ludwigs, Reinhart Brüning, Roberto Fernández, Tetyana Cherniavska, Tineke van Veen, Wain Fimeri.