BJP's rising in northeast India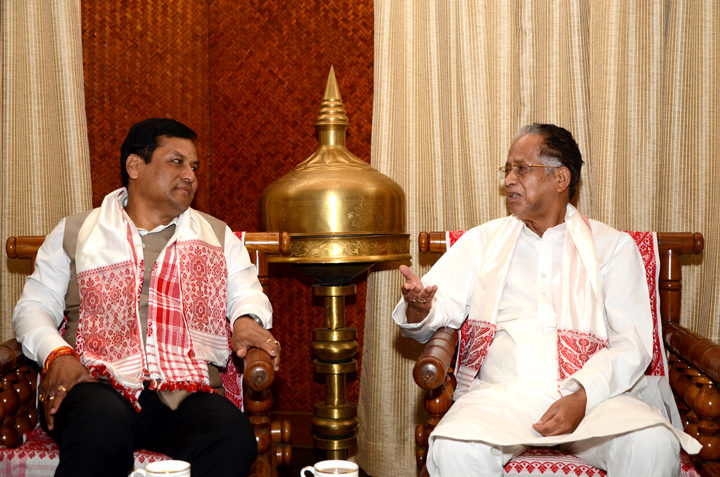 Anti-incumbency waves against the 15 year old Congress government at Dispur, roaring assurances over curbing in Bangladeshi (read Muslim) migrants and the fast-pace of developments and more were a few of the main reasons that influenced the electorate of Assam in northeast India to make the Bharatiya Janata Party (BJP) victorious in the recently concluded State Assembly polls.
After the poll debacles in Delhi and Bihar (also in West Bengal, Tamil Nadu, Pondicherry and Kerala Assembly elections), Prime Minister Narendra Modi has finally found a reason to smile as the electorate of Assam, where the saffron party won seven seats in the last Parliamentary elections, gave thumbs up to his party along with its alliances with an absolute majority.
Need not to mention that Assam, unlike many elections in the last three decades of turmoil, witnessed a peaceful electoral battle for its 126 member State Legislative Assembly with two phases of polling on 4 and 11 April, where altogether 1,064 candidates tried their luck. Moreover, for the first time two national (also powerful and resourceful) political parties with a few regional parties joined in the polling, where State voters exercised their franchises with as high as 83 percent (out of 1.92 crore) turnout to overthrow the ruling Congress.
The BJP along with Asom Gana Parishad (AGP) and Bodoland People's Front (BPF) won a convincing victory with 86 legislators, where Congress was restricted to only 26 seats (the party won 78 seats in 2011 Assembly elections). The electorate under the strong influence of a popular Modi wave not only ended the era of Tarun Gogoi's uninterrupted 15 years rule, but also defeated a number of Congress veterans.
Once termed as a party of Brahmans and Bania (traders), the BJP alone succeeded in win 60 seats, whereas it had only five legislators that won last time in the Assembly elections. Energized as the BJP's alliance partner, the AGP won 14 seats (10 seats in 2011 polls) and the BPF succeeded with 12 seats (same with last Assembly polls, though it was with Congress then).
Besides Congress, the other losing party was the Badruddin Ajmal led All India United Democratic Front (AIUDF), which could succeeded in but 13 constituencies in contrast to 18 seats in the 2011 polls. A known sympathizer of Bangladeshi migrants in Assam, Moulana Ajmal, who is a Parliamentarian from Dhubri Lok Sabha constituency, also lost in the South Salmara constituency.
Some important winners include outgoing chief minister Tarun Gogoi, Assembly speaker Pranab Gogoi, BJP's chief ministerial candidate Sarbananda Sonowal, AGP president Atul Bora, former chief minister Prafulla Kumar Mahanta, former State ministers Brindaban Goswami, Pradip Hazarika, Chandra Mohan Patowary, Phani Bhusan Choudhury, former All Assam Students' Union leader Tapan Gogoi etc. All four seats in greater Guwahati area were won by BJP candidates namely Atul Bora (senior) from Dispur constituency, Siddhartha Bhattacharya from Guwahati East, Ramendra Narayan Kalita from Guwahati West and Himanta Biswa Sarma from Jalukbari constituency. Guwahati's BJP Parliamentarian Bijaya Chakrabarty's daughter Suman Haripriya also won from Hajo constituency.
Among prominent losers from Congress included former Union minister Paban Singh Ghatowar, former State ministers like Pradyut Bordoloi, Gautam Roy, Sarat Barkataki, Bharat Chandra Narah, Atowa Munda, Chandan Kumar Sarkar, Nurzamal Sarkar, Tanka Bahadur Rai, Prithibi Majhi, Bishmita Gogoi, Ajit Singh, Siddique Ahmed, Pranati Phukan.
Congress veteran Gogoi, who won from Titabor constituency, accepted the defeat of his party and affirmed he will play the role of constrictive opposition in the Assembly. On the other hand, PM Modi thanked the people of Assam for helping his party for winning and commented that Assam elections win for BJP was 'historic by all standards'. The saffron party leaders also promised that it would urgently seal the border with Bangladesh, complete the NRC without a single illegal migrant, clear a huge volume of lands belonged to Vaishnavite Satras under encroachment, initiate all round development with 24×7 power and water supplies, ensure 100 percent irrigation coverage of arable lands, offer employment to 25 lakh youths, withdraw oral interviews for 3rd and 4th category government jobs in the State and more. It now expects all possible help and cooperation from the Centre to the new government at Dispur under the leadership of Sonowal.