Seed storage in the tropics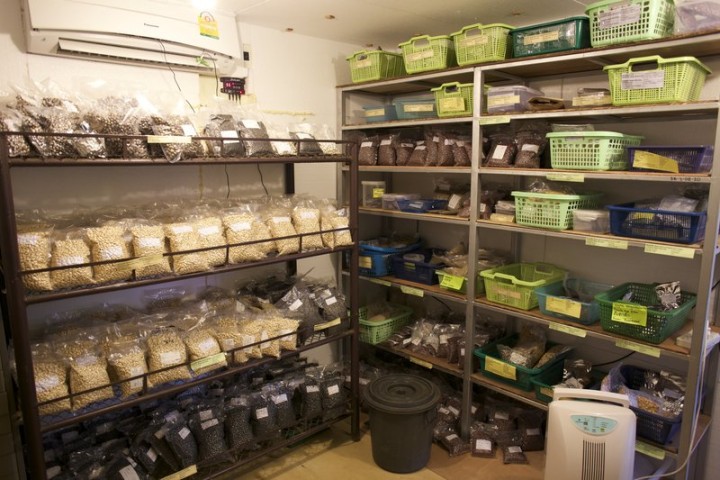 Why seed storage is necessary
Yearly production of grains, pulses, and vegetables depends on a reliable supply of quality seed. This is true for the farmer growing a crop to feed their family as well as for the agricultural worker evaluating and growing out seeds of a new crop species or variety that could improve lives. In both cases, seeds need to be stored during the interval between the harvesting of one crop and the planting of another.
Focusing on the needs of agricultural development workers, there could be multiple reasons for needing to learn more about seed storage. Perhaps seeds or promising crops are brought to a project area, but they cannot be planted immediately. Seeds of valuable, local varieties may need to be stored for future observation trials or to be grown out in anticipation of a community seed exchange event. Proper seed storage techniques can be crucial to maintaining not only the viability of seeds, but also the credibility of agricultural change agents and the ultimate success of a plant introduction.
Challenges in storing seeds in the tropics
Seeds deteriorate quickly under high heat and humidity. Seasonal variations exist within both dryland and humid tropical regions; however, the humid tropics are especially likely to have extremes in both heat and humidity.
At the same time, resources to create ideal storage conditions are limited in many parts of the tropics. Electricity for seed drying, air cooling and de-humidifying storage rooms may be non-existent or erratic. This document outlines practical steps and techniques that can be used to store seeds under such conditions.
…..
CONCLUSION
Storing seeds for any length of time in the tropics can be difficult without reliable electricity for cooling and drying. However, existing practical and relatively inexpensive technologies and practices can be used by development workers, seedbanks, or enterprising farmers. Before selecting which practices and technologies to implement, consider the principles discussed in this document, as well as local conditions and constraints.
You have to register to read the detailed article, here is the link: http://www.echocommunity.org/en/resources/6fa5029a-b130-4561-aa58-b2bf117de358
Much of the content is drawn from previous ECHO publications available online at www.ECHOcommunity.org