Daughter follows father to pacify Jammu Kashmir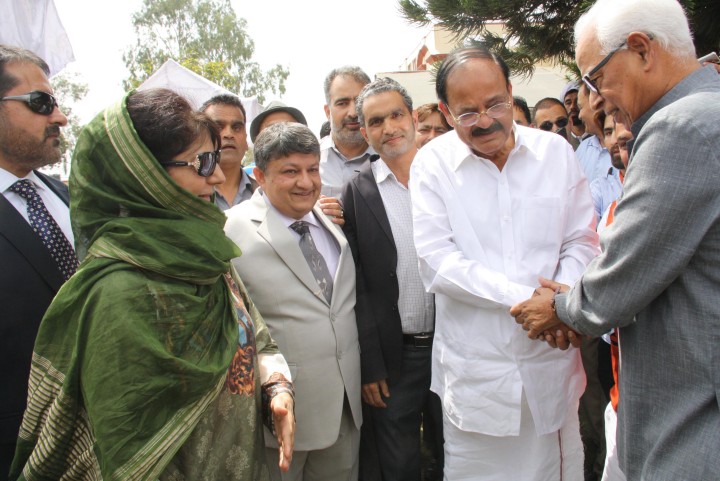 A grassroot's champion with high popularity, Mehbooba Mufti turned the Peoples Democratic Party (PDP) into a regional force to follow on from her illustrious father Mufti Mohammad Sayeed to head Jammu and Kashmir (J&K), as the first woman Chief Minister of the state.
As president of the Peoples Democratic Party, she took the oath on April 4, 2016, ending 11 weeks of political uncertainty following the demise of sitting Chief Minister Mufti Muhammad Sayeed on January 7.
Ms. Mufti, a  56-year-old law graduate went into mainstream politics in 1996 by joining Congress, along with her father, at a time when militancy in J & K was at its peak. A mother of two daughters, she won her first Assembly election as a Congress candidate from her home area of Bijbehara.
She is given credit for the growth of the PDP to the extent that some commentators argue that she outdid her father in linking with ordinary people, especially youth.
Ms. Mufti faces a challenging task now as she will undoubtedly strive to carry forward her father's healing legacy but as head of a PDP-Bharatiya Janata Party (BJP) government she will have to manoeuvre an alliance between two idealogical extremes. A PDP-BJP stalemate ended only after a meeting between Prime Minister Narendra Modi and Ms. Mufti on March 23.
She played a key role in her father's victory as Congress candidate in Lok Sabha elections of 1998 and as her father had felt an urge to do something for a return of peace in Kashmir, Ms. Mufti backed him up and the father-daughter duo launched their regional party — the PDP — in 1999.
They got support from leaders disgruntled with the National Conference and many from Congress, a party where Mr. Sayeed spent most of his six-decade-long political career.
From there, Ms. Mufti took on the responsibility of building the new party. In the 2002 Assembly polls, termed as a milestone for the state, PDP got 16 seats — most from the south where Ms. Mufti had campaigned and consolidated support for her party.
Two years later, Ms. Mufti contested Parliamentary polls from south Kashmir and won her first Lok Sabha election. She contested Lok Sabha elections from Srinagar in 1999 but was defeated – but certa9inly has bounced back today.
Twenty three ministers were sworn in alongside Ms. Mufti.