How will you fight for workers this week?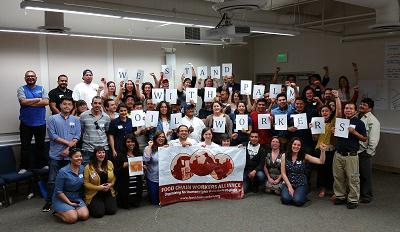 Dear readers,
This is the season to stand with workers! Today, unions observe Workers' Memorial Day to remember those who have died on the job and to renew the fight for safe jobs. And this Sunday, there will be demonstrations around the globe to commemorate May 1, International Workers' Day, and build our common struggle through solidarity and organizing. It's an exciting time to be part of this growing movement, and it's a great moment to take action in support of workers speaking out to demand dignity and rights at work.
Here are some solidarity actions that you can take today to show your support for workers' rights and join the fight:
Demand safety at Bangladeshi garment factories!

Stand with Indonesian palm oil workers!

PepsiCo is a major purchaser of palm oil from Indonesia to produce its various snack food brands. Despite knowing about widespread abuses including labor trafficking, child labor, unprotected work with hazardous chemicals, and long term abuse of temporary contracts, however, PepsiCo has failed to implement policies robust enough to clean up its supply chains.

 Participate in a photo petition action that will be delivered to PepsiCo at its shareholders meeting on May 5!

You can also hear firsthand from an Indonesian labor activist organizing palm oil workers at a

brownbag event ILRF is hosting today

!

Call for Darden to do better!

Darden Restaurants is the #1 casual-dining operator by revenue. It owns and operates more than 1,500 restaurants including Olive Garden, LongHorn Steakhouse, The Capital Grille and others. ILRF is part of a coalition of labor and environmental groups that have formed Good Food Purchasing Principles that, if implemented, would ensure respect for all those who make the food that goes into the 320 million meals a year Darden restaurants serve. 

Sign the petition calling on Darden to serve more fair, healthy and green food! 

It will be delivered in nationwide actions on May 12.

Stop union busting in Peru!

The Peruvian agribusiness company Tal S.A. recently fired all nine leaders of the trade union SITETSA (Sindicato De Trabajadores Empresa Tal S.A.) after refusing to negotiate renewal of their collective bargaining agreement. Worse still, Tal S.A. has presented criminal charges against the union leaders for legitimate activities, like taking paid time off for work related to the union and making known the company's labor violations. 

Please send an email to the General Manager of Tal S.A. calling on the company to rehire the workers, withdraw the criminal complaints, and begin renegotiating a collective bargaining agreement.
We thank you for standing with us and our partners around the globe in this time of international solidarity.
In Solidarity,
Abby McGill​
Campaigns Director