Global Zero protesters demand action in Washington DC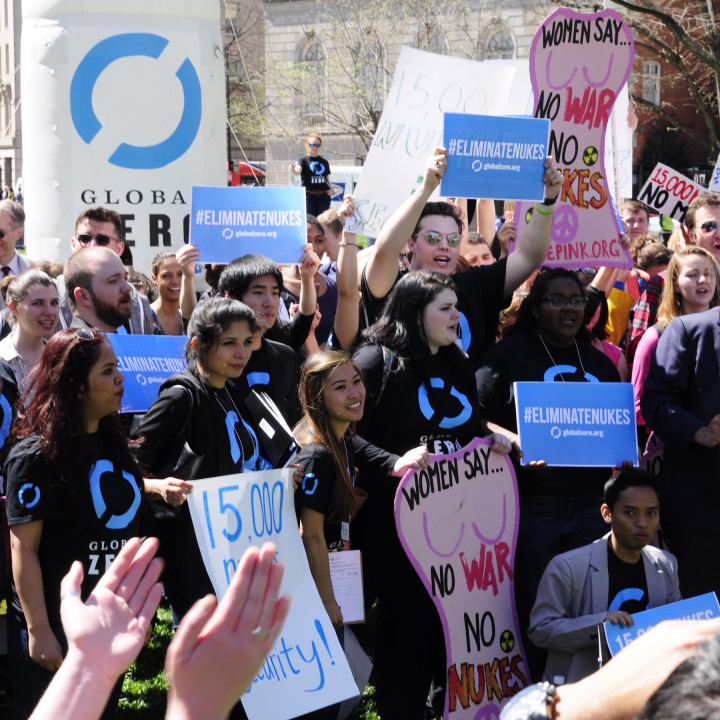 Dear people,

I'm writing to you from the Nuclear Security Summit here in Washington, D.C. with exciting news: Leaders from Brazil, Egypt, India, Indonesia, Sweden, Turkey and other nations are urging Summit attendees to take bold action to eliminate nuclear weapons.

Our message is breaking through. This comes on the heels of a big protest organized by our activists in Washington, just a few blocks from the Summit. Thousands of your fellow activists from all over the world amplified this action by petitioning their governments, writing letters and op-eds, and taking action online to convey a clear message: There's no such thing as "nuclear security" as long as nuclear weapons exist.
I am constantly blown away by the power of our grassroots activists. When we come together as a movement and take collective political action, we make an impact.
But we are far from finished – and we're going to keep building on this momentum.
The United States must reverse course on a misguided $1 trillion nuclear spending spree that is utterly out of sync with the pursuit of a world without these weapons. Both the U.S. and Russia must retire reckless Cold War policies that keep hundreds of nuclear weapons on hair-trigger alert, exposing the entire world to unacceptable risk. And above all, we must round up world leaders not merely for a Nuclear Security Summit to shore up civilian nuclear materials, but for a Nuclear Weapons Summit that, for the first time, focuses high-level political actors on the end game: the phased, verified elimination of all nuclear weapons globally.
Governments are starting to heed the warning of Global Zero members and address the security threat posed by nuclear weapons. Getting these leaders speaking our language is an important first step. Now they need to take action — and we won't stop pushing until they do.
Thank you for everything you do to move us forward.
Derek Johnson
Executive Director
Global Zero