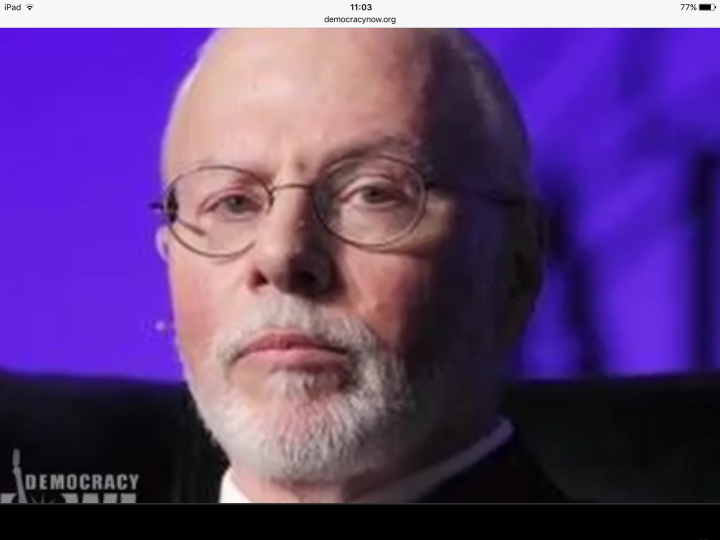 How billionaire Rubio backer Paul Singer made billions off Argentina debt crisis
Argentina has reached an agreement to pay U.S. hedge funds that have sought for 14 years to profit off the country's debt. The hedge funds bought up Argentina's debt for bargain prices after its financial crisis, then demanded full repayment. Former Argentine President Cristina Fernández de Kirchner had refused to pay the firms, calling them "vulture funds." But under new right-wing President Mauricio Macri, Argentina has agreed to pay $4.65 billion to four hedge funds, including Elliott Management, run by billionaire Paul Singer. The deal would see the hedge funds take about 75 percent of what they demanded from Argentina—several times more than what they actually paid for the debt. Singer's fund itself netted $2.4 billion—10 to 15 times its original investment. We speak to journalist Greg Palast. His recent article is called "Rubio's Billionaire Wins Ransom from Argentina."
TRANSCRIPT
This is a rush transcript. Copy may not be in its final form.
JUAN GONZÁLEZ: Argentina has reached an agreement to pay U.S. hedge funds that have sought for 14 years to profit off the country's economic crisis. The hedge funds bought up Argentina's debt for bargain prices after its financial crisis, then demanded full repayment. Former Argentine President Cristina Fernández de Kirchner had refused to pay the firms, calling them vulture funds. But under the new right-wing President Mauricio Macri, Argentina has agreed to pay $4.65 billion to four hedge funds, including Elliott Management, run by billionaire Paul Singer. The deal would see the hedge funds take about 75 percent of what they demanded from Argentina—several times more than what they actually paid for the debt. Singer's fund itself netted $2.4 billion—10 to 15 times his original investment.
AMY GOODMAN: Paul Singer is the longtime Republican fundraiser who has endorsed Republican establishment favorite Marco Rubio in this election cycle.
For more, we go to Los Angeles, where we're joined by journalist Greg Palast, Puffin Foundation fellow for investigative reporting. His recent article, "Rubio's Billionaire Wins Ransom from Argentina."
Greg Palast, explain.
GREG PALAST: Well, what happened is, is that Paul "The Vulture" Singer, who we've been—I've been following him for BBC and for Democracy Now! for about nine years. This is the guy who does—he's called "The Vulture" not just by Argentina; he's known by that by his friends in the banking industry. He grabs old debts of dying nations, dying companies, even dying people, and when there's a famine or a war, for example, in Argentina, during the military dictatorship when Argentina went broke, he bought up old bonds for $50 million, just sold them back to the government of Argentina, a government he helped place in power, for two-and-a-half billion dollars. And he does this—he did this through what the Argentine government and the United States Treasury call extortion. He says, "If you don't pay me, I'm going to stop you from borrowing money. I'm going to choke your nation to death." He even seized an Argentine naval ship on the high seas. I mean, he's basically a privateer or pirate.
And his—what's important about what's coming up in this election, the reason he influenced the Argentine election was to get a puppet president who would write him a check, which would give him a 10,000 percent profit. He's looking for the same in the United States. Paul "The Vulture" Singer is the number one donor to the Republican Party—not the Kochs, by the way; Paul Singer. He's the number one donor to American Crossroads, run by Karl Rove, which is basically your racial-vote-suppression-on-an-industrial-scale operation.
So, he is—why is he involved in the U.S. elections? Because during his attack on Argentina, the secretary of state, working with the president, the secretary of state sent her lawyers into a U.S. federal court and said, "Don't force Argentina to pay off this guy." She tried to stop the extortion on Argentina, and the president joined her and the U.S. Justice Department. And she even said, her lawyers said, that Paul Singer's business model is a threat to the entire world financial order. This guy is like a kind of financial terrorist, actually. And that's what Hillary Clinton accused him of. By the way, Bernie Sanders has taken a similar, very tough position against these vulture financiers.
So, Paul Singer—this issue of Argentina ain't just 11,000 miles away, Amy and Juan. It is coming home to roost, literally, because he's got to make sure that there is no Hillary president or President Bernie that will put him out of business. Hillary's action probably cost him a half-billion or a billion dollars. And he's going to—he wants blood. And he wants his guy in the White House, which means anyone but Bernie, anyone but Hillary.
JUAN GONZÁLEZ: Well, but, Greg, so why did he come behind Marco Rubio? Because, obviously—well, obviously, in Donald Trump, Trump is a candidate who's never seen a bankruptcy he didn't like. But what—on what basis did he go behind Rubio?
GREG PALAST: Well, Rubio did his work for him. Rubio made an unethical, frankly—it horrified a lot of people. He made direct approaches to the State Department on behalf of his top donor. Paul "The Vulture" Singer is the number one donor to Marco Rubio. And Rubio kept banging on the State Department to back his vulture donor against our ally, Argentina. This is just way out of line, even in a country where money talks. This was money screaming.
And the other thing is that, for example, Rubio was trying to help Puerto Rico by allowing Puerto Rico to have bankruptcy rights, like any American state, and then suddenly another vulture financier friend of Singer called Herenstein held a big fundraiser for Rubio. Rubio flipped around his position on Puerto Rico and said, "No, they shouldn't have any rights. They should fire teachers and firemen and policemen, and cut pensions," rather than cut payments to vultures like Singer and Herenstein and his donors. He literally flipped, literally within days of being funded by these guys. So Rubio showed that he's a perfect puppet.
Now, do understand, I don't think they expect Rubio to pull it off at this point. That would be their dream. But, you know, they're happy with a Trump, who's actually, you know, a member of the club. And they're happy with any Republican at this point, mainly because both Democratic Party candidates have not only said that they don't—that they're not going to do what Singer wants, that they might actually put him out of business. And that, he is not going to tolerate. That's why he's backing Karl Rove and American Crossroads, because no matter who is there, he's got to make sure that the—if all the votes are counted and you count the Puerto Rican-American vote in the United States, and, you know, if you count the progressive vote and the minority vote, they can't win, so he's got to come up with other ways of doing it. That's—so, Singer is not just—it's not just backing Rubio. It's backing the whole vote suppression machinery that's being run by the Republican Party. I'm not being partisan. You know, I'm an investigative reporter. I've been—
AMY GOODMAN: We have five seconds, Greg.
GREG PALAST: —following this guy for years around the planet. OK.
AMY GOODMAN: Greg, I want to thank you very much for being with us from L.A., journalist and Puffin Foundation fellow for investigative reporting. His recent piece, we'll link to, "Rubio's Billionaire Wins Ransom from Argentina."
And that does it for the show. Democracy Now! has three job openings: broadcast engineer, a director of finance and operations and a director of development. Visit democracynow.org for more information.