This post is also available in: Greek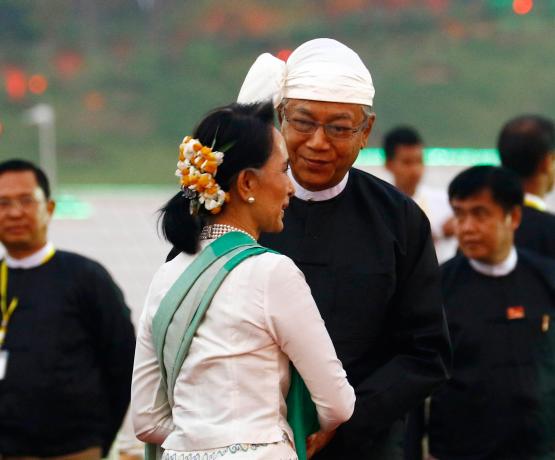 The people of Myanmar (Burma) March 30, 2016, were witness to the swearing in of its first democratically-elected leader after more than 50 years of military rule. Htin Kyaw, 70, took the oath of office in the country's parliament, and stated he would be "faithful to the people of the republic of the union of Myanmar".
Htin Kyaw takes over from outgoing president Thein Sein, and is an ally of Aung San Suu Kyi, the Nobel laureate and longtime house-bound political prisoner who led her National League for Democracy party to victory in the November 8, 2015 elections.
Henry Van Thio and Myint Swe were sworn in as vice presidents, along with cabinet ministers including Suu Kyi (who holds fours cabinet posts in all) who is blocked from taking the high office of president because of a constitutional clause that excludes anyone with a foreign spouse or children from the position. Suu Kyi's two sons are British, as was her late husband. She was unafraid to declare that she will run the government from behind the scenes and has the full co-operation of Htin Kyaw, a long time ally.
Htin Kyaw has pledged to work toward national reconciliation, with peace between ethnic groups and improving the lives of the nation's 54 million people. Easier said than done as certain ethnic groups have long been oppressed by the military, cum government. Outstanding is the issue of the Rohingya as an entire people left in a no-man's-land of statelessness. The years-long curfew in the area of the Rakhine State where the remaining Rohinga live has of immediate effect been lifted.
The new president has said the party aimed to change the constitution; but the army will continue to play a key role in the government by retaining control over the ministries of home affairs, border and defense. The army reserves 25% of parliamentary seats, meaning it can veto any changes in the constitution.
Sporadic communal strife has plagued Arakan since colonial times, between the majority Arakanese who are Buddhist, and the Muslim communities, many but not all of whom came into Arakan with British rule. The latest major conflagration was in June and October 2012.