An Indian author's love for the mother tongue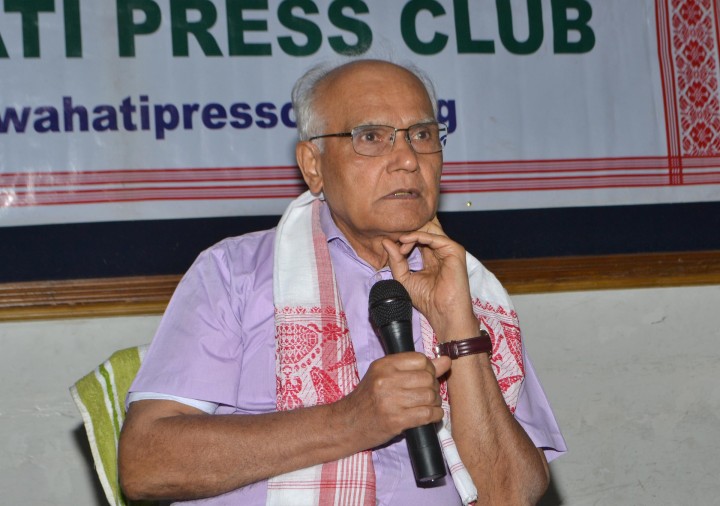 Guwahati: Celebrated Kannada writer Santeshivara Lingannaiah Bhyrappa, who is widely regarded as one of modern India's foremost novelists, opines that children in schools across India should be taught in their mother tongue. Professor Bhyrappa, who was recently at Guwahati Press Club for an interaction programme, however also emphasized the learning of English as a subject should be done effectively.
"As English medium schools are growing in numbers across the country, we have to think about the implication of this development seriously. In my State of Karnataka, English educated youths are not interested in reading anything in Kannada, not even the newspaper headlines in local language dailies," said Prof. Bhyrappa during the 'Guest of the Month' programme held on 28 March 2016.
The prestigious Saraswati Sanman awardee also added that the English language thus emerges as a major challenge to all Indian languages. The octogenarian author expressed concern that now everybody in India wants to send their kids to English medium schools expecting a bright future for the children.
"Not to speak of the affluent section, but also lower middle class families today prefer English medium schools for their children. The result is that more and more youths in our country now remain unaware of the local language and literature. If the situation is already acute in Karnataka, the same may be a reality for Assam within the next few years," added the soft spoken gentleman, who was recently honoured with Padma Shri by the Indian Union government.
It may be mentioned that the Kannada Sahitya Parishad, the highest literary forum of the south Indian province, pursued the matter with the high court, where the verdict pronounced that the selection of schools for the children remains the prerogative of parents. The literary forum soon approached the Supreme Court of India with the appeal that the medium of instruction for children should be the mother tongue until the tenth standard, but it was dismissed by the apex court.
"So unless there is a specific law in this regard, we cannot expect justice. Prime Minister Modiji also supports the concept of educating children in their mother tongue. But the Bharatiya Janata Party does not have the majority in Rajya Sabha and hence it becomes a futile exercise for them to bring a bill unless the Congress assures support. We need the political will here," commented Prof Bhyrappa, who was conferred on 2nd Mamoni Roysom Goswami National Literature Award, constituted by Asom Sahitya Sabha.
His comment was supplemented by veteran Assamese journalist D.N. Bezboruah, who was present in the meeting and asserted that anyone educated in regional languages can also learn English professionally. The former president of Editors Guild of India, who studied in an Assamese school, later learned English as a subject and today English becomes his working language, as disclosed by Bezboruah. Speaking about his early life, Prof Bhyrappa narrated that he was born in a Hoysala Karnataka Brahmin family at Santeshivara village, around 175 km away from Bangalore and he had to struggle for survival and education. He lost his mother in his early days and also a younger brother whom he even carried on his shoulders to the cremation ground. The poor family worked hard to make Prof. Bhyrappa educated and support the family in future.
With little family resources Prof Bhyrappa completed his primary education in Channarayapatna locality and then moved to Mysore for higher education. He completed his MA from Mysore University and Doctor of Philosophy from Maharaja Sayajirao University of Baroda. Prof Bhyrappa used to teach at various institutions and retired in 1991 from Mysore Regional College of Education.
The Sahitya Akademi fellow has authored over twenty novels in a career spanning more than five decades. Many of his novels were translated into various Indian regional languages inclusing Sanskrit and English. Prof. Bhyrappa has been one of the best selling authors in Kannada for the past twenty five years. For a brief period, Prof Bhyrappa participated in the freedom struggle when he was hardly a teenager. His first commendable novel 'Bheemakaya' was published in 1958 and he has not looked back since. Some of his acclaimed literary creations like 'Vamshavruksha', 'Tabbaliyu Neenade Magane', 'Matadana', 'Nayi Neralu' etc were filmed by acclaimed directors which had bagged critical acclaims from filmgoers. 'Parva', 'Daatu', 'Jalapaata', 'Anweshane', 'Grahana', 'Saakshi', 'Aavarana', 'Yaana' are some of his most read novels.
Answering queries from the participating journalists, the nationalist writer commented that the character of Indian mainstream media has changed a lot in present days. While the media played an important role in the pre-independence era to make India a sovereign nation, it started worshipping first Prime Minister Jawaharlal Nehru in post-independence period. Anybody who dared to criticize or oppose Nehru was framed as an anti-national. Slowly the media turned into a business entity where the politicians started getting involved with the medium because of its influence over the people. The capitalists also did not trail behind and grabbed many media groups. However, with the emergence of alternative media where anyone can participate in the discourses this has changed the situation in favour of educated common people, stated Prof. Bhyrappa.
Talking about the Indian history, the doyen of Kannada literature asserted that he always insists on unveiling the truth over any political interest. He asserted that the students of history should know that Mughal emperor Aurangzeb destroyed a lot of temples, but at the same time Akbar the Great maintained liberal and progressive policies.
Highlighting the recent controversy relating to Jawaharlal Nehru University, Prof Bhyrappa disclosed that the genesis of the higher educational institution could be traced back to Communist support of the Indira Gandhi-led Congress government in 1969. He also added that there was a time when most of the Indian universities were dominated and influenced by the JNU ideology. Prior to the press club interaction programme, Prof. Bhyrappa was handed the coveted national award in memory of Assam's celebrated writer Indira Goswami consisting of a Assamese Cheleng, trophy, citation, collection of books with a cheque of rupees three lakh in presence of Assam's highest literary forum Asom Sahitya Sabha president Dr. Dhrubajyoti Borah.