Argentina: 40 years after the Bloody Military Coup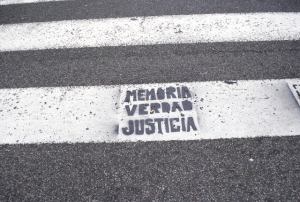 By Martin Hacthoun
Buenos Aires, Mar 24 (Prensa Latina) US President Barack Obama is concluding his official visit to Buenos Aires on Thursday, a day when millions of Argentineans are commemorating the 40th anniversary of the military coup dӎtat in 1976 with marches and demonstrations of protest.
The US president will leave Buenos Aires after visiting the Park of Memory to pay tribute to the victims of State terrorism during the civic-military dictatorship during which 30,000 people were reported missing in seven years, until 1983.
As a gesture of goodwill, Obama announced the declassification of new archives in Washington containing military and intelligence information about that obscure period in Argentina, but he did not clearly express an apology, at least at the joint press conference he gave along with Argentine President Mauricio Macri at Casa Rosada (the government's venue) on Wednesday.
That made human rights organizations angry, so they decided not to accompany him to the monument in honor of those missing at Costanera Norte. They acknowledged his gesture to declassify the documents, but they considered that his presence in Argentina was untimely on such a sensitive date for the Argentinean people.
Commentator Werner Pertot wrote in the newspaper Pagina 12 today that "40 years after the bloodiest coup d'état in Argentina's history, Barack Obama avoided an explicit condemnation of his country's support for genocide, he sent a hidden message about the vulture funds and focused on sharing praises with Macri".
In fact, the US president called on Macri to turn Argentina into a universal ally of the United States and described as very impressive the economic adjustment policies implemented in only 100 days in office.
Aside from the presidential protocol, four collaboration agreements and a memorandum of understanding were signed at a ceremony chaired by Foreign Minister Susana Malcorra and US Ambassador Noah Mamet at Palacio San Martin.
The agreements deal about cooperation to prevent and fight serious crimes, a joint declaration on security, public works, the deployment of security officers, trade and investment.
Likewise, the two parties penned a memorandum between the Foreign Ministry and the US Department of State to support the Organization of American States (OAS) and the Inter-American Human Rights System.
After visiting the Park of Memory, Obama, his family and his delegation will travel to the tourist city of Bariloche, in the Patagonia, to rest before departing from the United States on Friday.