Fish ball riots in Hong Kong's Mongkok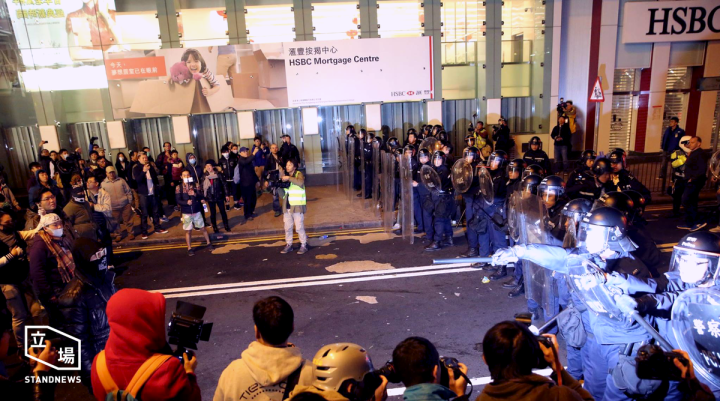 In Hong Kong 2016 the Lunar New Year was being happily celebrated across the territory and in the crowded ever-popular Mongkok district it was the perennially delightful scene of crowds and snack stalls, kids and elders alike all enjoying seasonal affairs – when the government's urban guerrillas arrived and another form of less kindly chaos took hold.
Not satisfied with having cleared from the streets the so well frequented dai pai dong, outside eating tables, and leaving the grotty streets threadbare, the ill-informed or deliberately ill-intentioned government sent in its troops to clear the likes of mobile fish ball stalls and their barrow-pushing owners who depend on this very night to make a few extra dollars and meaningfully provide the public with genuine traditional fare amid its grass-roots festivities.
This ill-timed street action of course had a reaction as the usually docile traders became embroiled in heated protests which in turn and thanks to social media brought into play supporters of the Mongkok street traders and residents and what some called the 'fishball protests' exploded on the streets, following the standoff that resulted in unseasonal violence as darkness closed in.
The street stalls are very much part of Hong Kong culture, but they've been forced to disappear under terms of what is called redevelopment and urban renewal. Likely, this effort is to please the big brand name shops and malls that are killing local cultural forms and sacrificing Hong Kong's street life for the deadness of any big city centre where elitist businesses dictates the day – and night.
As the standoff deepened the divide between citizens and police – who were standing by on this normally auspicious night to protect the officers of the Food and Environmental Hygiene Department (FEHD), groups with another agenda arrived on the scene, in the most extreme form, members of "Hong Kong Indigenous".
This is a 'localist' group formed of mainly post-'90s-born Hongkongers, which gained prominence during sometimes violent protests against cross-border parallel traders in various shopping districts.
'Localist' is an catchall term for radical groups with strong anti-mainland sentiment, with some seeking independence for Hong Kong but at least to fight for a limit on Beijing's influence over the city. They actively use social media to gather at events and to politicise them.
"We are a group of nameless Hong Kong people who are on the frontline of protests. Since the old resistance methods have failed against the authorities, we have no choice but to stand out and break the stalemate … ", the statement on the Hong Kong Indigenous' Facebook page reads.
The group started in February last year and it also gathered in Mong Kok during the Lunar New Year holidays last year to ensure street hawkers could open for business, rather than being cleared out by government hawker control officers.
Similar groups are: Civic Passion and Hong Kong Localism Power and National Independent Party and like Hong Kong Indigenous they are gaining in popularity in parallel with a growing feeling in Hong Kong to see curbs on Beijing's influence in the city.
"We are doing more and more to get this message across to the government – we are not going to back away or accept our fate lying down. The pseudo democrats time after time created fake protests which achieved nothing but keeping the peace for the authorities. Hong Kong people are being betrayed and kept away from true democracy, as well as being hindered in developing our own indigenous virtue," the groups statement goes on.
There was a heightened interest in localism after the publication of Hong Kong as a City-state by academic Horace Chin Wan-kan, which became influential in the rise of radical political philosophies with heavy anti-mainland, anti-communist overtones.
He is the author of several books on localism and Hong Kong being a city state, one of which is considered a bible of the nativist movement and holds city-state theory and pro-Hong Kong independence views.
Chin himself leads Hong Kong Resurgence, which operates under the slogan "Land and being is the same, conserve Hong Kong, and revive Hong Kong's golden age".
Such independence talk has little following in Hong Kong but the younger generation take to it, of course, as they will, delighting in something substantial to take interest in as their usual life and studies are seen as inconsequential and unsatisfying.
The saddest result is the news that flashed around the world's media that there were riots in Hong Kong and outsiders would think … oh, there they go again, those Chinese! However, this was a local affair. and did not deserve worldwide attention at all. It does warrant an enquiry though.
Sixty-four people have been arrested.