Last stand of China's 'comfort women' demanding recognition not money
This post is also available in: Spanish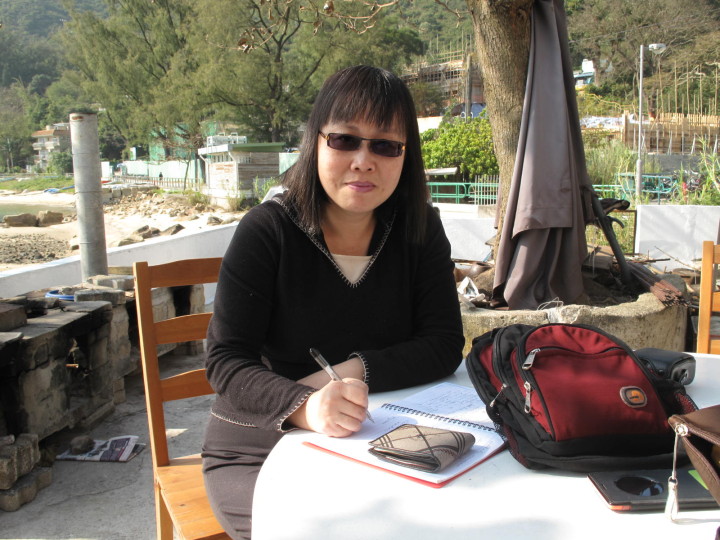 Hong Kong's Mei Li from the organisation Hong Kong History Watch has interviewed many WWII Chinese 'comfort women', in Shanxi and Hainan over the past few years. These were women of all ages that were forced by the Japanese to sexually service men during all of the war years. On the International Day for the Elimination of Violence Against Women November 2015 she urged the community to take heed of what these distraught souls have gone through and that those few still alive today, are now going through.
In November 2014, as a campaigner for the rights of Chinese comfort women, she organized a photo exhibition and a lecture in Hong Kong. Mei Li at the time expressed the hope to arouse people's awareness that comfort women are victims of sexual assault yet little has been done for them.
Only the previous Friday she had attended the funeral of Zhang Xiantu, a comfort woman who died in north China's Shanxi Province at the age of 89. Zhang was the last living member of a group of Chinese women who sued Japan for an apology and compensation in 1995. In 2009, Japan's top court recognized the crime but rejected their claims.
At one moment a deputation from Japan went into China to sign a deal where a sum of US$20,000 per person was offered if there would be no further disclosure of the facts of comfort women but those contacted declined. At their stage of life money had ceased to be important; they were used to personal poverty. They wanted wide recognition and some kind of marker in history that acknowledged what had taken place.
Mei Li quotes figures from the historians she has researched to say that the Japanese forced up to 200,000 women in China into sexual services for their troops,  and that is besides the 180,000 Korean women and those from other countries – Filipinos, Dutch – reaching 20,000 into sexual slavery during World War II. All together that is around 400,000. She adds that if those raped at home and on the street in China are taken into consideration the raped population might be five times that 200,000 or even more… in China.
As Hong Kong History Watch spokesperson she says that despite the enormity of the atrocities in this category alone the Museum of History in the territory lacks a permanent and comprehensive section educating the public about that crucial period in local history when the Japanese took over. To rectify this the government has been urged to set up a museum to commemorate the city's occupation by Japan. This was between 1941 and 1945, during the Second World War when so many women across China and Asia were sexually abused in dedicated facilities, which can be referred to as Japanese run brothels, or the more euphemistically termed 'comfort stations' – not so comfortable for the women!
"A lot of people don't know we lost a million people in Hong Kong during the wartime [the Hong Kong population had swelled prior to that, with people from China fleeing the Japanese. But after Pearl Harbour they went back to China since Hong Kong was under the Japanese anyway] the people moved out because the Japanese took over and 10,000 women were raped by Japanese soldiers here," Mei Li said.
The Chinese press has reported that the Japanese enforced a repatriation policy throughout the period of their occupation because of the scarcity of food and the possible counter-attack of the Allies. As a result, the unemployed were deported to China, and the population of Hong Kong dwindled from 1.6 million in 1941 to 600,000 in 1945.
"Sino-Japanese history only occupies a very small area at the Museum of History. They don't mention comfort women at all, as if there were no such thing."
In December 2015 Mei li was among the activists that staged protests outside the Japanese consulate. The other group was the Hong Kong Reparation Association that is demanding the Japanese government accept the now-worthless military banknotes that were issued in Hong Kong at the time. The combined group also demanded an official apology from Japan for its actions during its occupation of China, and during the war.
Some people may argue that time heals and this sad episode should be swept under the carpet as we go into the future but Mei li has become highly sensitised to the plight of the still remaining comfort women who she finds are pretty much disregarded.
It is true she says that women likewise affected by the terrible war days in other countries have had more attention but the China equivalent have not; she wants to put that right.
History professor Siu Kwok-kin of Hong Kong's Chu Hai College has noted that the women providing sexual services to the Japanese fell into three categories: some were local prostitutes recruited by the Japanese, others were prostitutes sent from Japan and others were local women forced into sexual slavery.
The professor's comments appeared in the China Daily (March 7, 2014) and among those comments Siu also brought up the matter of how history was taught in Hong Kong under the colonial government. He says, the British intentionally concealed the period of Hong Kong's darkest days from the Opium Wars to the Second World War, he argues, so people never got to know about highly relevant activities.
The colonial government, he contends, needed social harmony… "… to push forward the development of industries and financial houses. During the 60s and 70s, major Japanese corporations became big players, heavily investing in the development of Hong Kong.
"Hong Kong people sort of anesthetized their sufferings against the backdrop of complicated Sino-Japanese and Anglo-Japanese relationships," Siu insists, then stresses that it's about time the current administration revived that censored history, to allow Hong Kong's school children to become aware of that dark period under Japanese occupation that lasted three years and eight months.
Likely this is also part of the reason that it is an internationally broadcast view that any legal bases for compensation today has been removed following the San Francisco Treaty of 1951 and reparations made under terms of the treaty by the Japanese government, and that these acts fully discharged Japan's obligations for any damage and suffering. But is it true that the treaty removed all legal bases for further claims?
In 1993, Japan's Prime Minister Tomiichi Murayama, made a personal apology, acknowledging that Japan's military had raped and enslaved thousands of Asian and European women in their own brothels. However, in 1995, Japan's ultra-right-wing politicians voted down a resolution calling for an official apology from the Japanese government. The efforts by Japan's right wing, which have been successful in suppressing the truth in Japan – by expunging its wartime history from school textbooks also – have raised a full spectrum of local and international criticisms.
The current Japanese Prime Minister Shinzo Abe escalated the issue, expressing the possibility of revoking Murayama's unofficial apology. Abe claims his government "found no evidence that the women who served as sex slaves to Japan's wartime military had, in fact, been coerced".
This stance by the Japanese only fires Mei Li the more. She wants a monument dedicated to the comfort women, not just as a memory to local women or Chinese women but as an example of the bad treatment of women meted out in wars generally and to highlight that rape is still being used as a tactic of war, especially in Africa and in the Middle East.