US activists mark Guantanamo anniversary in Washington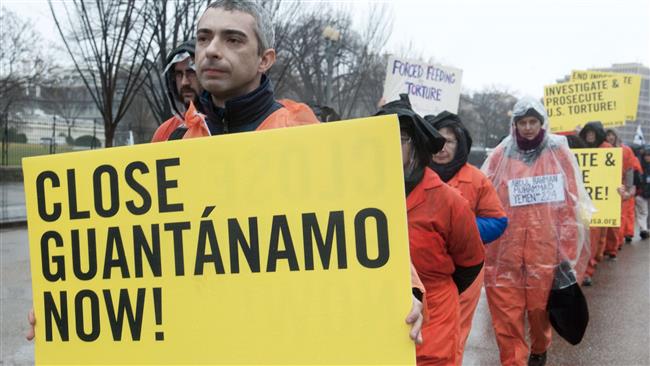 Human rights groups in Washington DC held protest to highlight the torture of inmates at the US military prison at Guantanamo Bay, Cuba, and called on President Barack Obama to shut down the facility.
As the US detention camp entered its fifteenth year of operation on Monday, activists gathered in front of the White House to demand an end to indefinite detention at Guantanamo and ensure the prosecution of those involved in the torture of prisoners at the prison.
Since the prison opened on January 11, 2002, 9 prisoners have died in the facility.
The protest was sponsored by dozens of social and human rights organizations, including Amnesty International USA, Center for Constitutional Rights, Council on American-Islamic Relations, National Coalition to Protect Civil Freedoms, National Religious Campaign Against Torture, and others.
On Friday, activists also staged a protest rally in front of the White House, demanding the shutdown of Guantanamo and the release of detainees.
White House Chief of Staff Denis McDonough said in an interview with Fox News on Sunday that Obama will keep his promise to close the facility before his presidency ends in 11 months.
"He feels an obligation to the next president. He will fix this so that they don't have to be confronted with the same set of challenges," McDonough said.
Obama had promised to close the Guantanamo Bay prison during the 2008 presidential election campaign, citing its damage to the US reputation abroad.
However, the president has failed to deliver on his campaign promise due to stiff opposition from Congress.
As many as 775 detainees were brought to the prison, which was set up after the September 11, 2001 attacks. There are 104 detainees left at the prison.
The Obama administration has transferred most detainees to other countries, but there is a small number of detainees who the administration says it would like to detain in a US facility for national security reasons.
Congress has explicitly banned the transfer of Guantanamo detainees from Cuba to US soil.