UK junior doctors go on strike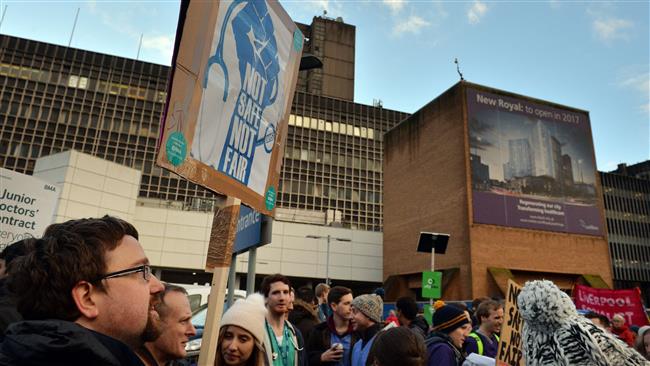 British junior doctors have gone on a strike causing major disruption to hospitals across the country.
This is the first walkout of its kind over the past 40 years. Now tens of thousands of the junior doctors are providing only emergency cover during a 24-hour walkout which started Tuesday at 0800 GMT. This means that several thousand routine operations have had to be cancelled, along with appointments and tests.
55,000 junior doctors are working in Britain, making up a third of the medical workforce. They are qualified medical practitioners who are working while studying for qualifications to take more senior roles.
The strike is over a new type of contract which the government says will improve healthcare at night and at weekends but the doctors say would drastically reduce their pay.
Now the doctors have been urged to return to the negotiating table by the Health Secretary, Jeremy Hunt who described their strike as "completely unnecessary". Jeremy Hunt thanked those that had ignored advice from the British Medical Association (BMA) and gone to work.
Earlier, British Prime Minister David Cameron appealed to junior doctors to call off what he said was an unnecessary strike which would cause "real difficulties" to the NHS. The Conservative government says the reforms are needed to help create a "seven days a week" NHS where the quality of care is as high at the weekends as on weekdays
In an interview with Press TV, a political commentator in Switzerland says this is an amazing development as those who are on strike do not belong to vulnerable sector of the society and this shows that the austerity policies of the Conservative government are inflicting heavy economic blows to all parts of the country.
Nigel Flanagan went on to say that the policies would have disastrous consequences for the country's medical sector.
The NHS has so far postponed 4,000 routine treatments due to the strike. A further 48-hour stoppage is due to take place on January 26, while on February 10, there will be a full withdrawal of labour from 0800 GMT to 1700 GMT.
The NHS is the fifth largest employer in the world, providing health care which is largely free at the point of delivery. It is widely respected in Britain, with pollsters YouGov rating it the institution which the most people view positively.