Uzbek slavery and the World Bank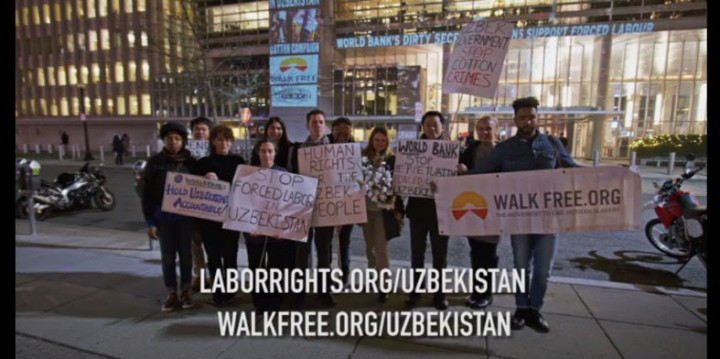 Dear reader,
At the end of last year we took our fight against modern slavery right to the World Bank to address forced labour found in its projects in Uzbekistan.
 Alongside our partner, the Cotton Campaign, we projected a showcase of striking images and videos of Uzbek slavery onto the side of the World Bank headquarters. Matt from the Cotton Campaign said that, "the people of Uzbekistan have the same universally recognised human rights inherent to every person in the world. Yet the Uzbek Government forces millions of citizens to grow and pick cotton and has subjected generations to forced labour while the profits benefit government elite."
 Click to see how it all went down!
 We want the Bank to see how the Uzbek government's forced labour system impacts the lives of everyday Uzbek citizens forced to work exhausting and dangerous hours in the cotton fields.
 If the Bank is serious about stopping modern slavery, it will stand up to the Uzbek Government – not write it a cheque for millions of dollars.The continuation of World Bank loans preserve the current state-sponsored system of exploitation
Will you join us in calling on the World Bank to suspend its loans until the government puts a stop to forced labour?
In solidarity,
Zoe, Alex, Joanna and the whole Walk Free team.
P.S. The World Bank can incentivise the Uzbek Government to reform the root causes of forced labour by suspending its loans. Pressure the World Bank to put human dignity before money by signing our petition.