Hong Kong's Elsie – over and out for 102…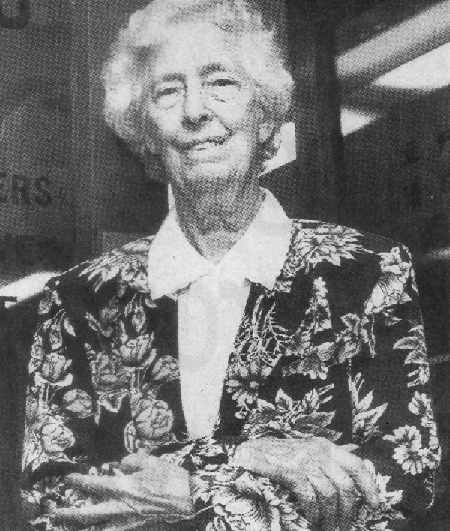 Elsie Tu, an old-style human rights fighter and veteran Hong Kong politician who took on a mandate to fight for the underprivileged, died December 8. 2015, at the glorious age of 102. This former Urban Councillor moved to Hong Kong in 1951 from her home territory of Geordieland, England, never gave up the fight for other's and always spoke her mind.
I myself concur with Vonnie Boston, fellow writer and long time acquaintance of Elsie's (both of us, among many friends, as volunteers at Elsie's office) who, on getting the sad news, replied: "Oh – Bless Her indeed, a so sincere, dedicated beacon of care. I consider myself so privileged to have met her and learnt so much from her too. Sad is the parting and yet joy there is in knowing she lived so long and did such a great deal for so many. What a singular life – such value – golden through and through, far outshining and outweighing the metal stuff so many of her leading top contemporaries in Hong Kong were more focused on pursuing… all homage to Elsie who made the place so much better giving education, hope and housing to so many of the have-nots and always reflecting the true spirit of humanity."
Elsie Tu is regarded as a pro-Beijing figure, and until her last moments wrote articles for the media typically to criticise government policies she deemed unfair or inadequate.
Born in 1913, Elsie and her then husband William Elliot moved to Hong Kong on Christian missionary work. For whatever reason, she left the church, and also ended her marriage.
Elsie was soon to hook up with another partner though, local man Andrew Tu Hsueh-kwei – now deceased. The pair co-founded Mu Kuang English School, in 1954.
It took quite some time before Elsie formalised a personal relationship, with Andrew Tu, they married in 1985, 30 years after the two teachers met. She was 71, her husband 63.
Elsie Tu became well known after she won election to the then Urban Council, in 1963. It was a post she held until she lost to the democrat Szeto Wah, whom she had little time for, opining that he something of a scalliwag.
In the 1970s, Tu decided to take on the city's corruption.
Her consistent effort fighting against corruption in Hong Kong, from 1970 onwards, was one of the forces that drove the colonial government to set up the Independent Commission against Corruption, in 1974. This much-heralded function was highly innovative – and effective – at the time and continues likewise.
Despite that her notable pro-China stance was misleadingly represented by democrats as some form of Beijing government advocacy, Elsie was appointed as a HKSAR Basic Law Consultative Committee member in 1985.
Elsie never did retire and set a fine example to the many 'helpers' that accompanied her at the Kwun Tong office on Saturdays where queues of locals would gather with their problems, whether getting a government house, or when needing legal advise or just wanting to know the next best step in a procedure that was bogging them down.
She would give short shift to anyone wasting her time, even if they didn't quite mean it, just unloading their feelings on her but the eager queue disallowed softness. She was well organised and had umteen files and resources. She just had to get on with the job! That's our Elsie.