UK government must end arms sales and political support for Egypt's General Sisi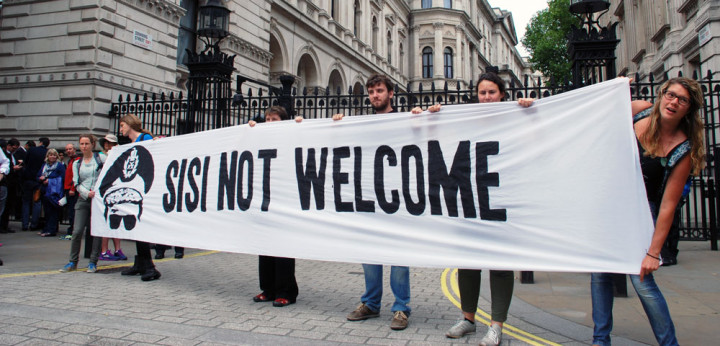 As Egyptian autocrat General Sisi arrives in London, Campaign Against Arms Trade has called for the UK government to end arms sales to his regime and stop the political support that bolsters it.
Andrew Smith of Campaign Against Arms Trade said: The Sisi government has an appalling human rights record. It has locked up journalists, tortured opponents and clamped down on all dissent. The UK should be calling out for change, not rolling out the red carpet and arming his regime.
In August 2013, following the overthrow of the Morsi government, the Egyptian military, led by Sisi in his capacity as then defence minister, killed over 1000 activists. In response the UK suspended 49 military licenses. However, only two months later 24 of these suspensions were lifted, with only seven being fully revokedand arms sales resuming almost straight away.
Overall the Coalition government oversaw £156 million million of arms sales to Egypt, £85 million of which has come since the coup.
In March 2015 the UK licensed over £40 million worth of components for military combat vehicles. These were for counter insurgency operations in Sinai. Around the same time, a Egyptian military delegation attended the UK's Security and Policing arms fair where an FoI reveals they met with representatives from UKTI DSO, the civil service body responsible for promoting arms exports.
Andrew continued: The uprisings of 2011 were fueled by a desire for human rights and democracy, a desire that has not gone away, but that is being suppressed by a cruel, authoritarian regime. If the government cares about human rights and democracy then it must end arms sales to Egypt and put a stop to the political support that bolsters the regime.