Philippines: Manila students greet indigenous Lumad caravan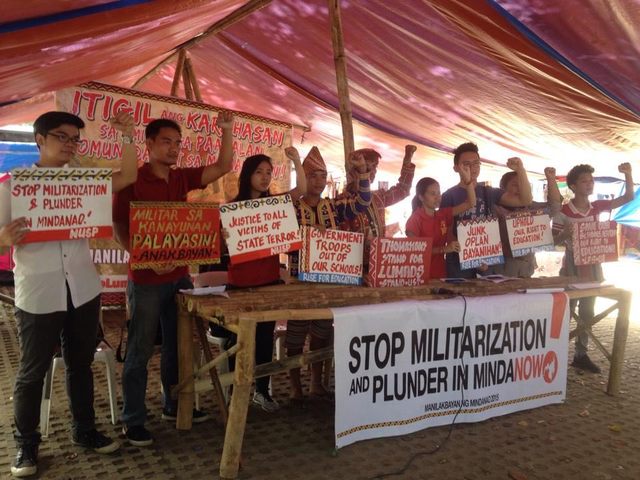 Hundreds of students from various Manila universities gathered on Wednesday, November 4, to express solidarity with the Lumad indigenous peoples from Mindanao.
(See previous article: http://www.pressenza.com/2015/10/philippines-lumad-people-under-threat-by-australias-xstrata-copper-company/ )
Among those gathered to welcome them at Liwasang Bonifacio were students from University of Santo Tomas, University of the Philippines Manila, De La Salle University, National Teachers College, Eulogio "Amang" Rodriguez Institute of Science and Technology, Polytechnic University of the Philippines and San Beda College.
Lorenzo Benitez reporting for Rappler informed readers that the gathering was organized by Rise for Education, an alliance of different university and high school student councils throughout the Philippines. The gathering is one among a series of activities of a caravan known as Manilakbayan.
The reporter continues: …from October 25 to October 31, UP Diliman hosted more than 700 Lumad from Mindanao for a week-long stay on campus during which the indigenous people spread awareness of the issues they face, including human rights violations they allege were committed against them. Liwasang Bonificio marks Manilakbayan's most recent stop along the way to Lumad equality.
The caravan participants are called Manilakbayanis, and have travelled from Surigao City to Eastern Visayas, then crossing over to Luzon island, rising their call all along the way to stop human rights violations on various Lumad communities.
The campaign got national attention after a paramilitary group murdered a school director and two Lumad leaders in Surigao del Sur this past September. Fifty-three Lumad have been killed extrajudicially under the Aquino administration. The killings have intensified in 2015.