Global Climate March in NYC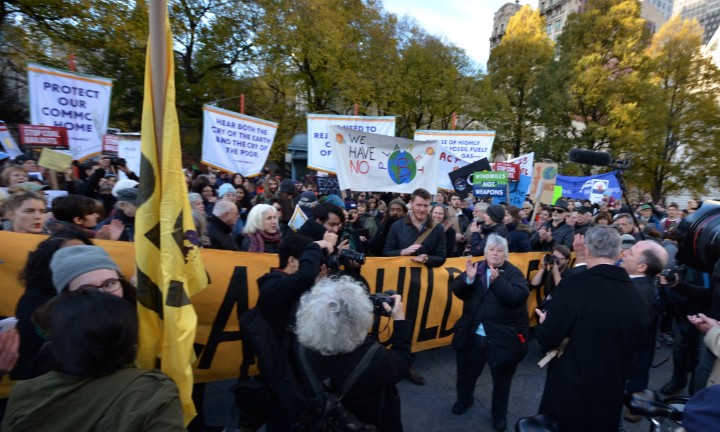 The march was initiated by People's Climate Movement NY, a coalition organization of climate, environmental, labor, faith and social and racial justice organizations in NYC and in coordination with other actions around the world initiated by 350.org. In NYC more than 1,000 gathered at City Hall and more than 2,000 actions in 150 countries took place, as part of an international demand for climate justice!
In the aftermath of the horrific events in Paris, French authorities have said they will not allow the big climate march, the day before the UN Climate Talks begin. After many months of planning and organizing the stage had been set for a truly massive turn-out for this march, and for other activities during the two weeks of the climate talks.
The march was an opportunity to link the local NYC struggle for bold climate policies and the global fight to halt the climate crisis. Mayor De Blasio is scheduled to participate in some parts of the climate talks in Paris and the marchers are calling on the Mayor to make the strongest possible commitments on climate! The climate crisis is real! NYC must take leadership by enacting policies that dramatically reduce our carbon emissions. NYC alone produces more greenhouse gas emissions than 97 countries!